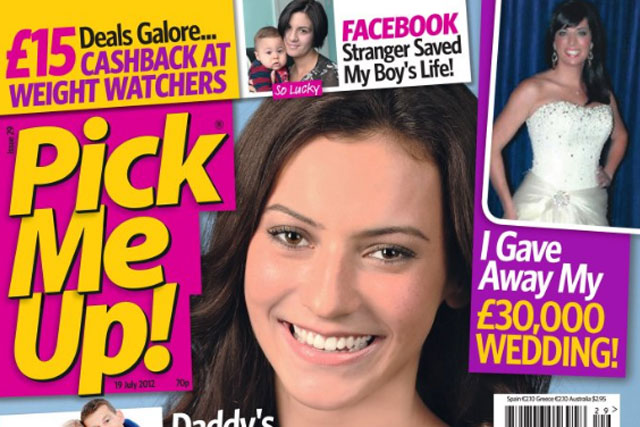 Audit Bureau of Circulations data for the January-June 2012 period showed another down period for the sector overall, with all titles down year on year and almost all down period on period.

Take A Break, the 84p market leader with 786,849 copies, held fairly steady with just a 2.1% drop year on year and a 0.5% drop period on period. The circulation of the H Bauer title remains 100% actively purchased.

Andy Brooks, publishing director of H Bauer's real-life titles, said: "Take a Break's good performance is attributable to our investment, and the refocusing of the editorial offer.

"Unlike our competitors we have continued with heavyweight TV advertising for Take a Break throughout January and February.

"Other true-life publishers have diluted their proposition by featuring more and more cheap overseas stories, slashing their editorial costs and cutting puzzle prize money. Take a Break has invested in editorial, strong promotions and readers are voting with their feet."

The real signs of circulation erosion were in evidence at the titles with the smallest circulations, which have already been suffering.

Pick Me Up, which is published by IPC Media, subsided 18.6% year on year and 12.4% period on period to 212,915 copies, most of which were sold at the full cover price of 70p.

IPC said it had no plans to close the title and its publishing director, Angie O'Farrell, added: "Consumers of real life titles have been badly affected by the downturn and whilst they are still loyal to Chat and Pick Me Up and continue to purchase the titles, they are doing so less frequently."

Chat's circulation fell 6% year on year to 374,730 copies, meaning it stayed in second place behind Take A Break.

While Pick Me Up lost nearly 50,000 copies over the year, Love It!, which was launched against it in 2006, lost almost 28,000 of its smaller circulation over the same period.

This represented an 18.9% drop to 172,061 copies, which were priced at 65p and sold at the full cover price.

Love It! and sister title Full House were sold in May by Hubert Burda Media UK to a start-up called Pep Publishing Ltd that is majority-owned by Hubert Burda Media UK chief executive, Luke Patten.

Most of the other titles in the market were down by single digits year on year, excepting Full House, which was down 10.7% to 150,168.
Zoe Bale, press planning director at Carat, said that while traditional and real life was a huge market it was losing copy sales due to the economy.

"People just don't have the money to spend – they're buying one magazine rather than a couple."

She worried that there was a lack of investment in some titles, stressing that they needed to adapt as their audience adopts mobile and praising IPC's Chat puzzle app and Good to Know aggregator site.

"I can't see that anybody is investing in print… I think IPC are the biggest winners because they are seeing that they need to invest, but not necessarily invest in print, invest in multiplatform.

"The key is to grow your brand reach by looking at other areas. It's not like the luxury market where they need to get on the iPad, but they do need to get on smartphones because that is where their audience is.

"IPC's weeklies have now all got mobile-optimised sites, which is great because a lot of them haven't done that. Any magazine that isn't mobile optimised isn't a great consumer experience."
Title
Publisher
June end 2012
Prd/prd
change

Yr/yr
change
Take a Break
H Bauer Publishing
786,849
-0.5%
-2.1%
Chat
IPC Media

368,334
-1.7%
-6.0%
Woman's Weekly
IPC Media

327,831
-4.3%
-3.6%
That's Life
H Bauer Publishing
305,074
-6.6%
-5.1%
Woman
IPC Media

279,362
-1.0%
-2.6%
Best
Hearst Magazines UK
261,634
-5.6%
-6.6%
Peoples Friend
D C Thomson & Co

249,880
-2.9%
-6.8%
Woman's Own
IPC Media

232,107
-3.4%
-5.6%
Bella
H Bauer Publishing
229,242
-2.3%
-4.3%
Pick Me Up
IPC Media

212,915
-12.4%
-18.6%
Real People
Hearst Magazines UK
197,288
-3.4%
-5.5%
Love It!
Pep Publishing

172,061
-14.0%
-18.9%
Full House
Pep Publishing

150,168
-12.7%
-10.7%