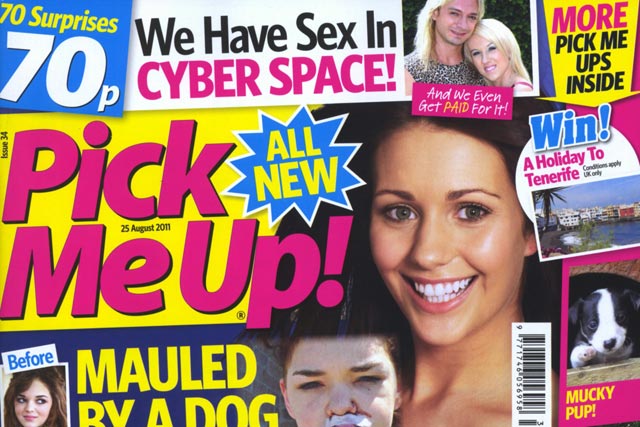 Pick Me Up, which launched in 2005 with a debut ABC of 503,950 copies, is now down to 261,588 copies.
Year on year, it haemorrhaged 18.1% of its circulation and is down 8.9% period on period.
However, Fiona Dent, managing director of IPC Connect rejected the idea of closing the title, saying: "Pick Me Up is a strong brand for IPC and we're pleased with its financial performance."
She declined to reveal whether any major changes were planned, but said research was a "continuing process" at IPC and it was a case of "watch this space".
In common with other publishers, Dent sought to pin the blame for widespread circulation declines among women's real life and traditional weeklies squarely on the state of the economy.

She said: "There's no question we're seeing the impact of consumer spending, which is the most squeezed it's been since the 1970s. That obviously impacts mass-market women, who have slightly less disposable income in society as a whole."
Even H Bauer's market leader Take A Break was sucked downwards, losing more than 50,000 copies year on year.
It is now just above 800,000 copies, a level it has not seen since the 1990s when it was growing on its way to a peak circulation of 1,227,305 copies in the January-June 2005 period.
Take A Break and That's Life publishing director Andy Brooks defended the decline, pointing to "recessionary factors" and the impact of four lower-priced rival titles launched in 2005/6, Pick Me Up among them.
All four have suffered further falls in this period, with Hubert Burda's Love It! (originally brought to market by News International) down 8.4% year on year to 212,168 copies.
Like Pick Me Up, it has fallen progressively over the years to half its launch level, which was 405,441 copies.
Its stablemate Full House, which retails for 50p while Take A Break is at 82p, is down 4.3% year on year to 168,240 copies, having debuted with 235,787 copies.
Real People, now part of Natmag/Hachette combine Hearst Magazines UK, is down 7.2% year on year to 208,850 copies – its launch figure was 318,105.
Chat, the closest rival to Take A Break and sister magazine to IPC's Pick Me Up, is down 9% year on year to 391,749 copies.
Among the traditional women's weeklies, there was a ray of light only for Women's Weekly, the IPC title that celebrated its centenary this year.
With a boost from the Royal Wedding, according to Dent, the old stager is up 0.4% year on year to 339,993 copies.
Dent also claimed that a refresh for Woman had paid off with strong sales in the final six weeks of the reporting period, although the circulation is down 9.9% year on year.
Rob Lynam, head of press at MEC, said the sector had "taken a hammering" and "has been one of the most over-served and competitive for years".

However, from an advertiser's point of view he said the positive was that it was full of titles delivering large circulations - Take A Break for example being the fourth highest actively purchased magazine.

"The mens' sector is a problem for advertisers but women are very well catered for. The problem is which magazine to advertise in because you've got so much choice."
Top 13 women's real life and traditional

Title
Publisher
Jan - Jul
Prd/prd
Yr/yr
2011
change
change
Take a Break
H Bauer Publishing
803,555
-3.6%
-6.1%
Chat
IPC Media
391,749
-5.6%
-9.0%
Women's Weekly
IPC Media
339,993
-1.2%
0.4%
That's Life
H Bauer Publishing
321,332
-4.3%
-5.9%
Woman
IPC Media
286,731
-7.5%
-9.9%
Best
Hearst Magazines
280,218
-4.7%
-7.3%
People's Friend
D C Thomson & Co
268,230
-5.1%
-7.9%
Pick Me Up
IPC Media
261,588
-8.9%
-18.1%
Woman's Own
IPC Media
245,868
-15.7%
-9.7%
Bella
H Bauer Publishing
239,660
-2.3%
-2.8%
Love it!
Hubert Burda Media
212,168
-12.4%
-8.4%
Real People
Hearst Magazines
208,850
-4.3%
-7.2%
Full House
Hubert Burda Media UK
168,240
-3.3%
-4.3%