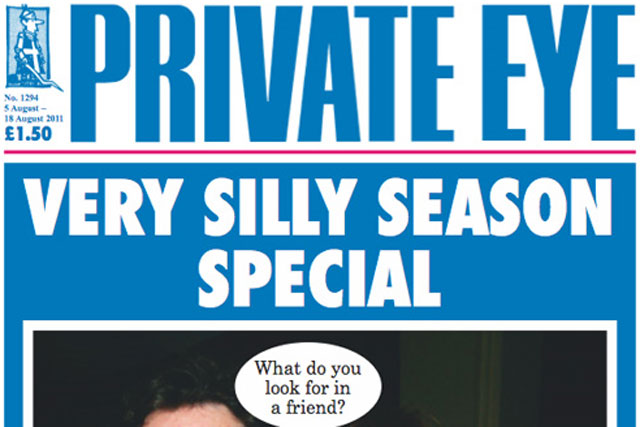 In ABC figures for the first half of 2011, Private Eye posted an average circulation of 206,266 per issue. Despite representing a marginal drop of 0.1% on the previous six months, and down 0.7% year on year, the current affairs magazine remains more than 20,000 copies larger per issue than its nearest rival, The Week.

Founded in 1961, Private Eye has survived and prospered for half a century by entertaining, informing and irritating its readers with a unique mix of jokes, journalism, campaigning and gossip.

The magazine is hosting a series of events to commemorate its half a century throughout the autumn, culminating in its official 50 year issue on 25 October.
In another milestone, editor Ian Hislop is celebrating 25 years at the helm this year. He said: "I do not want anyone to think that this is all just a huge celebration of ourselves. Our 50th year is a chance to look back and take a dispassionate view of how marvellous we are."
Private Eye's managing director Sheila Molnar told Media Week the secret of the magazine's success came down to its "amazing relationship with our readership".
"They trust us, so in times of trouble or emergency, they turn to us for information and also because they like our unique take on the subjects that matter. In these miserable times, our humour plays an important part in bringing light relief too."
Molnar said the last six months, dominated by stories of superinjunctions and phone hacking, represents things the magazine has been "chipping away at for some time", but the MD added: "We never thought we'd live to see the fall of the House of Murdoch."
Molnar is confident Private Eye will increase its circulations in the second half of the year, and stressed that "unlike some of our so-called competitors, 99% of all our copies are paid for".
As a sector, sales of domestic news and current affairs magazines increased 7% reflecting consumer desire to make sense of a news agenda littered with riots, international conflict, political disputes and media meltdowns.
The Economist was yet again the standout performer among ABC's business and finance current affairs section in the first six months of 2011. The UK edition of The Economist had an average circulation of 210,318 in the first half of the year, up 7.7 per cent year on year.
The Economist added sales of more than 15,000 copies over the 12 month period to cement its position following passing the 200,000 mark for the first time in February.
Yvonne Ossman, UK publisher of The Economist, said: "In these troubled times, more and more people are seeing the value in The Economists insightful and compelling editorial content, which offers much-needed perspective on world events.

"We have also continued to respond to the changing reading habits of our readers, building on the successful launch of our iPhone and iPad apps last autumn.
"We now offer The Economist on Android and have also recently launched a World In Figures app, providing data and statistics from 190 countries."
The Economist's next nearest rival, Business Life, had a circulation of 79,213 in the period – down 7.8%. Money Week was also a strong performer with its circulation climbing 6% year on year to 47,366, while the Investors Chronicle saw its circulation drop 2.4%t to 28,479.
Richard Ingram's The Oldie magazine grew its circulation 7.9% year on year to 40,386. Dennis Publishing's The Week also grew circulation. It was up 3.9 per cent year on year to 183,617 while Prospect climbed by 4.9 per cent year on year to 31,985.
Elsewhere, circulation of The Spectator fell 10.7% to an average circulation of 62,852 during the first half of the year. However, the double digit fall was attributed by editor Fraser Nelson to the title drastically reducing its volume of bulks – magazines sold at a nominal price for free giveaway in hotels, businesses and airports.
The number of actively purchased issues of The Spectator dropped to 38,018 in the first half of the year, down from 40,001 in the same period in 2010.
Overall, The Spectator claimed the move has seen it return to sales growth, after a 56% increase in paid-for digital subscriptions in the same period.
Nelson said he was further encouraged by the fact the last three issues had been the stongest of the year to date, striking a chord with features on phone hacking, Labour's Ed Miliband and Europe.
"We make no attempt to dumb down... we do not have infographics everywhere. We have protected our essay format, with typical lengths of between 1,000 - 1,400 words," he said.
Nelson added The Spectator has been published for 183 years and that its quality output has been consistent. He said: "My mission is to protect and project our values... I want to grow our print run over the next year.
"I do think we are the best magazine in the world, and I really believe more people should buy us. I'm not one of those people who believe in the death of print, I'm not here to manage decline."