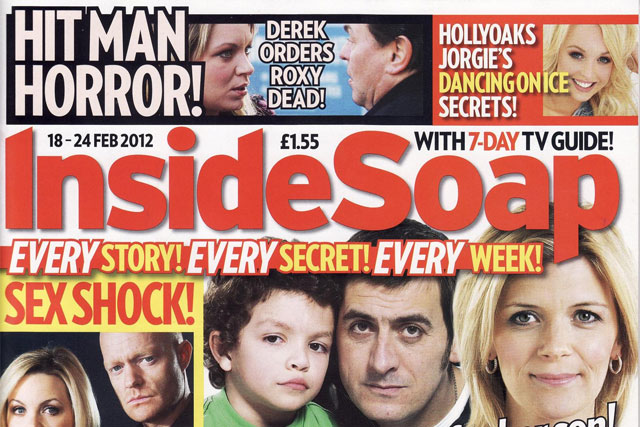 Bauer's TV Choice continues to be the market leader in the sector, boasting a circulation of 1,277,850, down 5.7% on the year. Its lead over IPC arch rival What's On TV has been squeezed slightly to just over 60,000 copies.
But the pair remain solidly ahead of their nearest rivals in terms of circulation numbers.
Third-placed Radio Times, which sold more than one million copies of its Olympics special issue, making its publisher Immediate more than £2m in revenue, has endured a tough six months.
The title's circulation fell 6.5% to 865,562 in the period, which could be a concern for owner Immediate Media.
However, Kathy Day, managing director of Radio Times, argued: "Radio Times continues to dominate the premium TV listings sector, outselling its nearest competitor by over 600,000 copies. It remains the UK's biggest selling quality magazine, the UK's biggest subscription weekly, and the UK's most valuable magazine at newsstand.

"Radio Times' unique proposition - brilliant editorial scoops, insightful guidance and the best listings in the business - has seen it outperform the rest of the TV listings market and grow its market share to 21.3%. Subscriptions have grown yet again to 225,000, up 9.1% year on year, and now account for 26% of circulation."
Day pointed to the title's heritage and distinction in the marketplace, saying: "Radio Times is a phenomenal brand to work with and clearly distinct from the rest of the listings market. People are very passionate about it and loyal – they like it and stick to it.
"The TV listings market is rock solid and while it is declining, it is very slowly and it less volatile than other sectors."
Day explained that while many consumers used EPG (electronic programme guides) or the weekend papers supplement guides, familiarity is key for readers of the section and they would "stick with what works for them", putting listing magazines in a "solid position."
One title which performed well was Bauer's Total TV Guide, which reported a 3.1% year-on-year circulation lift to 121,052, outperforming the sector, which was down 5.4% as a whole.
Like other magazines, TV listings titles have been hit by readers buying magazine less frequently, particularly the soap titles, which tend to be bought by people with lower incomes.
IPC's Soaplife and Hearst magazines' All About Soap both suffered sharp declines year on year.
| | | | | |
| --- | --- | --- | --- | --- |
| Title | Publisher | Jun End 2012 | Prd / Prd Change | Yr / Yr Change |
| TV Choice | H Bauer Publishing | 1,277,850 | -2.0% | -5.7% |
| What's on TV | IPC Media | 1,215,609 | -3.0% | -4.6% |
| Radio Times | Immediate Media Company | 865,562 | -6.5% | -3.9% |
| TV Times | IPC Media | 265,550 | -9.9% | -8.5% |
| TV & Satellite Week | IPC Media | 168,630 | -2.8% | -4.6% |
| Inside Soap | Hearst Magazines UK | 154,657 | -1.8% | -6.3% |
| TV Easy | IPC Media | 148,664 | -1.2% | -8.3% |
| Total TV Guide | H Bauer Publishing | 121,052 | -1.5% | 3.1% |
| Soaplife | IPC Media | 84,964 | 3.2% | -15.7% |
| All About Soap | Hearst Magazines UK | 78,244 | -10.2% | -13.9% |