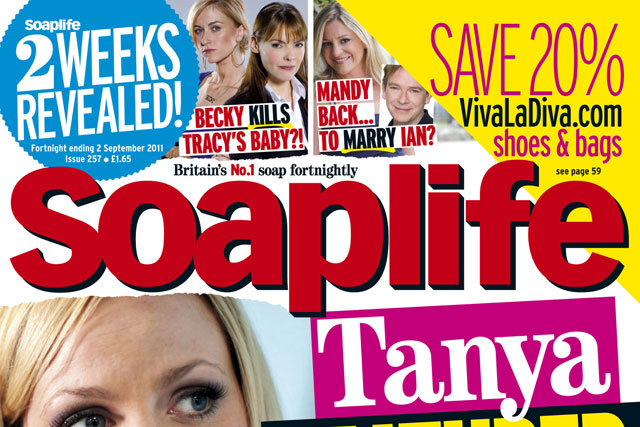 Soaplife, a fortnightly magazine priced at £1.65, fell 17.9% year on year to 82,315 copies, while Inside Soap, a weekly priced at £1.55, fell 10.1% to 157,413 copies.
The soap titles are relative minnows in the high-volume TV listings market, which is once again led by H Bauer's TV Choice, a 42p weekly.
TV Choice had a circulation of 1,304,382 copies, down 4.3% year on year.
In second place is IPC's 50p What's On TV, gaining after falling just 0.3% year on year to 12,53,697 copies.
Radio Times, which is now published by Immediate Media, the company formed after the purchase and licensing deal of BBC Wordwide titles by private equity company Exponent in November 2011, retains third place. It fell 3.7% year on year but was up 2.7% period on period, to 925,373 copies.Subscriptions for the magazine were up 12% year on year to its highest figure yet of 213,129.
Kathy Day, managing director of Radio Times, said: "This performance sees Radio Times increase its share of the premium listings market and it now outsells the rest of the premium title put together by over 334k copies a week with a share of 61%."
IPC, which publishes five of the top 10 TV listings magazines, was hit by a 4.8% year-on-year drop for TV Times, priced at £1.20, to 294,765 copies.
Fiona Dent, managing director of IPC Connect, said that the younger readership of Soaplife were facing tougher times compared to readers of other TV titles, with less disposable income and a higher rate of unemployment.
She said: "The whole soap sector has been affected by the hard-pressed consumer who is economising and reducing frequency of purchase."
Dent added that women, the biggest drivers in the TV listing market, were still looking to plan their TV viewing in advance and read features about storylines, and emphasised the loyalty of readers to each magazine.
Kathy Day, managing director at Radio Times group, cited a stronger performance in the post- rather than pre-Christmas period, despite a 20p rise in cover price to £1.40, as consumers were spending more time at home watching television.
Andrew Mercer, Radio Times' ad director of 10 years, left the title and Immediate unveiled a new management structure in December.
Top TV magazines
Title
Publisher
Dec End
Prd/prd
Yr/yr
2011
change
change
TV Choice
H Bauer Publishing
1,304,382
-3.7%
-4.3%
What's on TV
IPC Media
1,253,697
-1.6%
-0.3%
Radio Times
Immediate Media Company
925,373
2.7%
-3.7%
TV Times
IPC Media
294,765
1.5%
-4.8%
TV & Satellite Week
IPC Media
173,474
-1.9%
-4.2%
Inside Soap
Hearst Magazines
157,413
-4.6%
-10.1%
TV Easy
IPC Media
150,405
-7.2%
-11.0%
Total TV Guide
H Bauer Publishing
122,927
4.7%
1.3%
All About Soap
Hearst Magazines
87,156
-4.1%
-4.9%
Soaplife
IPC Media
82,315
-18.3%
-17.9%