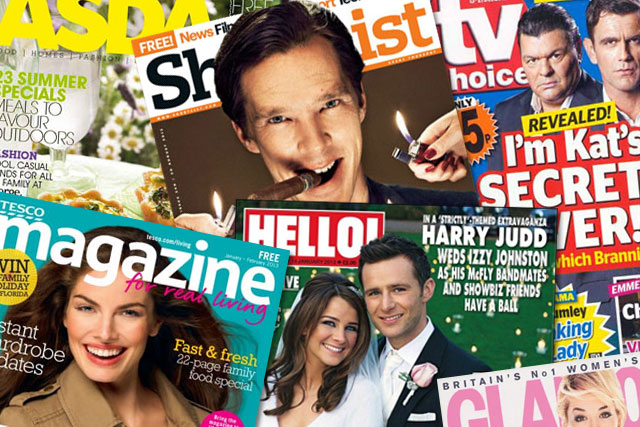 There were some notable exceptions, not least Time Out which rocketed by nearly 500% after becoming a free magazine during the period.
Elsewhere, the content marketing publication for Morrisons continues to grow in popularity, up more than 10% period on period, to 1,299,813. Similar marketing titles for Asda and Tesco claim the top two spots, reaching just under two million people respectively.
Out of the top 10 magazines, five are actively purchased (or are included in a wider membership subscription). TV Choice retains its position as the UK's leading actively purchased title, with 1.23m copies, but it is upmarket rival, Radio Times, which reported the biggest growth during the period, up 3.2% to 893,512.
Kathy Day, managing director of the Radio Times, said the brand had been in "very rude health" since becoming wholly owned by Immediate Media last year.
She noted: "This is the biggest period on period increase of any actively purchased UK magazine, and is clear demonstration of the power of investing in a well-executed editorial vision.
"This hugely successful period has also seen Radio Times retain its dual market leading positions as both the biggest selling UK weekly magazine by subscription and the UK's most valuable magazine at newsstand."
Among the women's lifestyle monthlies, Hearst's Cosmopolitan and Kelsey Publishing's Psychologies both suffered double-digit falls, tumbling 12.7% and 15.9% respectively.

However, among those to buck the trend and increase circulations during the period, although not year on year, were Hearst's Elle UK, IPC's licensed Marie Claire, and its stablemate, InStyle.
There was reason to cheer over at Mike Soutar's ShortList Media too, where its free men's weekly Shortlist recording its tenth consecutive ABC rise to 531,733, and its female counterpart, Stylist, its sixth to 433,482.
Meanwhile, Dennis Publishing's The Week managed its 29th consecutive circulation increase to 194,122. It is now the most enduring circulation riser out of all the UK's consumer magazines, after weekly business rival The Economist stopped gaining sales after a record 33 consecutive rises in this audit.
| | | | | |
| --- | --- | --- | --- | --- |
| Title | % Actively purchased | Dec end 2012 | Prd/prd % change | Year/year % change |
| Asda Magazine | 0.0% | 1,960,222 | -0.2% | 0.6% |
| Tesco Magazine | 0.0% | 1,949,173 | 0.9% | -3.4% |
| The National Trust Magazine | 0.0% | 1,948,313 | N/A | 0.0% |
| Morrisons Magazine | 0.0% | 1,299,813 | 10.8% | 12.9% |
| TV Choice | 100.0% | 1,230,076 | -3.7% | -5.7% |
| What's on TV | 100.0% | 1,222,242 | 0.5% | -2.5% |
| Tesco Real Food | 0.0% | 1,213,333 | -0.8% | -0.6% |
| Radio Times | 99.7% | 893,512 | 3.2% | -3.4% |
| Take a Break | 100.0% | 749,526 | -4.7% | -5.2% |
| Birds | 0.0% | 600,885 | N/A | -1.3% |
| Saga Magazine | 99.6% | 591,223 | -6.5% | -6.4% |
| Shortlist | 0.0% | 531,733 | 0.5% | 1.0% |
| Pet People | 0.0% | 527,431 | N/A | -0.7% |
| Virgin Media Magazine | 0.0% | 500,000 | 0.0% | 25.0% |
| John Lewis Edition | 0.0% | 496,000 | 3.3% | 2.3% |
| Asos.com | 0.0% | 456,973 | N/A | 4.4% |
| Slimming World Magazine | 99.9% | 447,456 | 6.5% | 11.1% |
| Stylist | 0.0% | 433,482 | 0.5% | 1.0% |
| Glamour | 99.8% | 424,077 | -9.8% | -9.1% |
| Good Housekeeping | 99.9% | 409,326 | 0.2% | -8.7% |
| New! | 100.0% | 403,425 | -8.2% | -21.0% |
| Emma's Diary Pregnancy Guide | 0.0% | 400,430 | -0.6% | 2.1% |
| Closer | 99.3% | 396,014 | -8.1% | -15.2% |
| The Caravan Club Magazine | 0.0% | 368,170 | N/A | -2.3% |
| The Garden | 0.0% | 365,502 | 1.6% | 3.7% |
| Benhealth | 0.0% | 359,823 | 1.0% | 1.9% |
| Waitrose Kitchen | 0.0% | 356,083 | 1.3% | 0.6% |
| Woman & Home | 98.2% | 352,586 | -0.3% | -7.2% |
| Chat | 100.0% | 348,126 | -5.5% | -7.1% |
| OK! Magazine | 98.8% | 342,495 | -3.8% | -11.8% |
| Heritage Today | 0.0% | 322,882 | N/A | 3.0% |
| Time Magazine - EMEA (excluding BI/SA) | 71.5% | 322,579 | N/A | -1.4% |
| Woman's Weekly | 99.9% | 316,869 | -3.3% | -7.5% |
| Legion | 0.0% | 310,473 | N/A | -1.2% |
| Cosmopolitan | 98.5% | 308,482 | -12.7% | -18.3% |
| Hello! | 91.4% | 305,567 | -13.4% | -18.1% |
| Time Out | 7.8% | 305,530 | 485.3% | 455.2% |
| Sport | 0.0% | 302,466 | -1.1% | -0.7% |
| Village Life | 0.0% | 299,995 | N/A | 0.0% |
| That's Life | 100.0% | 294,467 | -3.5% | -9.8% |
| National Geographic Magazine | 97.2% | 285,515 | -3.1% | -5.5% |
| CSMA Club Magazine | 0.0% | 275,766 | N/A | -2.2% |
| TV Times | 99.9% | 275,526 | 3.8% | -6.5% |
| BBC Good Food | 99.8% | 274,297 | 2.7% | -12.4% |
| Yours | 92.5% | 272,040 | -3.1% | -3.8% |
| Shortlist Mode | 0.0% | 268,879 | N/A | N/A |
| Camping and Caravanning | 0.0% | 267,184 | N/A | 0.1% |
| Heat | 97.1% | 261,715 | -9.8% | -19.6% |
| Woman | 100.0% | 261,170 | -6.5% | -7.4% |
| Prima | 99.9% | 256,053 | -3.1% | -9.1% |
| Marie Claire | 84.1% | 255,333 | 0.1% | -4.3% |
| Star | 100.0% | 252,058 | -12.6% | -29.9% |
| Reader's Digest | 91.8% | 244,902 | -14.1% | -36.2% |
| Now | 100.0% | 240,061 | -7.4% | -8.5% |
| Peoples Friend | 99.9% | 239,920 | -4.0% | -6.8% |
| Sainsbury's Magazine | 98.1% | 238,115 | -2.6% | -9.8% |
| Best | 100.0% | 236,430 | -9.6% | -14.7% |
| The Economist - Continental Europe Edition | 66.2% | 234,827 | -0.1% | -2.9% |
| Moshi Monsters Magazine | 99.8% | 231,811 | 1.7% | 36.3% |
| Look | 91.1% | 225,296 | -9.9% | -19.7% |
| Private Eye | 99.0% | 224,796 | -0.6% | -1.5% |
| Woman's Own | 99.2% | 222,571 | -4.1% | -7.4% |
| Bella | 100.0% | 218,340 | -4.8% | -6.9% |
| Red | 96.0% | 217,806 | -3.7% | -5.8% |
| WI life | 0.0% | 211,830 | N/A | 1.1% |
| Reveal | 100.0% | 211,620 | -9.2% | -24.1% |
| The Economist - United Kingdom Edition | 75.3% | 210,386 | 0.0% | 0.0% |
| Candis | 92.8% | 208,425 | -6.8% | -7.1% |
| Vogue | 94.5% | 203,356 | -0.8% | -3.5% |
| BBC Gardeners' World | 99.5% | 202,733 | -20.4% | -6.4% |
| Men's Health | 90.5% | 202,704 | -6.3% | -8.4% |
| Odeon Magazine | 0.0% | 200,200 | -9.6% | 11.3% |
| Elle (UK) | 91.6% | 194,253 | 2.5% | -0.4% |
| The Week | 86.7% | 194,121 | 1.4% | 3.5% |
| Pick Me Up | 100.0% | 191,972 | -9.8% | -21.0% |
| High Life | 0.0% | 191,681 | 1.3% | 8.1% |
| Ideal Home | 99.0% | 190,481 | -1.4% | -2.5% |
| Take a Break Series | 100.0% | 190,142 | N/A | N/A |
| Country Living | 99.9% | 188,174 | -1.1% | -1.8% |
| Grazia | 95.0% | 186,493 | -1.9% | -9.2% |
| Real People | 100.0% | 185,623 | -5.9% | -9.2% |
| Scotland in Trust | 0.0% | 184,219 | N/A | 2.4% |
| Weightwatchers Magazine | 99.9% | 170,873 | -8.9% | -6.9% |
| Empire | 99.5% | 167,748 | 0.4% | 0.4% |
| Instyle UK | 84.4% | 165,903 | 1.5% | -5.7% |
| TV & Satellite Week | 99.9% | 165,735 | -1.7% | -4.5% |
| Specsavers Magazine | 0.0% | 165,203 | N/A | N/A |
| Oxford Today | 0.0% | 159,230 | N/A | -7.7% |
| Love It! | 100.0% | 156,004 | -9.3% | -22.0% |
| Inside Soap | 100.0% | 150,765 | -2.5% | -4.2% |
| BBC Top Gear Magazine | 91.0% | 150,136 | -3.1% | -16.7% |
| Easy Living | 97.0% | 150,020 | -8.5% | 7.1% |
| TV Easy | 100.0% | 148,759 | 0.1% | -1.1% |
| The Economist - Asia Pacific Edition | 69.9% | 142,143 | -0.8% | -3.0% |
| Puzzler Collection | 99.9% | 141,380 | N/A | -6.0% |
| Full House | 99.2% | 138,158 | -8.0% | -19.7% |
| Balance | 0.0% | 135,603 | N/A | N/A |
| Time Magazine - British Isles (BI) | 66.5% | 135,145 | N/A | 5.3% |
| Ikea Family Live | 0.0% | 135,000 | 0.0% | 0.2% |
| Your Home | 96.5% | 130,029 | 0.0% | -1.3% |
Follow @DurraniMix