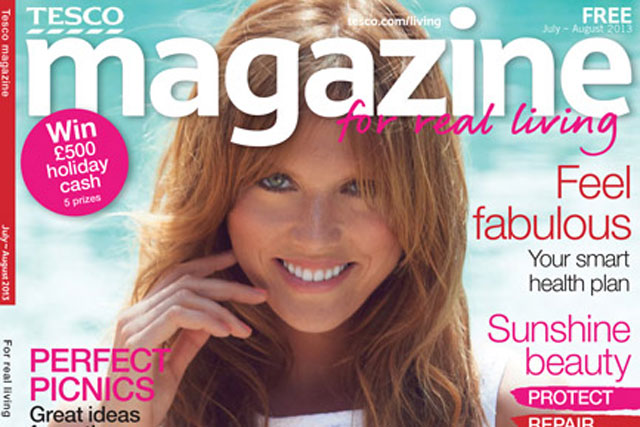 According to the ABC report for the first six months of 2013 the magazine with the widest circulation is Tesco Magazine with a circulation of 1.95 million in the first six months of 2012, an increase of 0.7 per cent year on year.
In fact, customer magazines dominate the top five with Asda Magazine in second place (1.94 million, down 1.0 per cent year on year) and Morrisons Magazine in the third place with a circulation of 1.29 million, up 10.3 per cent year on year.
TV Choice was the fourth biggest magazine by circulation and the biggest actively purchased title in the first half of this year. It fought off competition from Northern & Shell's TV Pick, which closed after 22 issues, and bucked the 6.3 per cent decline across the TV and radio listings category.
The H Bauer listings magazine's circulation was 1.28 million in the second half of 2013, up 0.3 per cent compared to the first six months of 2012 and up 4.2 per cent when compared to the last six months of 2012.
Tesco makes a second entry in the top five with Tesco Real Food in fifth place with 1.23 million, up 0.2 per cent year on year.
Of the actively purchased magazines to make the top 100, Slimming World, which accompanies the brand's slimming classes, posted the steepest increase in circulation, rising 4.4 per cent year on year to 438,559.
There were other pockets of optimism: Dennis Publishing's The Week with a year-on-year circulation rise of 3.1 per cent, IPC Media's Idea Home with a boost of 2.5 per cent and Hearst Rodale UK's Women's Health up 1.8 per cent year on year.
Elsewhere, there were double digits declines across the celebrities sector, with Heart's Reveal reporting the steepest year-on-year decline, while Hearst Magazines UK's Company magazine led the sharp falls in the women's glossy sector.
Martin Donnelly, the deputy head of press at UM London, said: "It's not just about print circulations any more. All brands have websites and tablet editions as well. Their content is still in demand, it's just being consumed in a different way."

Of the magazines in the report, 86 chose to publish digital edition figures for the first half of 2013, up from 60 a year earlier. The biggest UK magazine by digital circulation was Total Film with a circulation 12,280.
Average circulation per issue for the six month period (Jan 2013 to Jun end 2013)
| | | | | |
| --- | --- | --- | --- | --- |
| Title | Actively purchased | Jun end 2013 | Prd/prd % change | Yr/yr % change |
| Tesco Magazine | 0% | 1,945,015 | -0.2% | 0.7% |
| Asda Magazine | 0% | 1,944,393 | -0.8% | -1% |
| Morrisons Magazine | 0% | 1,293,617 | -0.5% | 10.3% |
| TV Choice | 100% | 1,282,276 | 4.2% | 0.3% |
| Tesco Real Food | 0% | 1,225,417 | 1% | 0.2% |
| What's on TV | 100% | 1,081,176 | -11.4% | -10.9% |
| Radio Times | 99.6% | 807,540 | -9.1% | -6.2% |
| Take a Break | 100% | 713,778 | -3.7% | -8.5% |
| Saga Magazine | 99.6% | 552,523 | -6.3% | -12.4% |
| Shortlist | 0% | 534,494 | 0.5% | 1% |
| John Lewis Edition | 0% | 487,550 | -1.7% | 1.5% |
| ASOS.com | 0% | 446,055 | -0.7% | N/A |
| Slimming World Magazine | 100% | 436,657 | -2% | 4.5% |
| Stylist | 0% | 435,768 | 0.5% | 1% |
| Waitrose Kitchen | 0% | 412,681 | 15.9% | 17.4% |
| Emma\'s Diary Pregnancy Guide | 0% | 402,990 | 0.6% | 0% |
| New! | 99.9% | 383,283 | -3.7% | -12% |
| Good Housekeeping | 98.9% | 380,701 | -3.4% | -3.2% |
| Glamour | 96.5% | 380,363 | -2.5% | -11.4% |
| Benhealth | 0% | 359,420 | 0% | 1% |
| The Garden | 0% | 357,712 | 1.5% | 3.1% |
| Closer | 99.8% | 345,766 | -10.8% | -18.3% |
| Woman & Home | 98.1% | 328,735 | -3.3% | -3.6% |
| Chat | 100% | 318,360 | -5.6% | -10.7% |
| OK! Magazine | 98.6% | 308,300 | -7.1% | -10.9% |
| Sport | 0% | 305,684 | 1.1% | 0% |
| Time Out | 6.5% | 305,683 | N/A | 487.2% |
| Woman's Weekly | 99.9% | 289,220 | 0.4% | -2.9% |
| That's Life | 100% | 273,397 | -6.4% | -9.8% |
| Yours | 92.6% | 272,702 | 0.7% | -2.4% |
| Cosmopolitan | 96.7% | 259,843 | -2.8% | -13% |
| Woman | 100% | 252,798 | -1.6% | -8.7% |
| National Geographic Magazine | 94.6% | 248,835 | -12.8% | -15.6% |
| Prima | 99.9% | 247,364 | -1.9% | -5.1% |
| TV Times | 99.9% | 246,875 | -10% | -6.7% |
| BBC Good Food | 99.9% | 239,903 | -8.7% | -5.9% |
| Heat | 96.7% | 235,620 | -7.1% | -17% |
| BBC Gardeners' World | 97% | 234,294 | 17.4% | -6.6% |
| HELLO! | 95.8% | 222,071 | -7.6% | -24.4% |
| Star | 99.9% | 221,159 | -10.5% | -22.5% |
| Peoples Friend | 99.8% | 218,371 | 1.1% | -2.5% |
| Woman's Own | 99.2% | 217,366 | -0.8% | -4.8% |
| Sainsbury's Magazine | 98% | 215,109 | -9.5% | -11.9% |
| Reader's Digest | 89.8% | 214,234 | -12.5% | -24.3% |
| Private Eye | 99% | 209,747 | -1% | -1.7% |
| The Economist - United Kingdom Edition | 77% | 209,274 | -0.5% | -0.5% |
| Best | 100% | 208,895 | -10.2% | -19% |
| Marie Claire | 89% | 208,636 | -12.5% | -11.8% |
| Bella | 100% | 207,676 | -4.1% | -8.8% |
| Now | 100% | 203,813 | -12.2% | -20.1% |
| Moshi Monsters Magazine | 99.8% | 203,235 | -11.2% | -9.2% |
| Odeon Magazine | 0% | 203,140 | 1.5% | -8.3% |
| Look | 89.9% | 197,822 | -10.8% | -19.6% |
| Red | 95.7% | 195,360 | -6.4% | -9.7% |
| Ideal Home | 96.4% | 190,744 | 3.8% | 4.1% |
| Men's Health | 90.9% | 185,348 | 0.5% | -6.4% |
| Candis | 93.7% | 184,707 | -11.4% | -17.4% |
| The Week | 83.7% | 183,143 | 0.5% | 2.3% |
| Reveal | 100% | 170,111 | -18.1% | -26% |
| Real People | 100% | 168,875 | -6.2% | -11.9% |
| Pick Me Up | 100% | 168,094 | -8.4% | -18.1% |
| Grazia | 95.9% | 161,653 | -10% | -12% |
| TV & Satellite Week | 99.9% | 159,364 | -3.7% | -5.3% |
| Take a Break Series | 100% | 155,155 | -17.4% | N/A |
| Vogue | 93.6% | 150,703 | -3.4% | -4.4% |
| Weightwatchers Magazine | 99.9% | 150,257 | -11.8% | -19.7% |
| Country Living | 99.9% | 149,587 | -5.1% | -6% |
| Elle (U.K.) | 91.1% | 144,972 | -9.8% | -10.6% |
| Inside Soap | 100% | 142,545 | -5.1% | -7.6% |
| Empire | 99.5% | 139,499 | -5.1% | -5% |
| Your Home | 96.5% | 128,192 | -1.2% | -0.9% |
| Instyle UK | 82.3% | 128,192 | -12.2% | -10.3% |
| TV Easy | 100% | 122,091 | -17.9% | -17.9% |
| Love It! | 100% | 118,286 | -23% | -30.8% |
| BBC Top Gear Magazine | 89.2% | 117,722 | -9.3% | -11.4% |
| Harrods Magazine | 0% | 117,262 | -2.5% | 7.1% |
| House Beautiful | 99.9% | 116,432 | -4.6% | -4.3% |
| Total TV Guide | 99.9% | 110,273 | -9% | -8.9% |
| Essentials | 99.9% | 110,130 | -5.4% | -6.5% |
| My Weekly | 99.9% | 108,305 | -0.9% | -6.9% |
| Homes & Gardens | 82.4% | 103,492 | -4.9% | -4.5% |
| Women's Health | 95.1% | 99,036 | -0.1% | 0.4% |
| RWD | 0% | 98,683 | 0.4% | 2.1% |
| House & Garden | 75.3% | 97,937 | -3.7% | -3.8% |
| FHM | 80% | 95,937 | -6.5% | -15.7% |
| GQ | 83.7% | 93,811 | -7.1% | -3.9% |
| Style at Home | 100% | 92,556 | 5.4% | 15.8% |
| Harpers Bazaar | 68.4% | 92,236 | -3.6% | -6% |
| Fun to Learn - Peppa Pig | 100% | 91,036 | 5.9% | 10.8% |
| 25 Beautiful Homes | 99.9% | 87,757 | 3.4% | -2% |
| Company | 99.7% | 86,197 | -30.5% | -38.3% |
| New Scientist - Worldwide Sales Excluding Australasia & US/Canada | 98.1% | 76,127 | -2.9% | -2% |
| Soaplife | 100% | 75,387 | 2.6% | -10.7% |
| Country Homes and Interiors | 99.9% | 74,594 | -3.9% | -5% |
| Living etc | 99.9% | 74,577 | 3.5% | 1.6% |
| Fun to Learn - Friends | 100% | 72,724 | -7.6% | -7.5% |
| Tatler | 64.1% | 70,996 | -2.3% | 0.3% |
| The Fly | 0% | 70,866 | -28.1% | -34.9% |
| All About Soap | 100% | 68,359 | -7.2% | -12.2% |
| First News | 51.1% | 68,065 | 15.2% | 9.2% |
Source: ABC Consumer Magazine Report