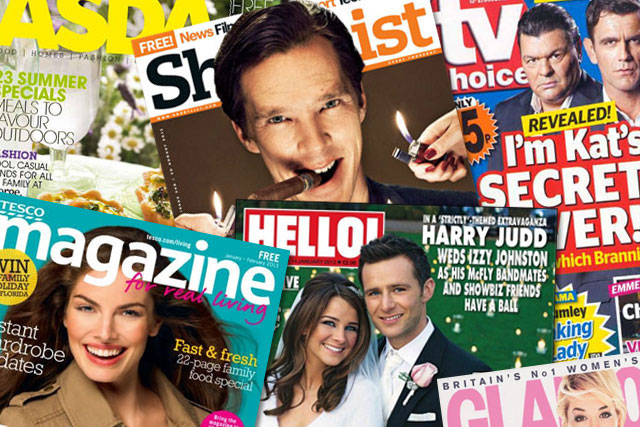 Under the new reporting rules, several brands posted large rises in consumers accessing magazine digital editions, with digital edition circulations as a whole up 61% year on year and the number of digital editions audited increasing by 52% to 185 (excluding international editions).
Annual lifts for flagship brands
At Condé Nast, whose international president, Nicholas Coleridge has been a vocal advocate of combining print and digital circulations, its magazine portfolio reports seven titles displaying digital edition and subscription growth.
Women's monthly Glamour posted a new ABC of 415,258, an increase of 2.5% period on period. UK actively purchased sales have risen by 1.4% and total actively purchased copies are up by 2.8% period on period. Digital editions are up 4.4% period on period and 12.5% year on year.
The fashion bible Vogue posted a new ABC of 201,077, with UK actively combined purchased copies up 5% period on period and 2.1% year on year. Digital edition sales have increased by 9.4% period on period and 124.5% year on year, while UK subscriptions have grown by 10.6% period on period.
GQ continues to stand out in the men's sector, with a combined ABC of 127,040, representing an increase of 2.6% in UK actively purchased copies period on period. However, digital edition sales were up a rather sluggish 3.3% year on year.
Elsewhere, Condé Nast's forward-facing monthly tech magazine, Wired, has a new ABC of 57,497, static period on period. Digital edition sales were up 1.4% period on period and 18.1% year on year.
Coleridge, president of Condé Nast International and managing director of Condé Nast Britain, said: "It's great to see a surge in sales for Glamour in the past six months, and our titles making similar progress in digital editions. This is a terrific time to be publishing quality magazines."
Signs of stability
Hearst cited a "solid" performance for the six-month period, with 12 out of the 19 titles audited, posting either period-on-period growth or year-on-year growth. The publisher's flagship brand, Good Housekeeping, posted a combined print and digital ABC of 414,542, up 3.6% period on period and 0.4% year on year.
Women's Health, launched in 2012, is up 4.5% period on period and 7.6% year on year to 112,512, while in the men's lifestyle market, Esquire was up 4.2% period on period.
Hearst also reported "signs of stability returning to the weekly market", with its weeklies division growing total print and digital sales by 1.3% period on period, including Real People, up 6.7% period on period, Reveal up 2.4% period on period and Inside Soap up 2% period on period.
Anna Jones, chief operating officer of Hearst Magazines UK, said: "It's an exciting time for our business. Our magazines continue to dominate their respective markets, while our fantastic digital growth and innovative new product launches, from Esquire Weekly to ELLE's new mobile proposition, enable us to deliver the highest-quality content to our audiences and advertisers across every dimension."
IPC Media reported "healthy growth" from some of its monthly and weekly women's titles in both the lifestyle and real life sectors, with six titles posting lifts. In the weekly market, IPC Connect's Woman's Own outperformed the market both period-on-period (2.2%) and year-on-year (1.3%) with 226,116.
IPC's monthly lifestyle title Woman&Home reported print growth of 3.8% on the period and 0.2% on the year, to deliver a combined ABC of 356,282. Real life title Pick Me Up achieved a 5.5% uplift, posting a combined print and digital ABC of 183, 662, while Chat posted a 0.7% print rise to 331,102.
Magazines as multiplatform brands
At Bauer Media, home to Heat, Grazia and Empire among others, there is much talk of reaching "valuable audiences across multiple-platforms", with its celebrity leading Heat brand now claiming more than seven million consumer touch points across radio, magazine, TV, online and mobile.
Paul Keenan, chief executive of Bauer Media, said: "Our ongoing commitment to product excellence is reflected in strong ABC performances from Heat, which outperforms the celebrity weekly market both period on period and year on year, Yours, which has had another strong period with continued stability, Garden News, which delivers significant year-on-year growth, and Classic Cars, which thanks to a fresh new look and new editorial franchises, shows a growth of +6.05% on last period."
Growth continues for free magazines
In the purely ad-funded sector, ShortList Media is celebrating solid performances for both its free men's weekly, ShortList, and its women's weekly, Stylist.
ShortList's distribution held steady, with slight lifts of 0.04% period on period and 0.6% year on year, enough for the title to be able to claim its sixth consecutive year of ABC growth, at 534,692 copies per week.
Publisher Darren Singh said: "ShortList's continued growth in the men's magazine market is proof that the right magazine, with the right distribution, can still reach a quality audience. It's clear that the modern, urban man wants a weekly title that he can relate to, be inspired by and read with pride in public. ShortList's authoritative, intelligent and accessible tone offers the service these men are looking for to advise and entertain them.
Stylist, the women's fashion and lifestyle market, posted its fourth year-on-year ABC increase, with an audited 435,975 copies every week.
Publishing director Glenda Marchant said: "Stylist has had a fabulous six months, not only celebrating its 200th issue, but creating some amazing commercial solutions. An exciting partnership with Ford saw the phenomenal feat of creating an entire issue of Stylist in 24 hours from a pop-up "
Barry McIlheney, chief executive of the PPA, said: "Today's ABC release marks a significant development in the evolution of measurement for magazine brands.
"The industry has long pushed for an appropriate metric that reflects the growing diversity of platforms and audience touch points, and this combination of print and digital edition circulations is a very positive step forward."
More comment and industry poll here: Should magazines combine print and digital editions?
Combined circulation chart, showing magazines which reported a print and a digital circulation. Magazines which did not report a digital circulation are not shown in this chart.

Dec End 2013
Digital Yr / yr
Print Yr / yr
Title
Combined
Print
Digital
% change
% change
What's on TV
1051129
1049558
1571
-
-14.1%
Slimming World Magazine
458517
450778
7739
-
0.7%
Glamour
415258
410480
4778
12.5%
-3.2%
Good Housekeeping
414542
410981
3561
5.4%
0.4%
New!
378311
373972
4339
-
-7.3%
Woman & Home
356282
353169
3113
289.1%
0.2%
Chat
331102
329821
1281
-
-5.3%
Time Magazine - EMEA (excluding BI/SA)
317039
310899
6140
-
-3.6%
OK! Magazine
308220
301355
6865
138.9%
-12%
Woman's Weekly
307357
307086
271
-
-3.1%
HELLO!
288331
281923
6408
124.1%
-1.7%
Cosmopolitan
286043
279127
6916
-36.2%
-9.5%
BBC Good Food
268844
257424
11420
20.4%
-6.2%
Star
261796
260693
1103
-
3.4%
Prima
260734
260051
683
1%
1.6%
TV Times
254593
254376
217
-
-7.7%
Woman
252239
251296
943
-
-3.8%
The Economist - Continental Europe Edition
245783
228726
17057
46.7%
-2.6%
Marie Claire
227729
225708
2021
123.3%
-11.6%
Woman's Own
226116
225436
680
-
1.3%
The Economist - United Kingdom Edition
221080
208438
12642
83.8%
-0.9%
Men's Health
213393
203053
10340
-18.4%
0.2%
Best
208706
208548
158
-9.7%
-11.8%
Red
203354
199841
3513
19.5%
-8.2%
Vogue
201077
192763
8314
124.5%
-5.2%
BBC Gardeners' World
197390
195763
1627
191.6%
-3.4%
Now
196726
194948
1778
-
-18.8%
Ideal Home
193101
191197
1904
162.3%
0.4%
Country Living
190004
187360
2644
4.4%
-0.4%
Look
187884
186055
1829
-
-17.4%
Real People
186100
185682
418
8.9%
0%
Pick Me Up
183662
183210
452
-
-4.6%
Reveal
178409
176844
1565
-7.5%
-16.4%
Elle (U.K.)
172079
166680
5399
-23.6%
-14.2%
TV & Satellite Week
155779
155138
641
-
-6.4%
The Economist - Asia Pacific Edition
151130
136206
14924
56.8%
-4.2%
BBC Top Gear Magazine
150884
137482
13402
137%
-8.4%
Inside Soap
147294
145082
2212
127.3%
-3.8%
Instyle UK
146507
144628
1879
18.5%
-12.8%
Time Magazine - British Isles (BI)
130114
127452
2662
-
-5.7%
GQ
127040
114867
12173
3.3%
-4.4%
Your Home
122896
122266
630
-
-6%
Homes & Gardens
122230
120511
1719
10.6%
-5.5%
House & Garden
120008
117964
2044
-3.2%
-6.7%
House Beautiful
118290
117065
1225
-11.2%
-8%
TV Easy
112675
112472
203
-
-24.4%
Women's Health
112512
105426
7086
172.5%
3.4%
Harpers Bazaar
111071
107150
3921
-29%
-3.8%
Essentials
106848
106262
586
-
-9.6%
25 Beautiful Homes
101566
100647
919
54.5%
1.6%
Wallpaper
100460
97797
2663
28.5%
-2.5%
Style at Home
97890
96867
1023
-
10.1%
Country Homes and Interiors
95823
94588
1235
163.9%
-3.1%
Living etc
94728
91552
3176
24.6%
0.1%
Computeractive
91346
90122
1224
-
-8.6%
Company
90116
88059
2057
-15.9%
-31.8%
Vanity Fair
90018
81344
8674
12.2%
-16.8%
BBC History Magazine
89378
78239
11139
73.2%
6.3%
Four Four Two
87658
84701
2957
238.7%
0.4%
Tatler
83209
81267
1942
19.4%
-6.7%
Runner's World
80010
77023
2987
-10.2%
-7%
Conde Nast Traveller
78014
76614
1400
-15%
-2.4%
Stuff
77340
62391
14949
193.5%
-15%
Psychologies Magazine
75473
73417
2056
-
-5.4%
Elle Decoration
71371
65663
5708
-13%
-7.3%
Classic & Sports Car
71257
70044
1213
2326%
-0.2%
BBC Focus
70085
65693
4392
43.5%
-11.6%
Soaplife
68121
67891
230
-
-8.1%
Total Film
67450
55316
12134
644%
-15.4%
All About Soap
64376
63544
832
33.8%
-14.2%
Olive
62247
60178
2069
119.2%
-13.6%
Nuts
62118
53342
8776
-
-33.5%
Esquire
59979
55011
4968
-16.4%
-10.7%
World Of Interiors
58008
56505
1503
0%
-6.7%
Wired
57497
49279
8218
18.1%
-3.6%
Classic Rock
57488
54109
3379
29.6%
-4.6%
Homes & Antiques
57093
56480
613
33%
-8.3%
Woman & Home Feel Good Food
55117
54445
672
-
-13.9%
Men's Fitness
54387
50318
4069
3%
-18.6%
Lonely Planet Traveller
53360
50052
3308
115.2%
-9.1%
Jamie Magazine
53175
50111
3064
-
0.2%
Conde Nast Brides
53073
51648
1425
38.5%
-7.2%
T3
52975
30656
22319
100%
-15%
Golf Monthly
52199
50245
1954
91.2%
-11.9%
Cycling Plus
51155
45640
5515
25.7%
0%
How It Works
49311
39270
10041
3.9%
11.8%
Times Educational Supplement
48062
47191
871
-
-13.3%
F1 Racing (UK Edition)
47698
44761
2937
250.1%
-7.7%
BBC Easy Cook
45282
44120
1162
166.5%
-7.4%
Horse & Hound
44458
43737
721
-
-9.2%
BBC Music Magazine
40827
40044
783
192.2%
-2.2%
Digital Camera Magazine
40401
34824
5577
-12.2%
-11.7%
Mollie Makes
39755
36962
2793
0.3%
0.4%
New African
39731
39088
643
-
-2.8%
Flypast
39533
38764
769
-
5.6%
Time Magazine - Southern Africa (SA)
39409
38845
564
-
-8.6%
Simply Knitting
39220
38150
1070
-
-13%
BBC Countryfile Magazine
39216
38661
555
116.8%
-1.8%
Country Life
38739
38275
464
211.4%
0.1%
BBC Wildlife
38474
37240
1234
74.8%
-7.5%
Railway Magazine
37853
37571
282
-
0.7%