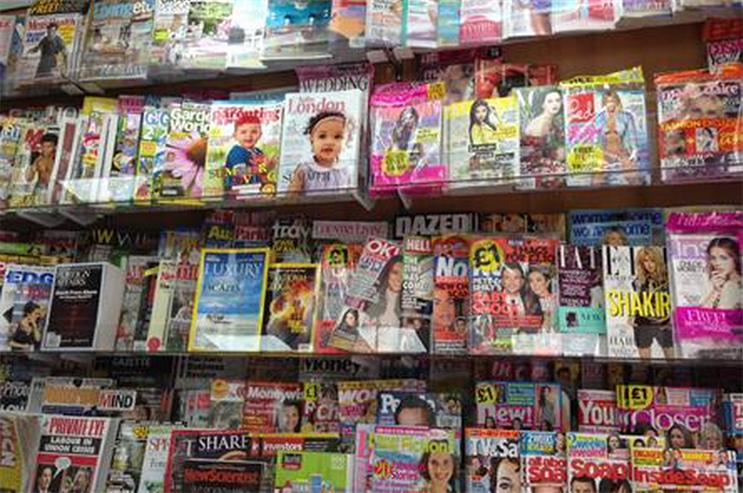 The embattled climate for British magazines continued in the first half of 2015, with average circulations falling 5.3 per cent.
In relative terms, the best performing fully paid-for titles were Mega (up 43 per cent to 34,495) and CBeebies Magazine (up 25 per cent to 69,466).
Haymarket's Forever Sports, published under contract for Sports Direct, has stabilised after 45 per cent growth in the last audit to achieve a circulation of 90,539.
Stand-out performers
There were other notable pockets of growth in the print and digital magazines during the January - June 2015 period reported today by the Audited Bureau of Circulations.
In the monthies, Tatler's sales continue to grow following the BBC2 documentary at the end of last year. Since the fly on the wall three part series, the high-society magazine has defied the downward trends to post a 9.5 per cent increase year on year, and an 8.7 per cent lift in purchased copies period on period, to 84,383.
This marks the second ABC period lift since the programme aired. In total, Tatler's UK subscriptions have risen by 18.8 per cent year on year; publishing director, Patricia Stevenson, admits: "Tatler has without question benefited from the increased profile which the BBC documentary".
Speaking to Campaign, Stevenson adds: "Pleasingly these new readers are remaining with us, enjoying the unique mix of glamour, access and humour the magazine offers. "Gratifyingly the Tatler. com audience is also up, with both the new design and content proving very popular. All in all great results all round."
Another title experiencing market beating growth is the satirical news magazine Private Eye. The 5.0 per cent rise year on year to 228,264 represents the best circulation for the fortnightly magazine in almost 30 years. Private Eye's editor, Ian Hislop, says: "These figures are completely unbelievable. Are they from the Treasury?"
Elsewhere, Radio Times is claiming the crown for being the UK's "biggest-selling quality magazine", with a weekly print ABC of 712,927. Radio Times is also the UK's biggest weekly subscription title, with 253,390 subscribers, a 5 per cent year-on-year increase as more than 1 in 3 readers now choose to develop a long term relationship with the title.
The first ever Radio Times Festival is taking place in Hampton Court in September, as the brand continues to engage people in new and exciting ways.
However, H Bauer's TV listings title, TV Choice, remains the biggest-selling magazine in the UK with a circulation of 1.27 million, extending its lead on Time Inc's What's on TV with 1.03 million.
In the fashion and beauty sector, In Style rose 2.0 per cent year on year. Marcus Rich, chief executive of Time Inc, says: "This impressive rise is the second annual increase in a row under editor Charlotte Moore and sees the title outperform the market by some way."
Digital success
In terms of success with digital editions, The Economist leads the charge, with digital circulation up 22 per cent worldwide over the last six months, and 69 per cent year on year. Total digital circulation now stands at a record 282,829 copies.
Michael Brunt, chief marketing officer at The Economist, says: "Our latest circulation numbers are in line with what we have seen over the last few years – a steady migration to digital. "Whilst the majority of our new customers still choose a subscription that provides both print and digital formats, the number choosing digital-only circulation has grown tremendously.
"This is making our circulation increasingly profitable, as our revenues are increasing and at the same time, our costs are decreasing. We've enjoyed the benefits of this trend for some time and it's a great position to be in."
In the wider marketplace, after several periods of growth - albeit from a low base - 37 of the 90 digital editions audited by ABC for this period, reported falls in digital circulationd from the first half of 2014 as tablet sales slow down and competition increases.
In the celebrity sector, digital sales for Mark Frith's new home, Now, dropped 40.8 per cent to 1,137, accompanied by double-digit falls for rivals Reveal (- 36.8 per cent to 954), OK (-32.5 per cent to 4,998), New (-28.5 per cent to 3,561) and Hello (-27.3 per cent to 4,792).
Other notable drops in digital circulations included Cosmopolitan (- 25.1 per cent to 4,905), Empire (-12.5 per cent to 11,443), Men's Health (-12 per cent to 9,113) and Women's Health (-11.6 per cent to 5,261).
Strong digital performers were Closer (up 93.1 per cent to 2,472) and Heat (up 76 per cent to 2,135). In addition, FHM and Zoo - while experiencing double-digit falls in annual print sales, saw digital circulations increase by 61.4 per cent to 5,486 and 57.1 per cent to 3,214, respectively [see table below].
Freemium continues to grow
It should be noted, not included in this Top 100 ranking are the free magazines owned by brands or in the growing freemium space pioneered by ShortList Media. ShortList's new ABC figure is 502,267 for the period Jan-Jun 2015, Stylist's was 403,200.
The freely distributed Time Out had a stable distribution of 308,041 and Sport magazine reported 304,401. The sector is set to expand in the coming months as music title NME moves to a free model, and other publishers - including Dennis Publishing - also prepare to move into the space.
Top 100 in Print Magazines
| | | | | |
| --- | --- | --- | --- | --- |
| | Title | June end 2015 | Prd-prd % change | Yr-yr % change |
| 1 | TV Choice | 1,276,045 | 0.8 | -2.1 |
| 2 | What's on TV | 1,013,702 | -4.1 | -2.1 |
| 3 | Radio Times | 712,927 | -9 | -6.5 |
| 4 | Take a Break | 608,743 | -5.8 | -7.4 |
| 5 | Slimming World Magazine | 539,437 | 11 | 16 |
| 6 | Saga Magazine | 385,638 | -8.3 | -15 |
| 7 | Good Housekeeping | 400,647 | -3.8 | -0.7 |
| 8 | Glamour | 366,068 | -8.5 | -8.6 |
| 9 | Woman & Home | 326,417 | -6.1 | -4.4 |
| 10 | Closer | 281,136 | -5.5 | -9.8 |
| 11 | Woman's Weekly | 296,317 | -3.6 | -3 |
| 12 | Chat | 273,434 | -9.3 | -11 |
| 13 | Prima | 263,273 | -1.4 | 0 |
| 14 | Yours | 272,603 | 1 | 0.1 |
| 15 | New! | 247,735 | -16.5 | -23.3 |
| 16 | Woman | 246,533 | -2 | -2.9 |
| 17 | That's Life | 241,289 | -7.5 | -4.5 |
| 18 | Private Eye | 228,264 | 4 | 4.6 |
| 19 | Sainsbury's Magazine | 218,034 | -5.3 | 0.5 |
| 20 | TV Times | 212,869 | -10.4 | -6.6 |
| 21 | HELLO! | 256,541 | -4.7 | -5.1 |
| 22 | Woman's Own | 208,158 | -5.3 | -7.7 |
| 23 | BBC Gardeners' World | 206,168 | 14 | -5 |
| 24 | BBC Good Food | 209,847 | -12 | -7.1 |
| 25 | Cosmopolitan | 253,543 | 0.5 | -10.2 |
| 26 | The People's Friend | 214,414 | -5 | -6.7 |
| 27 | National Geographic Magazine | 204,958 | -6.5 | -9.7 |
| 28 | Bella | 187,095 | -5.9 | -4.1 |
| 29 | OK! Magazine | 195,017 | -31.8 | -27.4 |
| 30 | Heat | 183,220 | -10.1 | -16.3 |
| 31 | Red | 184,922 | -2 | -1.8 |
| 32 | Best | 170,877 | -12.5 | -16.8 |
| 33 | Ideal Home | 172,991 | -6.8 | -11.1 |
| 34 | Real People | 156,100 | -10.7 | -8.1 |
| 35 | The Week | 202,842 | 1.4 | 1.7 |
| 36 | Marie Claire | 183,936 | -6.3 | -8.1 |
| 37 | Star | 147,460 | -22.3 | -30.1 |
| 38 | Men's Health | 184,788 | -3.1 | -6.1 |
| 39 | The Economist - United Kingdom Edition | 156,961 | -9.8 | -22.3 |
| 40 | Country Living | 165,996 | -7.8 | -5.9 |
| 41 | Pick Me Up | 143,373 | -9.8 | -12 |
| 42 | Take a Break Series | 141,647 | -17.9 | -10.3 |
| 43 | TV & Satellite Week | 137,232 | -5 | -7.8 |
| 44 | Now | 139,152 | -13.6 | -22.4 |
| 45 | Vogue | 191,659 | 0 | -0.2 |
| 46 | Reveal | 132,134 | -17.3 | -20.2 |
| 47 | Elle (U.K.) | 160,232 | 0.6 | 6.5 |
| 48 | Grazia | 139,137 | -7.1 | -8.1 |
| 49 | Inside Soap | 122,230 | -6.8 | -8.3 |
| 50 | Candis | 121,918 | -8.8 | -20.3 |
| 51 | Look | 129,624 | -15.3 | -22.1 |
| 52 | Empire | 133,210 | 1.9 | -1.3 |
| 53 | Your Home | 119,621 | 0.2 | -3.3 |
| 54 | Women's Health | 119,479 | 5.8 | 9 |
| 55 | Total TV Guide | 108,851 | -3.3 | 1.1 |
| 56 | House Beautiful | 110,884 | -9 | 0.2 |
| 57 | My Weekly | 103,137 | -3.1 | -3 |
| 58 | InStyle UK | 148,932 | -0.6 | 2.4 |
| 59 | Reader's Digest | 153,175 | 8.5 | 14.7 |
| 60 | Style at Home | 96,886 | -3.1 | -8.9 |
| 61 | Essentials | 103,408 | -3.9 | -4.6 |
| 62 | Disney Frozen | 91,011 | | |
| 63 | HELLO! Fashion Monthly | 90,892 | | |
| 64 | BBC Top Gear Magazine | 119,102 | -8.7 | -8.1 |
| 65 | Fun to Learn - Peppa Pig | 86,059 | -7.5 | -12.2 |
| 66 | GQ | 109,785 | -2.5 | -3.4 |
| 67 | 25 Beautiful Homes | 80,280 | -10.8 | -16.9 |
| 68 | HomeStyle | 70,767 | | |
| 69 | Country Homes and Interiors | 82,569 | -5.6 | -9.4 |
| 70 | CBeebies Magazine | 69,466 | 15.4 | 25.4 |
| 71 | Homes & Gardens | 102,680 | -9.3 | -10.6 |
| 72 | Living etc | 84,328 | -4.3 | -8.6 |
| 73 | House & Garden | 111,261 | -2.7 | -3.4 |
| 74 | Peppa Pig Bag-o-Fun | 67,305 | 4 | -10.3 |
| 75 | LEGO Ninjago | 58,070 | | |
| 76 | Toxic | 55,004 | 5.8 | 10 |
| 77 | LEGO Legends of Chima | 54,370 | 1.1 | 19.1 |
| 78 | Forever Sports | 90,539 | 0.5 | 45.4 |
| 79 | Cbeebies Art | 53,378 | -1.4 | -8.4 |
| 80 | OMG | 52,609 | | |
| 81 | Psychologies Magazine | 59,904 | -6.2 | -15.8 |
| 82 | Swashbuckle | 51,007 | | |
| 83 | Harpers Bazaar | 103,288 | -5.4 | -1.9 |
| 84 | Soaplife | 50,917 | -6.1 | -17 |
| 85 | delicious | 58,006 | -10.3 | -6 |
| 86 | Cbeebies Special | 49,354 | -6.2 | -6.2 |
| 87 | MoneyWeek | 47,986 | -8.9 | -17.1 |
| 88 | Disney's Princess | 46,545 | -17.1 | -22.4 |
| 89 | Auto Express | 45,312 | -1.6 | -2.9 |
| 90 | Tatler | 82,136 | 0.1 | -0.1 |
| 91 | Fun to Learn - Friends | 46,683 | -5.5 | -20.1 |
| 92 | Something Special | 43,309 | 7.4 | -1.4 |
| 93 | Elle Decoration | 61,712 | -5.1 | -5.9 |
| 94 | Top of the Pops | 43,015 | 5.8 | -7.7 |
| 95 | All About Soap | 42,773 | -16.7 | -23.3 |
| 96 | Thomas and Friends | 42,010 | 0.5 | 4.3 |
| 97 | The Oldie | 46,144 | 1.3 | 1.6 |
| 98 | Sparkle World | 48,749 | 9.9 | 0 |
| 99 | Top Sante Health & Beauty | 47,217 | 7.6 | -5.7 |
| 100 | The Spectator excluding Australia | 55,669 | 1.6 | 2.6 |
Top 100 in Digital Editions
| | | | | |
| --- | --- | --- | --- | --- |
| | Title | June end 2015 | Prd-prd % change | Yr-yr % change |
| 1 | The Economist - United Kingdom Edition | 70,953 | 42 | 225.8 |
| 2 | The Week Magazine | 30,750 | 11.3 | 17 |
| 3 | BBC Top Gear Magazine | 14,562 | 3 | 7.4 |
| 4 | Attitude | 12,207 | -3.9 | -8.7 |
| 5 | Empire | 11,443 | -1.6 | -12.5 |
| 6 | GQ | 11,300 | -9.7 | -0.5 |
| 7 | Slimming World Magazine | 10,970 | -5.9 | -5.6 |
| 8 | BBC Good Food | 10,258 | -4.6 | -6.7 |
| 9 | Men's Health | 9,113 | -4 | -12 |
| 10 | Vogue | 8,399 | -1.5 | 5.6 |
| 11 | Wired | 7,692 | -7.5 | -5.5 |
| 12 | Vanity Fair | 6,817 | -11.7 | -15.6 |
| 13 | National Geographic Magazine | 6,555 | -29.2 | |
| 14 | FHM | 5,486 | 62 | 61.4 |
| 15 | Women's Health | 5,261 | 1.8 | -11.6 |
| 16 | Esquire | 5,195 | -8.2 | -8.5 |
| 17 | The Economist - Middle East/Africa Edition | 5,135 | 37.4 | 53.1 |
| 18 | OK! Magazine | 4,998 | -26.2 | -32.5 |
| 19 | Cosmopolitan | 4,905 | -10.7 | -25.1 |
| 20 | HELLO! | 4,792 | 14.4 | -27.3 |
| 21 | Elle Decoration | 4,694 | -5.2 | -20.2 |
| 22 | Grazia | 4,681 | 11.7 | 18.2 |
| 23 | Living etc | 4,285 | 4.5 | 17.3 |
| 24 | Lonely Planet Traveller | 4,083 | 44.8 | 45 |
| 25 | Woman & Home | 3,990 | -3.9 | 20.1 |
| 26 | Glamour | 3,944 | -17.5 | -15.3 |
| 27 | Red | 3,922 | 2.5 | 7 |
| 28 | Elle (U.K.) | 3,849 | -8.5 | -20.8 |
| 29 | Investors Chronicle | 3,645 | 12.2 | |
| 30 | New! | 3,561 | -21 | -28.5 |
| 31 | Good Housekeeping | 3,558 | 12.5 | 5.9 |
| 32 | Grand Designs | 3,323 | -0.9 | -13.1 |
| 33 | Zoo | 3,214 | 61.9 | 57.1 |
| 34 | Psychologies Magazine | 3,208 | 36 | 25.7 |
| 35 | Olive | 3,095 | 34.8 | 47.7 |
| 36 | Jamie Magazine | 3,011 | -15.9 | 9.7 |
| 37 | Q | 2,894 | 21.4 | 28.2 |
| 38 | Country Living | 2,804 | 12.7 | 12 |
| 39 | Harpers Bazaar | 2,801 | 11.5 | -11.4 |
| 40 | BBC Gardeners' World | 2,780 | 22.6 | 30.3 |
| 41 | Closer | 2,472 | 99.2 | 93.1 |
| 42 | Country Homes and Interiors | 2,453 | 21.8 | 45.9 |
| 43 | Look | 2,274 | -15.8 | -13 |
| 44 | Tatler | 2,247 | 5.4 | 26.2 |
| 45 | Inside Soap | 2,225 | 12.3 | -24.7 |
| 46 | What's on TV | 2,160 | 9.6 | 18.9 |
| 47 | Heat | 2,135 | 79.6 | 76 |
| 48 | Homes & Gardens | 2,127 | -0.7 | 16 |
| 49 | Marie Claire | 2,074 | 2.3 | -0.3 |
| 50 | Uncut | 2,065 | 14.2 | 34.1 |
| 51 | BBC Easy Cook | 1,874 | 64 | 89.3 |
| 52 | Ideal Home | 1,851 | -5.2 | 1.9 |
| 53 | House & Garden | 1,786 | 6.9 | -6.6 |
| 54 | Health & Fitness | 1,652 | -19.5 | -35.5 |
| 55 | Conde Nast Traveller | 1,551 | 25.8 | 3.5 |
| 56 | Prospect | 1,534 | 10.1 | |
| 57 | Octane | 1,479 | 6.2 | 0.1 |
| 58 | Doctor Who Magazine | 1,350 | -15.8 | -2 |
| 59 | World Of Interiors | 1,341 | 6.9 | -6.6 |
| 60 | Top Sante Health & Beauty | 1,328 | | |
| 61 | 25 Beautiful Homes | 1,279 | 8.4 | 24.5 |
| 62 | Instyle UK | 1,235 | -26.9 | -29.1 |
| 63 | Chat | 1,154 | -13.6 | -7.1 |
| 64 | House Beautiful | 1,143 | 6.2 | 13.2 |
| 65 | Now | 1,137 | -30.2 | -40.8 |
| 66 | Women's Fitness | 1,097 | -13.6 | -29.9 |
| 67 | Land Rover Monthly | 1,094 | 7.1 | 2.9 |
| 68 | TV & Satellite Week | 1,072 | 3.1 | 20.6 |
| 69 | Style at Home | 1,025 | -11.5 | -13.4 |
| 70 | Reveal | 954 | -15.8 | -36.8 |
| 71 | Star | 930 | -30.1 | -31.2 |
| 72 | Prima | 882 | 26.9 | 25.3 |
| 73 | Woman | 870 | -9.3 | -8.6 |
| 74 | Your Home | 866 | -3.8 | -3.5 |
| 75 | Prima Baby | 850 | 47.3 | 7.1 |
| 76 | Essentials | 789 | 6 | 14 |
| 77 | Woman's Own | 764 | -3.5 | 1.2 |
| 78 | Saga Magazine | 716 | -0.8 | 6.7 |
| 79 | Good Homes | 710 | 11.1 | |
| 80 | Pick Me Up | 527 | -12.9 | -11.6 |
| 81 | All About Soap | 512 | 16.6 | -32.5 |
| 82 | Soaplife | 511 | 38.1 | 43.5 |
| 83 | Good Things | 489 | | |
| 84 | Woman's Weekly | 476 | 7.9 | 20.8 |
| 85 | The People's Friend | 400 | 10.8 | 81 |
| 86 | Real People | 378 | 14.2 | 26.4 |
| 87 | Best | 350 | 57 | 42.9 |
| 88 | TV Times | 315 | 15 | 8.2 |
| 89 | HELLO! Fashion Monthly | 177 | | |
| 90 | Gurgle Magazine | 58 | -63.8 | -87.2 |
Audit Bureau of Circulations