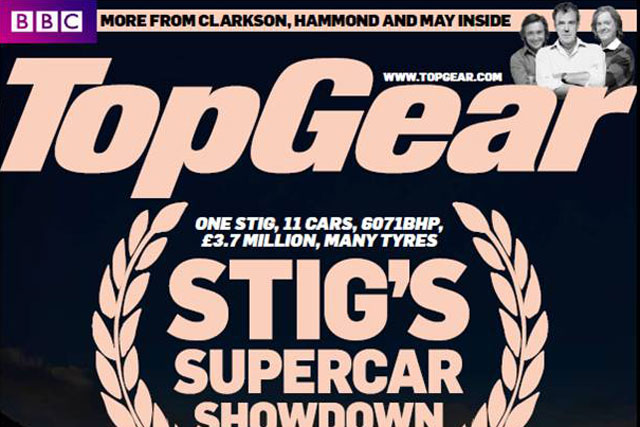 Top Gear, which BBC Worldwide is retaining control of as part of its agreement with private equity company Exponent, sold an average of 190,535 copies during the Jan to Jun 2011 period.
It was unchanged over a year, while the general motoring market was down 4.4% to 488,978 copies.
The BBC monthly's nearest competitor remains Haymarket's What Car?, which recorded a circulation of 82,029 copies, down 2.8% year on year.
All the other magazines in the sector fared worse, with Car and Auto Express, the Dennis title, driving dramatically into reverse.
Car's circulation dropped year on year by more than 8,000 copies, or 13.5%, to 54,006 copies.
This pushed it lower than Auto Express, which fell 9% year on year to hit 56,424 copies.
Ed Kenyon, managing director of Bauer's motoring division, said: "Car is synonymous with new metal and given the challenging retail sales of new cars it's been a tough environment, however we remain the most premium, authoritative and influential motoring magazine in the UK."
Dennis' performance car focused title Evo was down 5% to 61,417 copies while Haymarket's Autocar continues to lag the pack with a 6.5% drop to 44,567 copies.
However, on the shorter term period-on-period measure Autocar was the best performer. It stayed flat, while Top Gear dipped 0.5% and the other titles lost between 6% and 7.5% of their circulation.
In the view of Amy King, head of press at MPG media contacts, "flat is the new up" in magazines and Top Gear has done "exceedingly well".

The title has had investment and has distinguished itself from its rivals by approaching shoots almost like fashion shoots, King said, helping to attract lifestyle advertisers such as fragrance and fashion brands.
"We have to fight for every copy sale," admitted Simon Carrington, the publisher of Top Gear.

"We're working closely with the retailers and ensuring we have the best positioning on the shelf that we possibly can."

He credited the performance to a range of other factors including an editorial overhaul at the end of 2010 "introducing more cars and more fun" and a strong year for new cars.

Covermounts, especially given not many other car magazines did them, were also an important part of the mix, according to Carrington.

"We tend to do four or five a year, with recent ones including a DVD of Universal Pictures 'Senna' movie, 'Top Gear' DVDs and fridge magnets."
When the BBC Magazines deal completes, which is expected to be in the autumn, Top Gear is set to be published by Exponent under a contract lasting for five years.