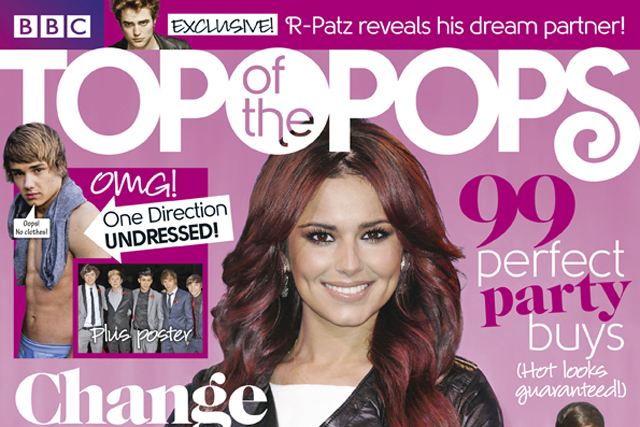 Teenage girls' magazines continue to suffer from the trend of readers migrating to the internet to get their fill of boys, fashion and real-life stories.
Following the demise of Hachette's teen title Sugar at the end of 2010, rivals such as Panini's Bliss are sufferinig worrying falls in circulation, according to the latest round of ABCs figures.
Bliss fell 17.7% on the period and 22.1% on the year to record an average circulation of 69,212 for the period July to December 2010.
Rival Shout, published by DC Thomson, fell 5.3% on the period and 22.1% on the year to 60,645.
Amy King, head of press at MPG, said teen titles are suffering "as there are so many other easier quick fits out there such as social media sites".
BBC Worldwide's Top of the Pops magazine recorded a circulation of 94,224, down 10% on the period and down 12.4% on the year.
While the BBC TV show has been off air for some time, the publisher said the magazine will look to retain its relevance as a printed publication by relaunching at the start of the year with a heavier focus on beauty and fashion.
Across children's magazines, publishers argue that the Christmas bad weather impinged on sales.
Egmont's Ben 10 magazine, an offshoot of the TV series, fell 3.9% on the period, but was still up 11.1% on the year, to report a circulation of 71,104.
Debbie Cook, director of magazines at Egmont, said its fall was partially the result of the December weather and partly because of "the difficult economic climate".
Ben 10, like a number of its rivals, has lured in readers with covermounts on each issue.
Cook said: "Our strategy is to do a lot of research with kids and make sure that every issue has a covermount on it."
Egmont's sister titles Disney's Princess, Barbie and Go Girl all suffered steep drops in circulation.
But Cook argues that in the case of Disney's Princess the circulation painted "a slightly false picture" as it compared to a strong 2009. The publisher also pointed to the success of Toy Story magazine, launched last July, which posted a debut ABC of 48,525.
Top 10 Children and Teen Magazines
Title
Publisher
Jul-Dec 10
Prd/prd Change
Yr/yr Change
1
Top of the Pops
BBC Worldwide
94,224
-10.0%
-12.4%
2
The Simpsons Comics
Titan Publishing Group
77,590
-5.2%
-23.5%
3
Ben 10
Egmont Magazines UK
71,104
-3.9%
11.1%
4
Fun to Learn - Friends
Redan Publishing
69,331
-5.8%
-9.8%
5
Bliss
Panini UK
69,212
-17.7%
-22.1%
6
Girl Talk
BBC Worldwide
67,959
0.0%
-0.1%
7
Sparkle World
Redan Publishing
65,457
-3.2%
-6.8%
8
Fun to Learn - Peppa Pig
Redan Publishing
65,141
-10.1%
-21.0%
9
Shout
DC Thomson & Co
60,645
-5.3%
-15.8%
10
In The Night Garden
BBC Worldwide
58,686
-2.3%
-13.0%