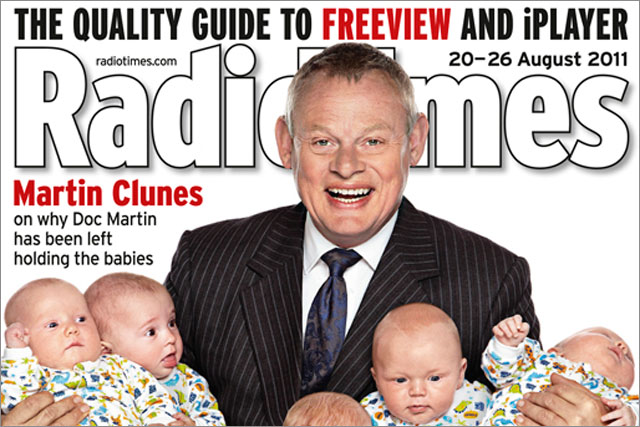 Radio Times, which has probably posted its last figures as a BBC Worldwide-owned title after this week's agreed sale to private equity firm Exponent, fell to 901,036 copies but maintained its place as the third strongest in the TV listings sector.

Kathy Day, publishing director of Radio Times, shrugged off the drops in copy sales, noting: "Within the premium TV listings market, Radio Times' share has grown year on year to 60.7%, meaning that it now outsells the rest of the premium titles put together by over 316k copies a week."

Day added: "Radio Times also retains its market leading position as the UK's biggest selling weekly magazine by subscription, increasing subs by 9.6% to a record 206,372."
The TV listings sector overall continues to attract big numbers, with TV Choice, priced at 47p compared to the Radio Times' £1.20, climbing 3.5% to 1,354,761 copies. What's on TV, which has a 49p cover price, rose 5.4% to 1,274,035 copies.
The overall sector was up 1% year on year to 4,663,246 copies. Amy King, head of press at media agency MPG, said: "Overall the sector has remained flat. Although we have seen some drops TV magazines can still pull in over a million.
"People these days have EPGs at home and guides on their digital TVs, so people are buying the magazines for their editorial, they want to know what's going on in their favourite shows. It's got quite a strong commentary."
The biggest growth came from Bauer's Total TV Guide, which climbed 7.7% year on year with an 117,448 average circulation, though it dropped 3.2% period on period.
IPC's TV Times fell 0.1% year on year and 6.2% period on period to 290,303.
Fiona Dent, who oversees TV weeklies as managing director of IPC Connect, said that more people are staying at home leading to TV magazines' continued popularity.
Dent said: "For IPC Media we have actually grown our position and have made sure we remain the number one publisher in this sector.
"What's on TV had a fantastic result which is testament to our focus on having really strong products offering the best value for money.
"Customers are spending more time at home and need the best content for the best value possible."
Dent claimed What's on TV's retail sales value was up 5.4% year on year at £31.8m.
King said despite some increases in the sector, the TV magazines titles would remain flat in terms of circulation.
She said: "I think the fact it has remained flat is an achievement. Sectors which have remained flat should be very happy with that."
Natalie Burton, acting head of press at Vizeum, said that while Radio Times circulated to a mass market, its sale could see its new publisher investing more into revitalising the title.
Top 10 TV Magazines
Publisher
Jan - Jul
Prd/prd
Yr/yr
2011
change
change
TV Choice
H Bauer Publishing
1,354,761
-0.6%
3.5%
What's on TV
IPC Media
1,274,035
1.4%
5.4%
Radio Times
BBC Worldwide
901,036
-6.2%
-4.9%
TV Times
IPC Media
290,303
-6.2%
-0.1%
TV and Satellite Week
IPC Media
176,837
-2.4%
-4.0%
Inside Soap
Hearst Magazines UK
165,022
-5.8%
-5.7%
TV Easy
IPC Media
162,145
-4.0%
-2.8%
Total TV Guide
H Bauer Publishing
117,448
-3.2%
7.7%
Soaplife
IPC Media
100,798
0.6%
1.4%
All About Soap
Hearst Magazines UK
90,861
-0.8%
-4.9%