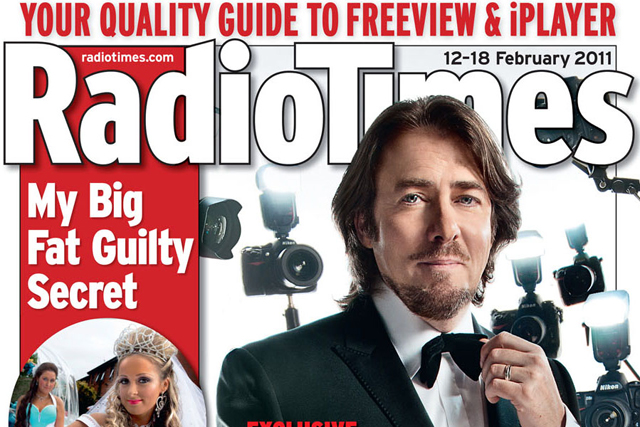 H Bauer's TV Choice, priced at 42p, reported a circulation of 1,362,384 in the period July to December 2010, up 4% on the previous period and 4.6% on the year, according to the latest ABC figures.
IPC rival What's on TV, priced at 49p, lagged behind on 1,257,028, despite climbing 4% on the period and 0.9% on the year.
The budget titles increased their lead over the premium £1.20 priced Radio Times, which nudged up 1.4% on the period but was down 4% on the year to 960,839.
But the flagship BBC title's performance merited the status as the UK's number one title in terms of retail sales value, according to the publisher, and the number one weekly subscription magazine.
Radio Times publisher Kathy Day said it was akin to "winning the Premiership and FA Cup" and confirmed "subscriptions were going gangbusters".
Subscriptions now account for 188,000 compared to Radio Times' newsstand sales of 763,000.
Overall, the listings sector benefited from TV Quick's demise, which had a circulation of around 100,000 when it closed last year.
Publishers also believe they have captured readers from News International, whose new Saturday magazine Buzz, they argue, has failed to resonate with fans of TV listings.
Fiona Dent, managing director of IPC Connect, whose titles include What's on TV, TV Easy and TV Times, said there was "no doubt that the remaining TV titles had taken readers from TV Quick".
Dent believes people are "staying at home and watching more TV" than ever, which has benefited IPC's titles.
While TV listings magazines continue to face tough competition from national newspapers, circulations were, for the most part, up on the period.
The biggest growth in the period came from H Bauer's Total TV Guide, up 11.3% to 121,379.
League Tables
Top 10 TV Listings Magazines
Title
Publisher
Jul-Dec 10
Prd/prd Change
Yr/yr Change
1
TV Choice
H Bauer Publishing
1,362,384
4.0%
4.6%
2
What's on TV
IPC Media
1,257,028
4.0%
0.9%
3
Radio Times
BBC Worldwide
960,839
1.4%
-4.0%
4
TV Times
IPC Media
309,510
6.5%
-3.6%
5
TV & Satellite Week
IPC Media
181,150
-1.6%
-2.5%
6
Inside Soap
Hachette Filipacchi (UK)
175,191
0.1%
-1.2%
7
TV Easy
IPC Media
168,929
1.3%
-6.6%
8
Total TV Guide
H Bauer Publishing
121,379
11.3%
9.6%
9
Soaplife
IPC Media
100,237
0.8%
-1.3%
10
All About Soap
Hachette Filipacchi (UK)
91,633
-4.1%
-4.9%