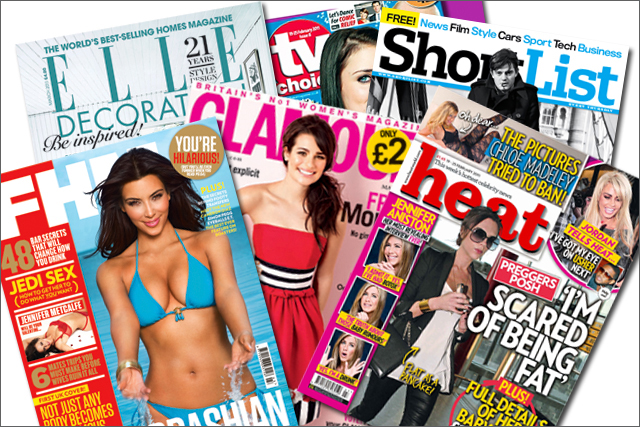 Bauer Consumer Media
Total average circulation per issue: 3,569,610, down 8.6% year on year.
Crack open the champagne for: It's not really worth opening a bottle at Bauer Media after a disappointing ABC audit where only three magazines (Mojo, More and Practical Classics & Car Restorer) posted a period-on-period circulation rise, with only five magazines recording the same success year on year, most notably Classic Bike and Model Rail, up 5.1% and 5.2% yr/yr respectively.

Could do better: Trouble at the top for Bauer's flagship celebrity read Heat, which posted an alarming drop of 11.3% period on period and 19.3% year on year to 370,132 copies. Meanwhile, the landslide in men's magazines continues - is a 32.8% drop year on year for Zoo really the basis for a sustainable business?

Paul Keenan, chief executive of Bauer Media, says: "Bauer Media's portfolio of world-class, influential and trusted magazines continue to be purchased in their millions. They sit at the core of the business and underpin our commitment to deepen our relationships with audiences in a multiplatform world, further extending and enriching client conversations with their customers."
BBC Magazines
Total average circulation per issue: 3,110,197, up 0.5% year on year.

Crack open the champagne for: Peter Phippen, managing director of BBC Magazines, claimed the company is one of the best-performing magazine publishers at his breakfast briefing this week. So is his boast justified? An overall period-on-period circulation rise of 5.5%, year-on-year rises for all the specialist Bristol titles, and a 33.4% yr/yr rise for "star of the show" Lonely Planet indicate yes.

Could do better: All About Animals fell 18.0% prd/prd and 25.8% yr/yr, while the biggest losers in the children's and teen market are Top of the Pops magazine and Toybox, which posted yr/yr declines of 12.4% and 17.5% respectively.

Peter Phippen, managing director of BBC Magazines, says: "BBC Magazines has delivered another strong set of ABC results, showing growth for the second successive period and, of the UK's top five publishers, we are the only company to have shown year-on-year growth. The market has proved challenging over the past six months, but once again BBC Magazines' brands have shown resilience and, in many cases, fantastic growth, with the whole portfolio up 5.5% period on period."
Condé Nast
Total average circulation per issue: 1,566,536, down 1.8% year on year.

Crack open the champagne for: Tatler, which recently departed editor Catherine Ostler handed over with a 1.1% year-on-year circulation increase to its name. Both Tatler and sister monthly Vogue have increased subscriptions take-up, rising 21% and 10% respectively year on year, while the iPad launches for Vogue and Wired are swelling readership among Condé Nast's well-heeled customers.

Could do better: Wired continues to rely heavily on discounted and bulk copies, with only 80% of its headline circulation of 50,044 coming from paid-for sales.

Nicholas Coleridge, managing director of Condé Nast, says: "We are delighted by the resilience of our high-end glossy monthlies. Our titles continue to dominate their sectors and our quality journalism has been rewarded with loyalty from our sophisticated readers. Subscriptions across the portfolio have risen by 9% in the UK. Commercially, after double-digit growth in advertising pages last year, we're seeing a continuing bounce in 2011."
Dennis Publishing
Total average circulation per issue: 788,137, up 0.7% year on year.
Crack open the champagne for: Classic car magazine Octane, which rose 4.7% period on period and 4.8% year on year. Fitness titles Men's Fitness and Fitness & Health were both up 1.1% prd/prd, while evergreen performer The Week posted its twenty-fifth consecutive ABC increase with a 2.2% lift over the last six months.

Could do better: The appetite for specialist computer titles seems to be waning, with Micro Mart down 14.4% year on year, Computer Shopper down 12.3% yr/yr and MacUser down 10.9% yr/yr. However, chief executive James Tye says MacUser's dip in print has been "more than compensated for" by the title's 2,800 bi-weekly iPad sales, which account for 31% of the title's total circulation revenue.

James Tye, chief executive of Dennis Publishing, says: "Once again, Dennis has put in a strong performance at ABC time. The Week posts its twenty-fifth consecutive increase with its highest-ever circulation of 180,502, and our car and fitness titles showed growth in what is still a tough market. Digital SLR Photography is also proving to be a gem, bucking the market with a 13.6% yr/yr rise. My only disappointment is that we can't talk about our iPad sales on our ABC certificates. MacUser, for example, now takes almost a third of its sales through the app store."
H Bauer
Total average circulation per issue: 2,969,968, down 1.9% year on year.

Crack open the champagne for: Total TV Guide, which has triumphed in a crowded market by rising 11.3% period on period and 9.6% year on year.

Could do better: H Bauer seems to have misjudged the nation's appetite for home cooking, going by the 26.6% year-on-year slide for Eat In, which launched to great fanfare in March 2009. The fate of Spirit & Destiny magazine is also looking uncertain, following the title's 10.1% year-on-year drop.

David Goodchild, managing director of H Bauer, says: "In H Bauer's markets, we've seen savvy readers becoming more selective in their magazine purchasing, choosing to buy those magazines that deliver the best experience in quality and value. We are confident that our ability to engage and entertain readers will ensure continued brand loyalty in the months ahead."
Hachette Filipacchi
Total average circulation per issue: 887,009, up 0.1% year on year.

Crack open the champagne for: Women's monthly Red, which posted its highest-ever ABC at 231,028, up 2.0% year on year, and jewel-in-the-crown Elle, which climbed 2.6% yr/yr and 2.5% prd/prd to deliver a circulation of 200,531.

Could do better: All About Soap is the black sheep of the Hachette herd, denting otherwise impressive results by losing 4.1% of its readership over the last six months and 4.9% over the last year. Although, of course, it is in better shape than troubled teen magazine Sugar, which Hachette took the difficult decision to close last month after realising teenagers spend all their time on the web and mobiles.

Kevin Hand, chairman of Hachette Filipacchi UK, says: "A printed magazine and a healthy paid-for circulation remain at the very heart of most successful magazine brands. So it is with great delight that we announce such a strong set of ABC figures, with volume increases and share gains across the portfolio, as well as highest-ever circulation figures for Red and Elle Decoration. Meanwhile, our digital business continues to exceed expectation with record levels of organic traffic and page views for Digital Spy, Elleuk.com and Sugarscape.com, while our most recent launch, Redonline.co.uk, looks set to be a runaway success."
IPC Media
Total average circulation per issue: 6,562,956, up 1.1% year on year

Crack open the champagne for: The women's lifestyle, homes and TV titles, which, says returning chief executive Sylvia Auton, have benefited from the "reversion to more traditional pursuits" brought by the recession. All seven homes magazines are up year on year, three out of four TV titles increased circulation period on period, and Essentials posted an impressive 9.5% rise over the last six months.

Could do better: With Loaded out of the frame, all eyes are on its weekly men's stablemate Nuts, which is still posting double-digit decline year on year, down 19.6% over the last 12 months. Golf Monthly, NME, Now, Pick Me Up and Rugby World complete the publisher's blacklist of year-on-year fallers.

Sylvia Auton, chief executive of IPC, says: "IPC continues its commitment to a strategy of investment in developing compelling and entertaining content. This set of ABCs shows that commitment is paying off in a number of key sectors. Despite a range of challenging circumstances, we have delivered outstanding performances on our pillar brands."
NatMags and Natmag Rodale
Total average circulation per issue: Natmags: 3,112,939, down 2.4% year on year. Natmag Rodale: 355,443, down 1.3% year on year.

Crack open the champagne for: Good Housekeeping, which climbed 5.0% period on period and 3.2% year on year to 443,750 copies - its highest recorded circulation since July to December 2007.

Could do better: Prima and Prima Baby are in the wars, dropping 7.1% and 18.3% period on period respectively, as is Zest, which fell 11.0% over the last six months. However, NatMags is refusing to accept Prima's ABC certificate of 268,421 copies, following a spat with the body over multipacking rules, and is instead trading on what it claims is the "true and correct" circulation of 297,000, up 2.8% prd/prd.

Arnaud de Puyfontaine, chief executive of NatMag, says: "Yet again, strong performances from NatMag titles. Our weekly titles, in particular, have again bucked the downward trend, while our women's lifestyle titles have shown considerable growth. We are proud of our brands and continue to offer our advertisers an open and transparent view of our position in the market. The strength of our brands also allows us to take advantage of cross-platform innovations and new revenue streams, and provides us with a firm foundation for the future health of the company."