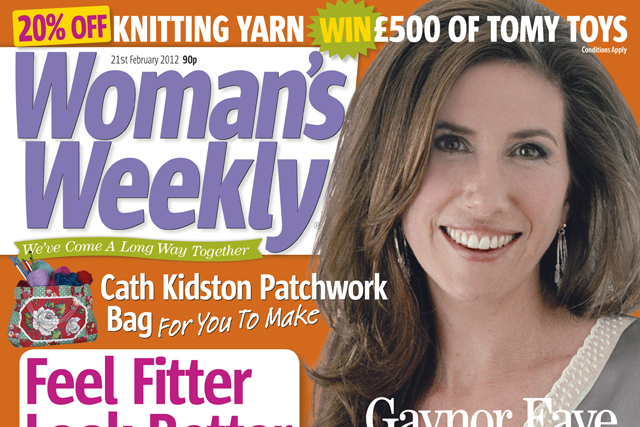 In November 2011 Woman's Weekly celebrated one hundred years of publishing with an issue that, as well as including a facsimile of its launch issue (from a time before women had the vote), helped the magazine to add a couple of thousand copies to its January – June average issue circulation, though it was down 0.4% year on year, to 342,532 copies.
In a sector in decline, the weekly has managed to notch up three years around the 340,000 copy level, which IPC Connect managing director Fiona Dent attributed to "delivering better to what 50-plus women in the UK really want".
The winning formula, Dent said, was "cooking, crafting, home and garden advice and a dash of celebrities" such as Colin Firth and Helen Mirren.
The stability at Woman's Weekly contrasts with annual falls across the sector, with the leader, H Bauer's Take A Break, down 5.1% year on year to 791,001 copies.
Despite its gradual decline from 2005, when a raft of competitors launched in a bid to take some of its 1.2 million circulation, Take A Break remains the fourth most actively purchased title in the whole UK magazine sector.
Its leadership over IPC's Chat has widened due to Chat dropping 9.7% year on year to 374,730 copies.
Among the newer crop of real life titles there was more pain for IPC's Pick Me Up and Hubert Burda Media's Love It!
After dropping 15.3% year on year to 243,028 copies Pick Me Up is now at half the circulation it launched with in the mid 2000s.
The same can be said of Love It!, which is down 17.5% year on year to 200,027, having reduced its cover price in the first half of 2011 from 68p to 60p (10p less than Pick Me Up).
For Dent, the culprit is the economy. The real life sector caters "for the hardest pressed consumers in society", she pointed out, adding that competitors have been engaging in price promotions.
David Goodchild, managing director of H Bauer, said: "We don't engage in bagging or price devaluing marketing activities so our performance is based on the strength of the product. Bella is proof of this which when taken into the correct context actually leads the market in full price newsstand sales.
"Take a Break and That's Life have also demonstrated this. Our investment in the product has seen both titles increase in share and the development throughout the year has been impressive.
"Given the backdrop of the poor economic state we find ourselves in I believe both markets have performed well. The start of 2012 has been very positive so you should expect to see some good results in August."
In the view of Zoe Bale, press planning director at Carat, the decline in the sector was "not that bad" given it is a market where "people have to tighten their pursestrings a bit more".

Bale noted lower levels and price promotion and multibagging this period, though pointed out that Hearst's Best and Real People were multibagged for 19 out of 26 issues in an effort to offer "value for money".

She contrasted the performance of IPC's Woman's Own (down 17.6% year on year) and Hearst's Best (down 5.8% year on year).

"Other titles such as Woman and Woman's Weekly have had a bit of investment but I don't think Woman's Own did. Hearst is trying to establish Best as a brand with brand extensions such as the Best Beauty Awards and Best Bravery Awards and they've done well out of that."
Gaby Cornish, associate director, investment, at Starcom MediaVest, said: "The sector still caters for a massive audience - over 7m copy sales, which is an impressive figure really.

"Most of the titles offer 250,000+ circulations, so as a sector that granted, is showing declines, it's still a pretty dominant force in terms of copy sales and readerships."
Top women's weeklies
Title
Publisher
Dec End
Prd/prd
Yr/yr
2011
change
change
Take a Break
H Bauer Publishing
791,001
-1.6%
-5.1%
Chat
IPC Media
374,730
-4.3%
-9.7%
Woman's Weekly
IPC Media
342,532
0.7%
-0.4%
That's Life
H Bauer Publishing
326,481
1.6%
-2.8%
Woman
IPC Media
282,189
-1.6%
-8.9%
Best
Hearst Magazines
277,238
-1.1%
-5.8%
Peoples Friend
D C Thompson & Co
257,348
-4.1%
-9.0%
Pick Me Up
IPC Media
243,028
-7.1%
-15.3%
Woman's Own
IPC Media
240,347
-2.2%
-17.6%
Bella
H Bauer Publishing
234,646
-2.1%
-4.3%
Real People
Hearst Magazines
204,337
-2.2%
-6.4%
Love it!
Hubert Burda Media UK
200,027
-5.7%
-17.5%
Full House
Hubert Burda Media UK
172,015
2.2%
-1.1%