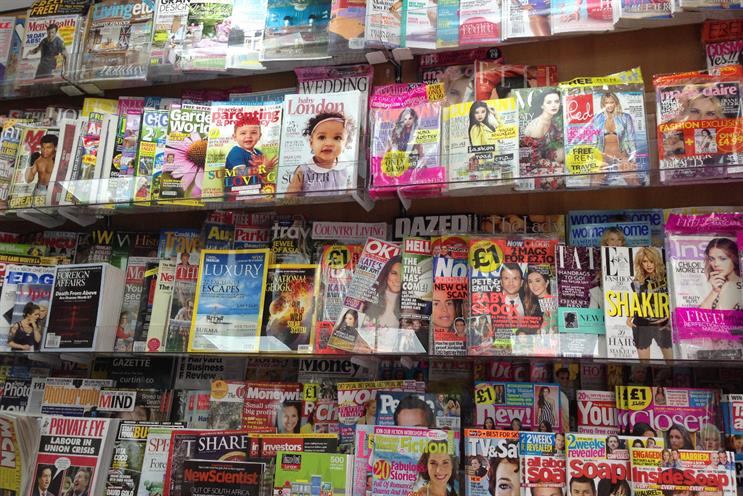 Despite some dramatic falls across the board, of the 447 magazines included in today's Consumer Magazines Report by the Audit Bureau of Circulations for the second half of 2014, there remains a combined average circulation of 33.4 million.
TV Choice remains the UK's biggest-selling magazine, despite its average weekly sale falling by 7.9% year on year in the second half of 2014. The H Bauer-owned magazine with a 50p cover price is the biggest-selling title in the UK with a circulation of 1,266,242.
Immediate Media's Radio Times lays claim to being the UK's biggest-selling quality magazine, with a cover price of £1.80 and a weekly print ABC of 783,042. The TV listings and lifestyle magazine is also the UK's biggest weekly subscription title, with 243,965 subscribers, up 5.1% year on year.
Condé Nast is celebrating a "resilient" performance, which includes its fashion bible Vogue (which turns 100 years old in 2016) posting a new ABC of 200,141, a 1% rise period on period in actively purchased copies.
Beyond today's ABC figures, Vogue.co.uk has 2,217,678 unique users, with 2.3 million followers on Twitter and 2.5 million Facebook fans. Time Inc, formerly IPC Media, has mixed fortunes among its portfolio of 60 titles. InStyle, its fashion and beauty magazine and one of the strong performers in the women's glossies market, has a combined print and digital ABC of 151,584, up 3% on the period and 3.5% on the year. Time Inc is also the number one TV magazine publisher by newsstand volume, with What's on TV and TV Times helping it to reach more than 1.4 million readers across print and digital.
Elsewhere, Hearst has focused on 11 of its 18 audited titles delivering either period-on-period or year-on-year growth. Good Housekeeping, the publisher's flagship brand, is Britain's biggest-selling lifestyle magazine. A print circulation of 416,413 and digital ABC of 3,162 has resulted in a combined print and digital figure of 419,575, up 1.2% year on year. Beyond circulation figures, Good Housekeeping continues to expand its extensions with the opening of a new testing facility – the Good Housekeeping Institute and Cookery School.
Dennis Publishing's The Week has achieved its 33rd consecutive ABC increase, reaching 200,096. It represents small growth of 0.9% year on year and 0.3% period on period, but growth nonetheless. Chief executive Kerin O'Connor said: "I'm thrilled that in its 20th year of publishing, The Week is reporting another outstanding ABC result, reaching over 200,000 circulation.The brilliant editorial and consistently high marketing investment has insured that The Week remains ahead of the pack."
Over at Bauer, the focus was on Grazia, which celebrates its 10th birthday this month, with a print circulation of 149,846, down 1% period on period. The magazine continues to demonstrate its influence with ground-breaking initiatives such as its 'Mind The Pay Gap' campaign for equal pay legislation, which went to Parliament in December 2014.
There should be special mention for one of the newest entrants to the publishing sector, Foodism, the free magazine by Square Up Media distributed in London. Its first ABC figure of 108,950 confirms the brand, which began life as a website in 2013, has become a popular glossy publication. Tim Slee, founder of Square Up Media, is understandably bullish, noting: "While most publishers are evolving their print titles to become a digital offering, Foodism went the other way. Receiving an ABC figure like this tells us two things, we made the right call and print is not dead."
Supporting this view, Haymarket's Forever Sports, which is published under contract for Sports Direct, became the second biggest-selling actively-purchased men's print title, with a circulation of 90,093, representing a rise of 45% period on period. Launched just 11 months ago with an initial circulation of 62,277, Kevin Costello, Haymarket Media Group's chief executive, called the magazine's success "phenomenal".
Commenting on today's ABC figures, Barry McIlheney, chief executive of the magazine body PPA, said: "Today's ABC release turns a spotlight on the magazines at the core of our sector, in both print and digital form, and serves as a reminder of their unique power in engaging and influencing readers, whether mass market or specialist interest.
"At the same time, this release also serves as a reminder of our sector's changing dynamics. The linear measure of magazine readership is now being superseded by a more layered measure of magazine brand communities, and their reach across multiple platforms."
When the free magazines are included, the biggest circulating title in the UK is the free National Trust Magazine, which is sent to 2.1 million households three times a year. This is followed by the free publications for the supermarket giants Asda, Tesco and Morrisons.
In digital editions, The Economist continues to lead the pack with an increase in digital circulation of 39% over the last six month period and 77% over the 12 months to reach nearly 50,000. The newsweekly's digital circulation in the UK has increased the most over the past year at 295%, supplemented by 110% in Asia.
Michael Brunt, chief marketing officer at The Economist, said apps and digital subscribers accounted for the "vast majority" of new customers, either as an exclusively digital-only subscription or as part of a combination of print and digital. He believes: "This shows that, at least for The Economist, migration to digital reading is a positive trend."
Top 100 in print magazines
| | | | | |
| --- | --- | --- | --- | --- |
| | Title | Dec 2014 end | Prd-prd % change | Yr-yr % change |
| 1 | TV Choice | 1,266,242 | -2.8 | -7.9 |
| 2 | What's on TV | 1,056,885 | 2 | 0.7 |
| 3 | Radio Times | 783,042 | 2.7 | -5.8 |
| 4 | Take a Break | 645,884 | -1.7 | -7.3 |
| 5 | Slimming World Magazine | 486,054 | 4.5 | 7.8 |
| 6 | Saga Magazine | 420,763 | -7.3 | -13.8 |
| 7 | Good Housekeeping | 416,413 | 3.2 | 1.3 |
| 8 | Glamour | 400,270 | 0 | -2.5 |
| 9 | Woman and Home | 347,566 | 1.7 | -1.6 |
| 10 | Chat | 301,619 | -1.8 | -8.6 |
| 11 | New! | 296,682 | -8.1 | -20.7 |
| 12 | Closer | 297,519 | -4.5 | -11.8 |
| 13 | Woman's Weekly | 307,315 | 0.6 | 0.1 |
| 14 | OK! Magazine | 285,803 | 6.3 | -5.2 |
| 15 | Prima | 267,085 | 1.5 | 2.7 |
| 16 | That's Life | 260,933 | 3.2 | -6.4 |
| 17 | Woman | 251,668 | -0.9 | 0.1 |
| 18 | Yours | 270,010 | -0.9 | -0.4 |
| 19 | TV Times | 237,561 | 4.2 | -6.6 |
| 20 | BBC Good Food | 238,491 | 5.6 | -7.4 |
| 21 | Sainsbury's Magazine | 230,298 | 6.2 | 12.3 |
| 22 | Woman's Own | 219,693 | -2.5 | -2.5 |
| 23 | HELLO! | 269,166 | -0.4 | -4.5 |
| 24 | Private Eye | 219,465 | 0.5 | -2.1 |
| 25 | National Geographic Magazine | 219,254 | -3.4 | -11.6 |
| 26 | Peoples Friend | 225,607 | -1.8 | -6 |
| 27 | Cosmopolitan | 252,231 | -10.7 | -9.6 |
| 28 | Bella | 198,832 | 1.9 | -7.7 |
| 29 | Heat | 203,728 | -6.9 | -15.6 |
| 30 | Best | 195,204 | -4.9 | -6.4 |
| 31 | Star | 189,844 | -10 | -27.2 |
| 32 | Ideal Home | 185,557 | -4.7 | -2.9 |
| 33 | BBC Gardeners' World | 180,925 | -16.7 | -7.6 |
| 34 | Red | 188,611 | 0.2 | -5.6 |
| 35 | Real People | 174,827 | 3 | -5.8 |
| 36 | Take a Break Series | 172,608 | 9.4 | 0 |
| 37 | Marie Claire | 196,393 | -1.8 | -13 |
| 38 | Reveal | 159,777 | -3.5 | -9.7 |
| 39 | Now | 161,066 | -10.1 | -17.4 |
| 40 | Pick Me Up | 158,923 | -2.5 | -13.3 |
| 41 | Country Living | 180,135 | 2.1 | -3.9 |
| 42 | Men's Health | 190,666 | -3.2 | -6.1 |
| 43 | The Week | 200,096 | 0.3 | 0.9 |
| 44 | TV and Satellite Week | 144,390 | -3 | -6.9 |
| 45 | Look | 153,007 | -8.1 | -17.8 |
| 46 | Vogue | 191,613 | -0.2 | -0.6 |
| 47 | Grazia | 149,846 | -1 | -6.4 |
| 48 | The Economist - United Kingdom Edition | 173,939 | -13.9 | -16.6 |
| 49 | Weightwatchers Magazine | 131,825 | 0.2 | -7.7 |
| 50 | Candis | 133,728 | -12.6 | -18.4 |
| 51 | Inside Soap | 131,145 | -1.6 | -9.6 |
| 52 | Elle (U.K.) | 159,292 | 5.9 | -4.4 |
| 53 | Reader's Digest | 141,218 | 5.8 | -24.4 |
| 54 | House Beautiful | 121,850 | 10.1 | 4.1 |
| 55 | Empire | 130,777 | -3.1 | -9.9 |
| 56 | Puzzler Collection | 116,184 | | -3.7 |
| 57 | Your Home | 119,372 | -3.5 | -2.4 |
| 58 | Healthy | 112,859 | | -5.4 |
| 59 | Total TV Guide | 112,615 | 4.5 | 2.6 |
| 60 | The Christmas Magazine | 113,442 | | -17.5 |
| 61 | Essentials | 107,576 | -0.8 | 1.2 |
| 62 | My Weekly | 106,425 | 0.1 | -4.6 |
| 63 | Women's Health | 112,949 | 3.1 | 7.1 |
| 64 | Love It! | 100,862 | -2.4 | -10.5 |
| 65 | Instyle UK | 149,894 | 3 | 3.6 |
| 66 | Style at Home | 100,034 | -6 | 3.3 |
| 67 | BBC Top Gear Magazine | 130,456 | 0.7 | -5.1 |
| 68 | Computeractive | 86,771 | | -3.7 |
| 69 | Fun to Learn - Peppa Pig | 93,078 | -5.1 | -5.9 |
| 70 | Ideal Homes Complete Guide to Xmas | 89,586 | | 5.6 |
| 71 | Forever Sports Magazine | 90,093 | 44.7 | |
| 72 | 25 Beautiful Homes | 90,008 | -6.8 | -10.6 |
| 73 | GQ | 112,574 | -1 | -2 |
| 74 | Homes and Gardens | 113,256 | -1.4 | -6 |
| 75 | Time Magazine - British Isles (BI) | 122,628 | | -3.8 |
| 76 | Motor Cycle News | 76,237 | | -11 |
| 77 | Country Homes and Interiors | 87,424 | -4 | -7.6 |
| 78 | Runner's World | 78,186 | | 1.5 |
| 79 | Living etc | 88,122 | -4.4 | -3.7 |
| 80 | House and Garden | 114,341 | -0.7 | -3.1 |
| 81 | New Scientist - Worldwide Sales Excluding Australasia and US/Canada | 74,734 | -4.3 | -9.8 |
| 82 | Four Four Two | 72,848 | -4.8 | -14 |
| 83 | BBC History Magazine | 77,633 | -1.3 | -0.8 |
| 84 | CBeebies Weekly | 60,199 | 8.7 | 41 |
| 85 | Peppa Pig Bag-o-Fun | 64,695 | -13.8 | -5.6 |
| 86 | delicious | 64,667 | | -10.8 |
| 87 | What Car? | 57,581 | | -9 |
| 88 | Disney's Princess | 56,158 | -6.4 | 8.7 |
| 89 | Word Search | 55,584 | | -4.2 |
| 90 | Cbeebies Art | 54,118 | -7.1 | 1.5 |
| 91 | Soaplife | 54,198 | -11.7 | -20.2 |
| 92 | Lego Legends of Chima | 53,759 | 17.8 | 25.2 |
| 93 | Cbeebies Special | 52,590 | -0.1 | -14.6 |
| 94 | Harpers Bazaar | 109,178 | 3.7 | 1.9 |
| 95 | Toxic | 52,001 | 4 | -1.9 |
| 96 | Psychologies Magazine | 63,887 | -10.2 | -13 |
| 97 | MoneyWeek | 52,686 | -8.9 | -7.2 |
| 98 | All About Soap | 51,341 | -8 | -19.2 |
| 99 | FHM | 75,803 | -8.8 | -21.4 |
| 100 | Viz Comic | 50,750 | | -6.1 |
Top 100 digital editions
| | | | | |
| --- | --- | --- | --- | --- |
| | Title | Dec 2014 end | Prd-prd % change | Yr-yr % change |
| 1 | The Economist - United Kingdom Edition | 49,976 | 129.5 | 295.3 |
| 2 | T3 | 17,791 | | -20.3 |
| 3 | Times Educational Supplement | 15,592 | | 1,690.10 |
| 4 | BBC History Magazine | 15,122 | 34 | 35.8 |
| 5 | BBC Top Gear Magazine | 14,140 | 4.3 | 5.5 |
| 6 | Stuff | 12,903 | | -13.7 |
| 7 | GQ | 12,516 | 10.2 | 2.8 |
| 8 | Time Magazine - EMEA (excluding BI/SA) | 12,211 | | 98.9 |
| 9 | Slimming World Magazine | 11,653 | 0.3 | 50.6 |
| 10 | Empire | 11,625 | -11.1 | |
| 11 | Total Film | 11,429 | -18.9 | -5.8 |
| 12 | BBC Good Food | 10,757 | -2.1 | -5.8 |
| 13 | MacFormat | 9,541 | | 18.7 |
| 14 | Men's Health | 9,490 | -8.4 | -8.2 |
| 15 | National Geographic Magazine | 9,259 | | |
| 16 | Vogue | 8,528 | 7.3 | 2.6 |
| 17 | New Scientist - Worldwide Sales Excluding Australasia and US/Canada | 8,347 | 47.1 | 434 |
| 18 | Wired | 8,316 | 2.2 | 1.2 |
| 19 | Vanity Fair | 7,724 | -4.3 | -11 |
| 20 | N Photo | 7,184 | | 6.2 |
| 21 | OK! Magazine | 6,775 | -8.5 | -1.3 |
| 22 | New Scientist - US/Canadian Sales | 6,402 | 9.4 | -23.3 |
| 23 | Edge | 6,347 | | 3.5 |
| 24 | Digital Camera Magazine | 5,916 | | 6.1 |
| 25 | Cycling Plus | 5,824 | | 5.6 |
| 26 | Esquire | 5,658 | -0.4 | 13.9 |
| 27 | Cosmopolitan | 5,494 | -16.1 | -20.6 |
| 28 | Time Magazine - British Isles (BI) | 5,356 | | 101.2 |
| 29 | Women's Health | 5,169 | -13.1 | -27.1 |
| 30 | Elle Decoration | 4,950 | -15.9 | -13.3 |
| 31 | Glamour | 4,783 | 2.7 | 0.1 |
| 32 | New! | 4,508 | -9.5 | 3.9 |
| 33 | What Hi-Fi Sound and Vision | 4,418 | | 10 |
| 34 | BBC Focus | 4,339 | | -1.2 |
| 35 | Airliner World | 4,319 | | 26.7 |
| 36 | Photo Plus | 4,289 | | 8.2 |
| 37 | Elle (U.K.) | 4,206 | -13.5 | -22.1 |
| 38 | Grazia | 4,190 | 5.8 | |
| 39 | HELLO! | 4,187 | -36.5 | -34.7 |
| 40 | Woman and Home | 4,151 | 25 | 33.3 |
| 41 | Living etc | 4,102 | 12.3 | 29.2 |
| 42 | Red | 3,826 | 4.4 | 8.9 |
| 43 | F1 Racing (UK Edition) | 3,810 | | 29.7 |
| 44 | The Economist - Middle East/Africa Edition | 3,736 | 11.4 | 18 |
| 45 | Jamie Magazine | 3,581 | 30.4 | 16.9 |
| 46 | SFX | 3,421 | | 37.9 |
| 47 | FHM | 3,386 | -0.4 | |
| 48 | Grand Designs | 3,352 | -12.3 | -3.5 |
| 49 | Linux Format | 3,272 | | 67.4 |
| 50 | Playstation Official | 3,265 | | 47.4 |
| 51 | New Scientist - Australasian Sales | 3,249 | 31 | 392.3 |
| 52 | Investors Chronicle | 3,248 | | |
| 53 | Good Housekeeping | 3,162 | -5.9 | -11.2 |
| 54 | What Mountain Bike | 2,998 | | 0.2 |
| 55 | Car | 2,942 | | |
| 56 | Autosport | 2,882 | | 34 |
| 57 | Classic Rock | 2,853 | | -15.6 |
| 58 | Four Four Two | 2,851 | -10.2 | -3.6 |
| 59 | PC Gamer | 2,826 | | -3.5 |
| 60 | Mountain Biking UK | 2,822 | | -3.4 |
| 61 | Lonely Planet Traveller | 2,819 | 0.1 | -14.8 |
| 62 | Wallpaper | 2,733 | | 2.6 |
| 63 | Look | 2,701 | 3.4 | 47.7 |
| 64 | Gramophone | 2,662 | | 32.4 |
| 65 | Runner's World | 2,587 | | -13.4 |
| 66 | Harpers Bazaar | 2,513 | -20.5 | -35.9 |
| 67 | Country Living | 2,487 | -0.6 | -5.9 |
| 68 | Cyclist | 2,449 | | |
| 69 | Q | 2,383 | 5.6 | |
| 70 | Psychologies Magazine | 2,358 | -7.6 | 14.7 |
| 71 | Fortune Magazine - Europe | 2,296 | | |
| 72 | Olive | 2,296 | 9.6 | 11 |
| 73 | Times Higher Education | 2,282 | | 50.1 |
| 74 | BBC Gardeners' World | 2,267 | 6.3 | 39.3 |
| 75 | Golf Monthly | 2,241 | 4.7 | 14.7 |
| 76 | Homes and Gardens | 2,141 | 16.7 | 24.5 |
| 77 | Tatler | 2,132 | 19.8 | 9.8 |
| 78 | PC Pilot | 2,059 | | 55.5 |
| 79 | Health and Fitness | 2,051 | -19.9 | -31 |
| 80 | Fast Bikes | 2,027 | | -9.7 |
| 81 | Marie Claire | 2,027 | -2.5 | 0.3 |
| 82 | Country Homes and Interiors | 2,014 | 19.8 | 63.1 |
| 83 | Zoo | 1,985 | -3 | |
| 84 | Inside Soap | 1,982 | -32.9 | -10.4 |
| 85 | What's on TV | 1,970 | 8.5 | 25.4 |
| 86 | Ideal Home | 1,952 | 7.5 | 2.5 |
| 87 | Autocar | 1,911 | | 21.6 |
| 88 | Bike | 1,901 | | |
| 89 | What Car? | 1,825 | | |
| 90 | Uncut | 1,809 | 17.5 | |
| 91 | Digital SLR Photography | 1,788 | | -18.7 |
| 92 | Yachting World | 1,774 | | 14.2 |
| 93 | Official Xbox 360 Magazine | 1,707 | | 9.6 |
| 94 | Instyle UK | 1,690 | -3 | -10.1 |
| 95 | House and Garden | 1,671 | -12.7 | -18.2 |
| 96 | Airforces Monthly | 1,648 | | 37.2 |
| 97 | Classic and Sports Car | 1,634 | | 34.7 |
| 98 | Now | 1,630 | -15.1 | -8.3 |
| 99 | World Soccer | 1,612 | | 39.2 |
| 100 | Doctor Who Magazine | 1,604 | 16.5 | |