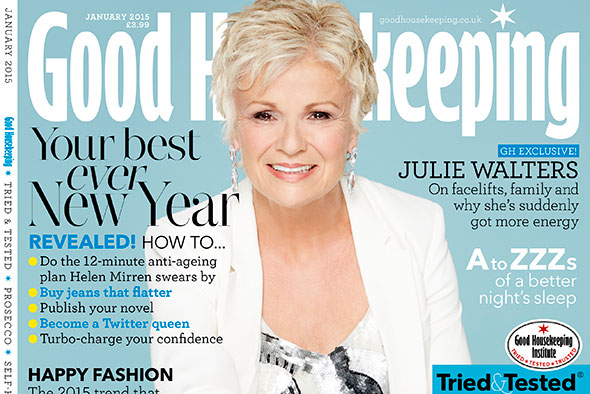 Despite the inclusion of digital editions, the latest consumer magazine circulation figures from ABC show that the women's monthly sector has suffered in the year to the end of December 2014.

Only two of the top ten women's monthlies grew their circulation in the past year – Hearst Magazines' Good Housekeeping and Prima.

The titles managed to increase both print and digital circulation, with Good Housekeeping leading the women's monthly league with a combined print and digital circulation of 419,575, up 3.1% on the last period and 1.2% on last year.

Good Housekeeping's success means it holds onto its reign at the top for the third successive report – growing print circulation by 1.3% year on year. The title, which was bought by Hearst in 1911, now has a print circulation of 416,413, up 3.2% since the last ABC report.

The print growth seen by Good Housekeeping has helped the title to widen the gap between it and Glamour, which reported a print circulation of 400,270, down 2.5% on last year.
Anna Jones, chief executive of Hearst Magazines UK, said: "We are very pleased with this set of results. It's great to see another stellar performance from Good Housekeeping magazine."

Glamour's digital growth of 2.7% on the last period didn't have much impact on its overall circulation of 405,053, as combined growth stood still at the Conde Nast title. Despite that, the publishing house's managing director Nicholas Coleridge said that luxury magazines "continue to defy gravity", calling the results "reassuringly resilient".

Meanwhile, Good Housekeeping's Hearst stablemate Prima has gaied an extra 2.7% of readers since February 2014, and now has a print audience of 267,085, growth of 1.5% on the last period.

Prima is in fourth place print-wise, behind Woman & Home, at 347,566. Woman & Home did lose circulation year on year, but print and digital growth of 2% in the last period saw it reach a combined circulation of 351,717.

Elsewhere, Hearst's Cosmopolitan was particularly hard hit this year, losing 10.8% of its combined print and digital circulation on the last period, and down 9.9% year on year, taking it to 257,725. Likewise, Time Inc UK's Marie Claire had a combined circulation of 198,420, down 12.9% since last year and dipping 1.8% on the previous period.

Year-on-year, Vogue, Red, Ideal Home, Elle (UK) and Country Living also took a hit to combined print and digital circulation. However, when compared to the last period, there has been more positive news, with six of the biggest titles reporting combined growth in the six months to the end of December 2014.

As well as Good Housekeeping and Prima, there were small increases in circulation at Woman & Home (2%), Vogue (0.1%), Red (0.2%), and Country Living (2.1%). And, although a smaller title, fashion and beauty InStyle managed to achieve the greatest growth, increasing 3.5% year on year and 3% on the period to 151,584.

Marcus Rich, chief executive of publisher Time Inc. UK said: "Our understanding of the upscale audience sees InStyle delivering among the best performances in the market."

Nicola Ralph, senior investment manager at Havas Media Group UK, said: "The numbers are a real mixed bag for women's monthlies both year on year and period on period. Tatler has seen an increase, in all likelihood due to the fly on the wall television series, however I would query how many of these new readers are core Tatler readers and whether they will be able to sustain this increase now the series is no longer airing.

"InStyle's re-design and re-focus has clearly worked both year on year and period on period and are now displaying a healthy set of numbers when many of their competitors (Marie Claire and Cosmo) are seeing continual declines. Cosmo has seen a double digit decline over the last few releases and with the closure of Company last year, perhaps they need to re-look at who the modern Cosmo woman is and consider whether they are offering their readers what they need.

"Aside from Cosmo, the older women's portfolio from Hearst is seeing a more positive turn, subscription drives and actually understanding their readers' wants and desires is something they have taken on board. It's not good enough anymore to just continue doing what has always been done in the hope that loyal readers will remain loyal.

"Publishers need to continually push subscription offers and re-focus their magazines to ensure they tailor their titles, to their consumers' ever changing busy lives."
| | | | |
| --- | --- | --- | --- |
| Title | Dec 2014 end | Prd-prd % change | Yr-yr % cange |
| Good Housekeeping | 416,413 | 3.2 | 1.3 |
| Glamour | 400,270 | 0 | -2.5 |
| Woman and Home | 347,566 | 1.7 | -1.6 |
| Prima | 267,085 | 1.5 | 2.7 |
| Yours | 270,010 | -0.9 | -0.4 |
| HELLO! | 269,166 | -0.4 | -4.5 |
| Cosmopolitan | 252,231 | -10.7 | -9.6 |
| Red | 188,611 | 0.2 | -5.6 |
| Marie Claire | 196,393 | -1.8 | -13 |
| Look | 153,007 | -8.1 | -17.8 |
| Vogue | 191,613 | -0.2 | -0.6 |
| Grazia | 149,846 | -1 | -6.4 |
| Candis | 133,728 | -12.6 | -18.4 |
| Elle (U.K.) | 159,292 | 5.9 | -4.4 |
| Essentials | 107,576 | -0.8 | 1.2 |
| Women's Health | 112,949 | 3.1 | 7.1 |
| Instyle UK | 149,894 | 3 | 3.6 |
| Harpers Bazaar | 109,178 | 3.7 | 1.9 |
| Psychologies Magazine | 63,887 | -10.2 | -13 |
| Tatler | 82,086 | -0.2 | 1 |
| Vanity Fair | 82,310 | -0.8 | 1.2 |