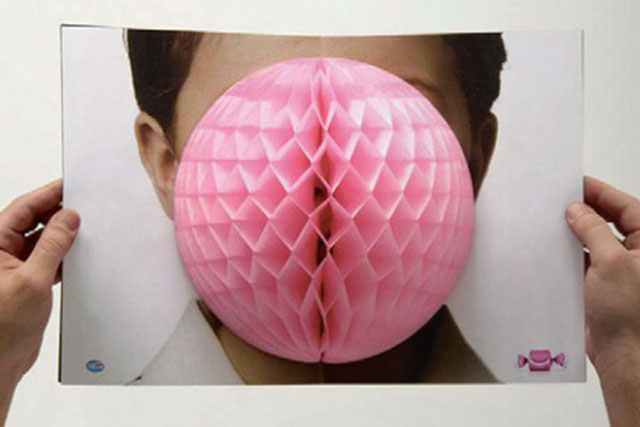 Published this month, Innovations in the Magazine World evaluates the growing trends and innovations within the magazine industry and details the various changes that have been taking place in the formatting and marketing of magazines over the last year.
Chris Llewellyn, president and chief executive officer of Fipp, said: "Rapid technological development and an uncertain economic background are the driving forces behind the huge amount of experimentation being undertaken by magazine media companies."
The presence of new digital innovations such as tablet editions and online subscription is, as you would expect, a main talking point in the review. But this isn't the only area in which publishers are experimenting.
The section of the report dubbed "paper innovations", shows how print magazines are exploring the use of "tactile" front covers that give readers a more "immersive" experience.
While good photography is still key to an effective front cover, publishers are keen to try out other ways they can make front covers stand out and grab the reader's attention.
Esquire's scratch and sniff cover of El Bulli chef Ferran Adria
The June 2011 edition of Esquire Spain featured a "scratch and sniff" logo that transported readers to the famous El Bulli three-star Michelin restaurant in Catalonia.
In a similar vein, Hungarian fashion publication, Lack magazine, struck a new creative chord when it designed a magazine to look like a handbag – complete with handle.
The evolution of quick response (QR) codes is another way that print is being brought to life for the benefit of readers.
These icons, which readers scan via an app on their smartphone to view a video, initially irritated people when they found that the video was just another advert.
But now, creative directors are putting these QR codes to good use as shown by the creative directors of the Publicis Brussels, who adapted the QR code experience for their client, Reporters Without Borders.
This involved a "free speech" campaign in which readers scanned the centrally located QR code and placed it over the mouth of a pictured dictator.
Their smartphone then played a video that showed a moving mouth of who appeared to be a dictator but was actually that of a RWB journalist who spoke honestly about the country's free speech situation.
Lack, the Hungarian fashion magazine, is redesigned to look like a handbag
Agencies found that the wittiness of the ad made it more watchable to readers.
Additionally, the use of augmented reality (AR) is allowing publishers to keep the print magazine scene alive.
In its December 2011 edition, Top Gear magazine teamed up with technology giant, Aurasma, to create one of the first print magazines to fully implement the use of augmented reality throughout a whole issue.
Using an app downloaded from Aurasma, users could point their iPhone4, 4S, iPad 2 or Android at each page from the magazine and bring it to life with streaming videos.
But it doesn't end at augmented reality. In fact augmented reality is already looking a bit dated in comparison to one of the latest and most exciting innovations featured in the report. Digital Space is set to change things even further.
Using an app, Digital Space allows you to scan items featured in a magazine and see how much they cost and where you can buy them.
FHM Collections, Bauer Media's fully interactive magazine
Bauer Media was the first publisher to experiment with this in its September edition of FHM, which made every element of the magazine – both digital and editorial – interactive.
Digital Space is particularly popular with editors and ad directors as it makes readers spend more time on each page. They are also able to monitor what each reader interacts with and consequently keep track of the content readers are most interested in.
Adrian Fleming, director of digital space, said: "Our focus is to make sure whatever technology we use, it's right for the client and is, in our opinion, commercially viable."
Fleming added that while these advances in technology are important, it is the way that they are used that is crucial.
"Technology is one per cent of the value and success of what we do," he said. "These new forms of technology only add value if they're used in the right way."
In the online arena, Hearst magazines has also been experimenting with a similar kind of technology. They have been pioneering the use of the 'Want it? Click it, Get it' feature in partnership with Luminate, a company that makes images interactive to allow readers to click on a photo on a magazine's website, get information about the product in the picture, purchase it, and then share that information on their social media networks.
Tim Bajarin, an analyst at Creative Strategies, said: "With the addition of 'intelligence', if a picture is worth a thousand words, it's now worth even more."
Bob Lisbonne, chief executive officer of Luminate, said: "A couple of years from now, when a consumer 'mouses' over an image and nothing happens, they'll think that the site is old-fashioned."
The tablet sector predictably receives a generous spread in the report. A whole section is devoted to the much anticipated Kindle Fire (released in the US in September 2011). According to the report, reviews of the experience of reading magazines on the Kindle have been mixed.
Some have complained about the small screen size and others have flagged that the page turning is too sluggish. Other complaints have included the complex navigation and the page thumbnails, which interfere with reading.
One reviewer, Jakob Nielsen of Useit.com, commented: "The magazine user experience could be good, but is actually miserable as the content isn't designed for the device or for interactive reading."
Although publishers know that the tablet will be an important part of developing their digital readership, the lukewarm reception of cheaper tablets such as the Galaxy Tab and Playbook, was not encouraging, especially as the content of the magazines needed to be formatted for each individual device.
Publishers now want a tablet that will be widely adopted and used to consume their content.
While being great when they work well, tablets are hindered by the fact that content has to be specially designed for the size of each individual device, be it a Kindle Fire, Galaxy Tab or iPad.
Despite this, Apple's success with the Newsstand feature is indisputable. Conde Nast reported a 268% increase in subscriptions after its release.
So while tablets are very much rising stars within the industry, they are not infallible and still have to be worked on. As the report notes, questions of size, control, design, interactivity, navigation and functionality still remain.

Print magazines continue to develop interesting and groundbreaking innovations in order to keep pace with the ever expanding digital market.
For more information visit Fipp's website.