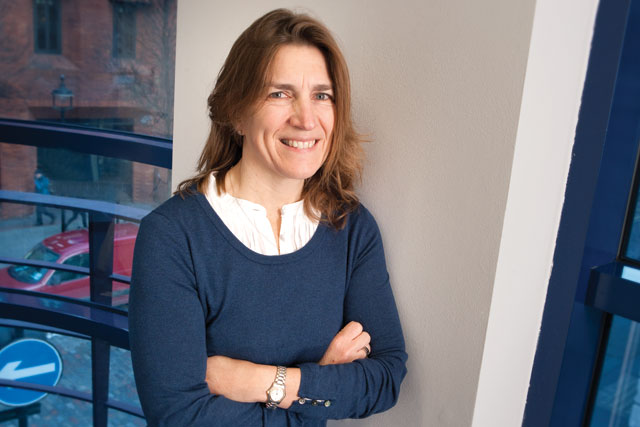 Rebecca Miskin, digital strategy director, Hearst Magazines UK
What sort of innovation can we look forward to in 2012?
Customer-centric innovation will be key. Our focus is on fusing user experiences with trusted editorial instinct, local relevance with social topicality and mobile accessibility with one-click commercial opportunities.
Through our trusted premium brands including Cosmopolitan, Good Housekeeping, Elle, Men's Health and Country Living, we have a unique insight into our audiences' lives, routines, interests and needs, which is fuelling our development of targeted and personalised shopping and transactional experiences.
What about the competition from retail brands acting more like magazines?
The trend for retailers to move into the magazine space demonstrates the continued demand for quality editorial content, but while retailers always seek to sell in environments that increase their cut-through, publishers still provide audiences with impartial, curated environments where editors, experts and the audience have the ultimate say.
Hearst Magazines UK already operates multiple retail channels, with more in development – we compete on, and are investing in, content, technology and user experience, combining this with huge consumer reach and brand expertise.
Will collaborations be key to success?
The web is all about collaboration. To partners, we bring beneficial consumer insight, brand expertise and, in some cases, capital to develop game-changing technologies and approaches.
Our recent partnership with the augmented reality app Zappar brought the covers of Cosmopolitan, Company and Harper's Bazaar to life – an example of the ways we are enriching our brands in the digital space, from apps to mobile sites, providing our readers with the multimedia, interactive experience they now demand.
What can digital magazine brands offer advertisers?
Personal reach in premium environments – Hearst is the biggest magazine publisher online in the UK. Digital magazine brands also deliver connection, topicality, relevance and technological innovation.
Our focus is on standout execution allied with trusted editorial content. Elleuk.com's recent new look is an example of the brand's evolution in the digital space as it continues to exceed user and commercial expectations: topical content has been moved to the fore, and the premium environment has been enhanced in consultation with our partners.
How important will video content be?
Vital. Last week, Digital Spy launched a new video experience on web and mobile, which combines a winning user proposition with a brand new premium environment for key clients. Following its launch, video page views on DS increased by more than 1,000 per cent.
It's an attractive commercial proposition: DS has signed back-to-back launch sponsors, with key clients working with us on this new premium multi-platform offering.
How key will mobile strategies be for magazine brands in 2012?
We are moving to a model where web and mobile launches happen simultaneously. Nearly a third of monthly visits to DS are now from a mobile device - many from entertainment addicts seeking authoritative editorial.
Our content and commercial management systems serve audiences regardless of device or location – the challenge is to deliver an optimised editorial and commercial proposition to every user.
Zoe Bale, print planning director, Carat
What sort of innovation can we look forward to in 2012?
It's an exciting time for magazine brands with the rise of tablets, mobile magazine apps, hyper-connectivity to social media, paywall experiments and e-commerce. We will continue to see an increase in location-based services, enabling magazine brands to connect with readers wherever they are and allowing them to exploit reader reward schemes.
Click-to-buy magazines, meanwhile, are opening up new traffic and revenue streams. We'll also see an increase in reader-generated content, while electronic magazines will present further opportunities.
What about the competition from retail brands acting more like magazines?
It's a great way for advertisers to grab consumers' attention and advertisers can now create sophisticated, integrated campaigns that effectively masquerade as digital magazines. However, what magazines have that retail brands don't is editorial integrity.
People buy magazines for inspiration and advice because they trust the magazine brand, whereas they go to retail brands to buy a product.
There are fantastic opportunities in marrying an established publisher with a client to create a partnership that goes beyond a traditional collaboration, embracing the earned and owned assets of both parties.
Will collaborations be key to success?
At Carat, we have had huge success with collaborations, and they will be key in 2012. Our award-winning Nivea Invisible for Black & White deodrant launch was the first of its kind and redefined media partnerships by producing an exclusive ASOS and Nivea black-and-white dress collection.
It exploited every part of ASOS's network across bought, owned and earned media, including the magazine, newsletter, solus e-mails and social media platforms, and the results were outstanding.
What can digital magazine brands offer advertisers?
Accountability. All downloads and interactions are trackable, allowing for quick, easy monitoring of effectiveness and return on investment analysis. They also offer rich media, bespoke formats and interactive content.
Behavioural, contextual, key-word and dynamic targeting will become available on tablets and mobile. However, there is still a huge role for the printed product. Moreover, printed magazines can offer free gifts and samples, and produce collectors' editions – something that online equivalents can't replicate.
How important will video content be?
Video will be key to tablet and mobile, as it's another way for publishers and advertisers to distribute content and bring print editorial and advertising to life.
It also offers a further reason to download apps and exclusive content. Also, for the first time, magazines will be able to deliver video ads that are not just relevant in context but to a reader's online behaviour, putting magazines firmly on the planner's radar.
How key will mobile strategies be for magazine brands in 2012?
As people spend more time consuming media in ever-richer ways on mobile/tablets, publishers have a unique opportunity to rethink the advertising and sponsorship offering they have on mobile.
We are seeing a growing number of brands thinking beyond simple ad formats and developing content-based partnerships with media owners as well as developing innovative ways for standard press formats to link into branded mobile experiences.