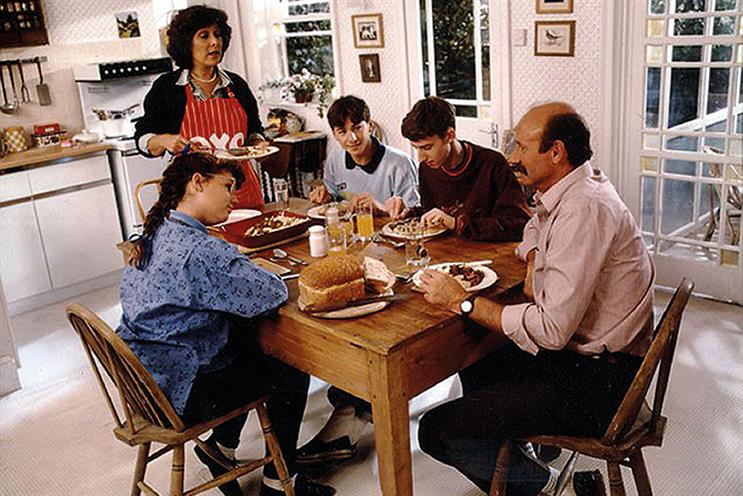 The Oxo family, the Honey Monster, the Persil mum. These historic brand campaigns built emotional bonds with their customers that would last a lifetime. But the reason for their success was that they were among the first beneficiaries of the discipline of planning.
98% Pure Potato, a new book written by Tracey Follows, chief strategy and innovation officer at The Future Laboratory, and John Griffiths, founder of Planning Above and Beyond, traces the origins of account planning by speaking to its pioneers.
Persil
As Follows says: "The book covers a golden age of advertising in which agencies and brands got closer to the needs and attitudes of consumers than ever before. This enabled brands to connect emotionally with people and their lives. Marketers today could learn much from this in the era of ad-blocking and skippable ads."
Keith Weed, chief marketing officer at Unilever and president of the History of Advertising Trust, which supplied images for the book, agrees: "To truly understand the present, it is critical to understand the past and how you got here. This is a fascinating insight into, and a valuable record of, how some of the brands we know and love such as Persil and Oxo were built back when the balance of creativity and data – the magic and logic – in advertising was very different to that of today."

Sugar Puffs' Honey Monster
Below are some selected excerpts from the book.
On recruitment at JWT
The way to the top often began in the post room, where you worked from the age of 16 as a runner and learned how the whole agency worked. Graduates started at a higher level. Peter Mead was interviewed for a job in [J Walter Thompson's] post room during which he asked if there was a canteen. It was explained that his wages wouldn't allow him to afford to eat there, but that if he made up his sandwiches he could always eat them in Berkeley Square. He didn't take the job. When years later his agency, Abbott Mead Vickers, became the largest agency in the UK, Peter Mead made up a Tupperware box of sandwiches and instructed his chauffeur to drive him to Berkeley Square where he sat and ate them on a bench looking up at the J Walter Thompson offices. Revenge is a sandwich best served cold!
Ev Jenkins on never being able to escape Unilever
Ev Jenkins arrived in 1974, the first planner to be hired from a client background. She had studied at art college in Manchester and, as she put it, "blagged her way into a job with Unilever". The way she describes it, it seems almost as if they realised their mistake and didn't want to admit it, so persisted with her.
She says of the five years she spent at Unilever, a full two years was spent on training courses. She answered an ad in Campaign magazine for planners at J Walter Thompson, and was interviewed first by Doug Richardson (who fell asleep while interviewing her: "God, was I that boring?") then Stephen King. She thinks what attracted them to her was her Unilever experience.
She joined on condition she didn't have to work on Unilever because she was fed up with marketing toothpaste. "Stephen was brilliant because his brief to me was – 'Ev, I have these two clients that are driving me nuts, one is Andrex and one is Oxo. I want you to take them off me. I'll work with you for three months but then I'll measure your success on whether or not they are ringing you direct and leaving me out of the loop.'

Andrex
"What a great opportunity! So I worked on Oxo and after three months Stephen disappeared because the client was calling me. Then Unilever bought Oxo and they said in for a penny, so I got Elida Gibbs as it was called then. Then I got Persil. And I was Miss Unilever again."

Oxo
James Best on working with John Webster at BMP
It wasn't long after James Best joined that he found himself in the firing line, debriefing John Webster about an ad for Colt 45: "The animatic had a cowboy with a broken down old mule. It was all a bit slow and boring, and I came back after the groups and said it wasn't going to work and John went bonkers and wrote a house note about this planner who had said this nonsense. Stanley [Pollitt] said: 'Don't worry, you're a planner. Your word is the one that counts. John will have to do something else.' And being John he did it quickly and he did it better, maybe thanks to something I had said. He had to accept my interpretation." This is a delightful and very specific example of how Stanley would champion the judgment of junior planners against anyone, however powerful in the agency.
Jane Newman (ex-BMP) on strategy planning for Apple

Apple
Jane Newman was summoned to an interview with Jay Chiat at such short notice that she swapped clothes with a colleague for the interview: "Before he had even bought me a drink, he said: 'When can you start? We need an account planner.'" Jay had just returned from a trip to the UK where he visited CDP, and was convinced by David Clifford that account planning was the point of difference that allowed CDP's clients to buy their extraordinary work. She tells the story of how she walked into a meeting room on her first day: "It was the launch of the Apple Macintosh. This small room was plastered with print ads and headlines. There must have been a hundred of them and on the floor another five hundred which they'd already rejected. And Jay went through that room, he took three ads out. One was 'Why 1984 won't be like 1984'. Another was 'Why we'll never call our product an AKZ1010' or something. And another one was 'Think of it as a Maserati for the mind'. And I couldn't believe it. I was so appalled, all this wasted creative effort and time and we'd ended up with three ads. I could see immediately that what planning could do was help the creative team home in on an area and, in fact, within those three ads was the strategic thought, which was 'friendly'. In fact, I think Steve Jobs talks about that in his book, how that became the strategy for Apple."
98% Pure Potato, published by Unbound, is available on Amazon and through Penguin Random House