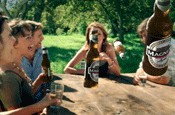 The ad, devised by Euro RSCG, shows a group of friends gathering on a summer's day to enjoy a refreshing drink.
As a male member of the group hands a bottle of Magners Light to a female friend, another woman blows on a dandelion as bottles of Magners Light float through the sky.
The drink boasts a calorie content of 92 per 330ml bottle, while still maintaining its Magners Original Cider flavour, and is aimed at the female audience.
The ad ends with the strapline: "Light by nature."
The commercial is set to air in the week commencing 14 April, and will run in London on Channel 4 and five. MPG handled media buying.