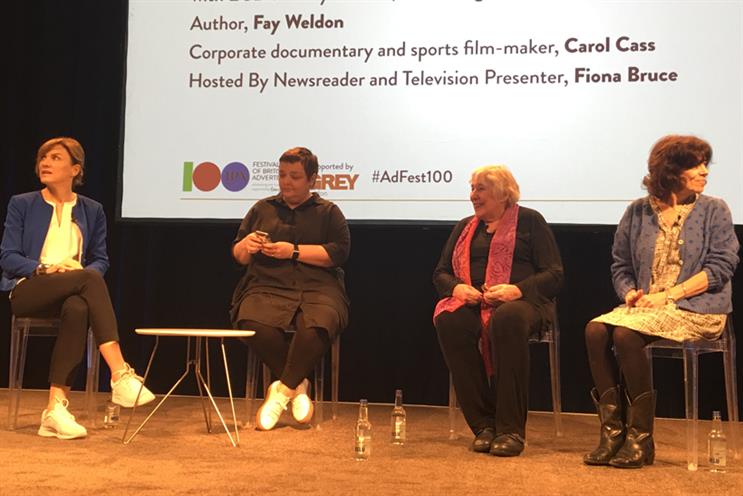 At the no holds barred discussion at "Wonder Women: Changing the portrayal of gender on screen", an IPA event celebrating the very best of British creativity from the past 100 years, the industry stalwarts shared their personal experiences in the advertising industry and the lessons learnt.
These are their stories.
Vicki Maguire, ECD, Grey London
The fiercely outspoken Maguire said that her foray into advertising kicked off by being told to change her name to Micky or Mick, because "clients do not like a piece of work signed off by a woman." Maguire did her degree in fashion design but managed to get herself sacked from every single major label — from Paul Smith to Vivienne Westwood to Ted Baker. "I was shit," she said, until Paul Smith asked her to write down her ideas instead — a prompt that got her into the advertising business. "When I first rocked up into an ad agency I had never seen this many men since grandad's funeral."
Maguire recalled how she was asked to change her brightly coloured designer attire when she was due to present her first piece of major work to a client. "My CD said you are not wearing this, handed me £30 to a buy a pair of heels and a proper dress. The nearest store was Dorothy Perkins and I did my first presentation dressed up like Susan Boyle."
On the changing portrayal of women in advertising, she said does not want her carpet cleaner to empower her. Rather, things will only change if advertising is made more accessible to women and when the industry finally "stops hiring to type."
Fay Weldon, author
When the famed novelist who gave us the strapline "go to work on an egg" for the Egg Marketing Board and Aero's "Bubbling with full cream milk" first started in the the "vaguely exciting" advertising industry in the 60s, she was told she was "taking bread out of a working man's mouth." Weldon confessed she only got the job (at Mather & Crowther) because her boyfriend at the time was a copywriter at the agency. With only three women at the entire agency, she recalled how often men would tell her that her job was to be "pleasing to the eye."
She went on to add the portrayal of women in advertising has not "really" changed in the last few decades: "I am not sure that women need to be empowered," she said, adding that the portrayal of men has certainly shifted with most advertisers assuming that men are all "bumbling idiots" and that all women should be celebrated. "The pendulum has swung too far, but I'm seeing some gender-freeing advertising, which is good," she said.
Carol Cass, corporate documentary and sports filmmaker
Cass is the woman behind the iconic Timotei girl ad, created by JWT in the 1980s. Charting her time in the industry, she said: "When I started working at JWT there were a lot of women at the agency, we were all treated equally and I was glad never as budgerigars." However an interview with Charles Saatchi did not echo the same experience. "Charles said to me that I wouldn't want to work at his agency because we make you cry," she recalled.
Her advice to women in advertising: "Be yourself and represent your voice in your work and that is the only way to succeed."
Fiona Bruce, newsreader and TV presenter
Bruce, who started her career as a model followed by a short stint at a management consulting firm and then several agencies including Boase Massimi Pollitt, said as a woman she felt she had to send her CVs on brightly coloured paper to try and get hired. "And I did," she said.
Bruce went on to tell a shocking tale of how a suit at one of the agencies where she worked dressed up as a medic to interview a young female intern, asked the intern to strip off, gave her a "health check", and went on to film it with a view to showing it in the pub to the agency on Friday night.
On the changing portrayal of women on screen, she added "most times I feel as if I'm being hit on the head by a hammer by messages that don't ring true. I don't want to be celebrated because I'm rubbish at making lasagne but happen to have a husband who can make lasagne. He just happens to be a better cook."