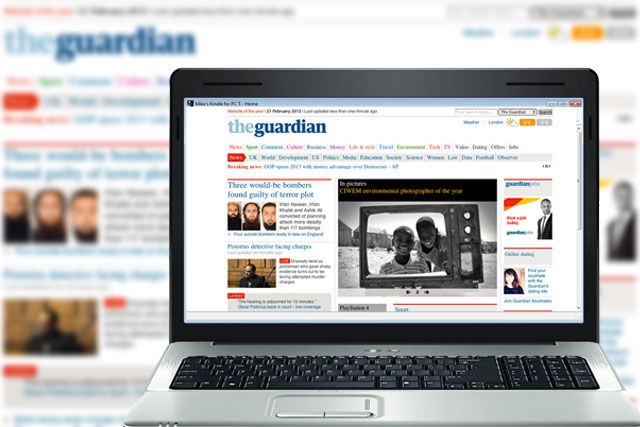 MailOnline started the new year with a record high of 126,753,431 global monthly unique browsers in January 2013, according to figures released by ABC yesterday.
This is an increase of 12,716,350 additional browsers from last month's 114,037,081, growth of 11%.
MailOnline also passed nine million unique browsers in a single day for the first time, with 9,005,251 unique browsers being recorded on the site that includes content from the Daily Mail on the 3 January.
The site's average of 7,977,039 unique browsers every day was 38% higher than in January 2012.
The MailOnline also boasts a record for monthly unique visitors in the UK, with 45,552,834 browsers in January, up 13%. In the UK, average daily unique visitors reached a high of 3,636,984; a 49% increase on January 2012.
Growth can be partly attributed to more people accessing Mail Online through mobile applications, following ongoing up take of new tablets and smartphones.
Some 849,263 users accessed the MailOnline iPhone app globally in January 2013, while 388,931 users accessed the app each day, up 10% on the previous month.
The Mail Online's Android app generated 663,386 global visitors in January, with an average of 177,608 each day. And people using the mobile devices are reported to be staying on the site longer, reading 2.62 billion pages, an increase of 87% since January 2012.
Guardian claims a 'world of opportunities for advertisers'
The Guardian also attracted its larger digital audience last month, with 77.9 million monthly unique browsers. January's bumper figure saw month-on-month traffic increase by 14% and year-on-year traffic rise by 23%.

The website also saw a substantial increase in daily traffic, with 4.3 million daily average unique browsers accessing the site in January - up 17% from the previous month, and 20% compared with January last year.
The Guardian's previous high came in October 2012, when it achieved 71.8 million monthly unique browsers and 3.9 million daily unique browsers.
At the start of 2013, the site also reported record monthly page impressions of more than 474 million views.
Again, part-fuelling The Guardian's growth has been strong mobile growth following an overhaul of The Guardian's sites in November. ABC figures show that 15.9 million monthly unique browsers accessed the site, up 1.6 million month-on-month and 69% year-on-year.
Andrew Miller, chief executive of the Guardian Media Group, said the growing mobile audience highlighted "the power and ongoing success of our digital-first strategy", and said it represented "a world of opportunities for advertisers".
Speaking to Media Week, Miller added that early figures for February suggest that the Guardian's digital growth is set to continue.
He said: "We are, clearly from these statistics, one of the world's strongest editorial brands. By investing early in digital we're really been able to grow and cement our position there."
Since launching the US digital operation in September 2011, US traffic now represents a third of the Guardian's digital audience. The latest comScore figures track Guardian US attracting more than 12.5 million monthly unique users in January 2013
Miller said: "The US is certainly really supporting that growth, we're seeing a good, strong growth for the third month in the US. We're bigger than the BBC News site, and bigger than Reuters.
"We're also seeing very large take-up in mobile – 15.9 million unique browsers. That's a great opportunity but also a great challenge as well."
January's new digital records come ahead of The Guardian's plans to extend its global reach further in 2013 with a digital launch in Australia.
Ahead of its launch, now said to be "in the forthcoming weeks", the Guardian announced last week that it has hired Lenore Taylor as political editor and Katharine Murphy as deputy political editor.
All other national newspaper sites enjoyed double-digit daily average lifts in January too, with Telegraph.co.uk up 11%, Sun.co.uk and Mirror Group Digital up 16% and 24%, and Independent.co.uk rocketing 25%.
ABC Multi-platform: January 2013 mth-on-mth comparison
Jan 2013
Monthly % change
Daily ave
Total mthly
Daily ave
Total mthly
MailOnline
7,977,039
126,753,431
13.33
11.15
Metro
260,119
6,055,545
22.97
15.85
guardian.co.uk
4,319,370
77,931,138
17.32
13.58
The Independent
1,214,144
25,207,038
25.05
18.61
Mirror Group Digital
1,064,924
22,288,187
23.93
20.55
The Sun
1,816,106
30,711,824
16.23
24.67
Telegraph
3,129,599
61,387,919
11.36
8.41