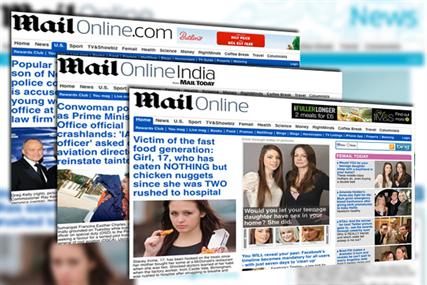 News that the Mail Online, the free site that includes content from the Daily Mail, and Mail on Sunday newspapers, has become a profitable operation represents a milestone for an industry battling with digital transition.
Mail Online has long been the most popular newspaper site in the UK and, according to comScore figures, overtook the New York Times to become the leading online English-language newspaper at the start of the year.
According to sources, the publisher realised it had achieved operational profitability "a month earlier than anticipated", having crunched the numbers for June, a period boosted by ad spend around the Queen's Jubilee and Euro 2012 football championships.
The source said: "We always knew we would achieve a monthly operating profit this summer, with total revenues up more than 75% year on year, but to do it in June was very welcome."
The site's move into the black comes despite the publisher investing in expanding its US operation and providing specific content for India.
The site's unparallelled growth in vistors over the past five years has been achieved by fewer than 30 people in the UK, a team of 20 in New York, and 10 in Los Angeles.
Last year, Mail Online's revenues were £16m, and in May, Mail Online publisher, Martin Clarke, forecast digital revenues will hit £25m this year, £45m next year, and £100m by 2017.
Such growth is in stark contrast to the fortunes of DMGT's print operations, which posted a 26% fall in operating profits at its national newspaper division in the six months to 1 April. Print losses overshadowed the digital performance at the Associated division, with the fall resulting in operating profit of £34m and a 1% decline in revenues to £435m.
Mail Online attracted more than 5.6 million daily unique browsers in May, the last ABCs, and almost 92 million monthly uniques.
Mobile users account for about a quarter of daily users, with Mail Online iPhone and Android apps helping to drive more than 220,000 daily users by themselves, browsing for an average of 24 minutes.
Guy Zitter, managing director of Mail Newspapers, told an industry conference earlier this month that the Mail Online's advertising performance was still "not even touching the sides" because two thirds of its revenue still comes from the UK, while two thirds of the audience lay elsewhere.
Read industry insight into how Mail Online became profitable here.
25 July Update: DMGT has confirmed Mail Online is now a profitable business on a "run rate" basis, with digitial revenues up 69% in the second quarter, and a more than 150% lift in June.
Follow @DurraniMix