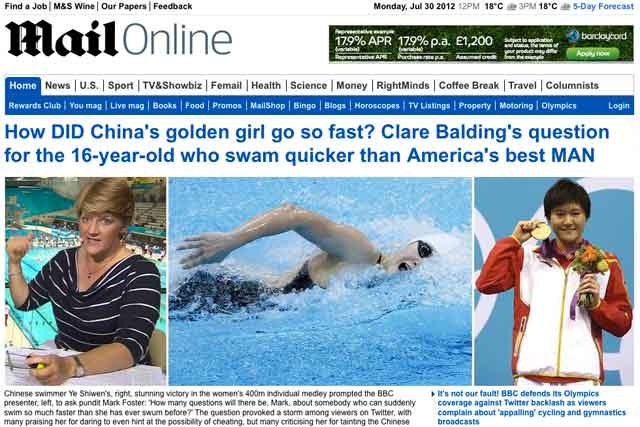 In design terms, Mail Online's homepage is in a league of its own. To suggest that it's rather busy doesn't quite do it justice; and to point out that it goes on forever only just qualifies as hyperbole. Scrolling down to the bottom takes an awfully long time.
There's just a huge amount of stuff here. Tellingly, it's not the sort of stuff you'd expect upfront in the Daily Mail. The content here is very celebrity-driven; and there's not much notable prominence given to stories about immigration, law and order, house prices and the imminent demise of the euro.
It's interesting, too, that you don't find a lot of advertising on the homepage, which is perhaps not what you expect when you've pitched up hoping to understand the secrets of its soaraway advertising success.
The advertising begins arriving in far greater density when you click through to individual stories. And it's interesting that, below the level of the homepage and individual section headers, the site's design template begins to look more conventional too - though, throughout, the tendency is to have big pictures and lots of them.
And, perhaps surprisingly, there aren't many format surprises on the ad side. Whatever it's doing right, Mail Online does not appear to be reinventing the world of digital display. Like most of its rivals, it majors on the terribly clunky banners that the industry has come to accept as the best it can do.
Unlike its rivals, however, Mail Online is turning clunky banner ads into a decent business. Last week, it announced that, in June, the site became operationally profitable, thanks to a year-on-year revenue increase in excess of 75 per cent. Digital ad revenue rose by a whopping 150 per cent in June and will total somewhere around £30 million for the year.
This is thumping good news for Mail Online - and, though the site makes little attempt to replicate the experience of reading the Daily Mail in newspaper form, the site's success should be seen as a beacon of hope for the UK's ailing news industry.
There are probably lessons to be learned here - though it's not entirely safe to assume that other newspaper groups will be willing and able to learn them.
1. Mail Online is the UK's (and the world's) most-visited news website. In Audit Bureau of Circulations figures for June, its average daily visitor figure was 5.8 million, up 44.8 per cent year on year. This kept it well ahead of Guardian.co.uk (3.37 million) and Telegraph.co.uk (2.35 million). The Sun online recorded 1.5 million, while Trinity Mirror submits an amalgamated figure (more than 777,000) for all Mirror Group Digital properties. The Times website does not submit a figure for ABC audit. It is believed to have signed up more than 100,000 subscribers.
2. Last week, the Financial Times owner, Pearson, also had some good news. It announced that the FT's digital subscriptions had increased by 31 per cent year on year in the first half of 2012 to more than 300,000, overtaking print circulation for the first time. Mobile devices account for 25 per cent of traffic to FT.com.
3. The Guardian took £45.7 million in digital revenues in the year ending 1 April - but just £14.7 million was from advertising, the rest coming from other services such as the Soulmates dating site.
4. In a statement to Campaign last week, Telegraph Media Group revealed that its digital ad revenues for the January-July period rose 25 per cent year on year. Across all its activities, the group remains in the black - its profit figure for the calendar year 2011 was £55.7 million.
5. Trinity Mirror doesn't break down its figures to show performance at its national brands - but its most recent announcement, for the calendar year 2011, reveals that group digital revenues were down fractionally year on year to £37.1 million.
6. Zach Leonard, the managing director, digital, at the London Evening Standard, The Independent and i, says that the group's titles remain committed to "free, objective, quality journalism" funded by advertising and is making more concerted efforts to close the gap on its rivals. In recent months, he adds, digital ad volumes have been increasing significantly.
7. News International declined to comment on its digital advertising prospects.
WHAT IT MEANS FOR ...
DIGITAL NEWSPAPER CONTENT
- Some news organisations say, rather sourly, that Mail Online's success doesn't count because it's not really a news site. In other words, they argue, if you're aiming at some form of cross-platform brand uniformity (and many publishers are), the lessons to be derived here are rather limited.
- However, Steve Goodman, the managing director of print trading at Group M, says: "The site is easy to navigate, editorially engaging, celebrity-driven, with relatively unique content. It has accessibility across a number of platforms, backed by a great brand, which has high recognition and trust."
- There are publishers out there that can surely learn a thing or two from Mail Online's vitality and energy.
THE ONLINE AD MARKET
- Many agencies commend Mail Online for its enthusiasm and accessibility. Some media owners, apparently, are a rather more painful proposition when it comes to matters digital.
- Jessica Evans, an associate director at Carat, says that Mail Online focuses on key brands for longer-term partnerships with integrated content, as opposed to chasing lower-level display activity.
- She adds: "Other media owners talk of a cross-platform offering and an integrated brand experience. Mail Online's approach has had to be very different as it can't talk about the crossover of readership or the user experience (across online and offline) touchpoints in the same way as other newspaper brands do."
- And John Baylon, the head of activation at Starcom MediaVest Group, points out: "Mail Online knows its customers - it understands what agencies and their clients need. Its sales people appreciate our requirements and our demands and pressures, and they act accordingly. They deliver best-in-market service."