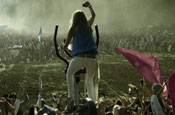 The Associated Newspapers title plans to simplify its structure by cutting the number of main sections to two. These will be distributed alongside its magazines You and Live!
In addition to a main news section, the Mail on Sunday will introduce a second section called "2.0", which will feature entertainment, national property, health and sport.

The planned changes were announced internally last week and the Mail on Sunday's ad team is expected to talk to agencies about the innovations over the coming weeks.

The Mail on Sunday is performing relatively well in the newspaper market. Its September circulation was flat at 2,348,982 but initiatives such as its free Prince CD giveaway have helped to create circulation spikes on specific issues.

Simon Davies, the ad director at the Mail on Sunday, was unavailable for comment.