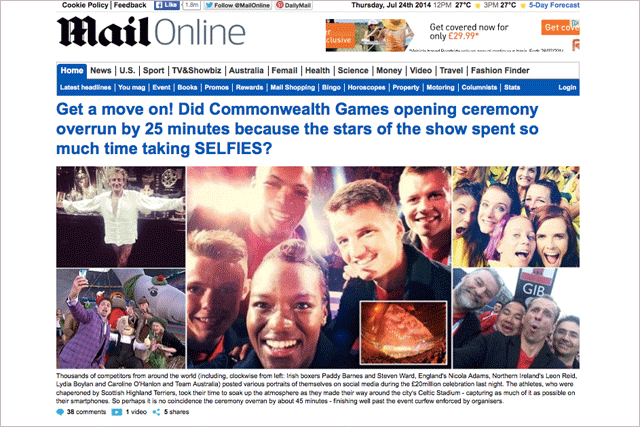 MailOnline increased its advertising revenue by 49% in the three months to 30 June, up £5m on the same period last year.
Its growth was enough to offset a £3m fall in print ad revenues, a 5% fall to £46m for the quarter.
DMG Media, the division that also includes Metro and Wowcher, reported total revenues were down 7% to £83m, with advertising flat and circulation down 5%. On an underlying basis, revenues fell by 1%.
Parent group Daily Mail & General Trust noted that once currency fluctuations were stripped out, underlying advertising revenues across its print and digital businesses grew 4% year on year.
Advertising revenues across the nine months of DMGT's current financial year have risen 5%, while circulation income has dropped 4%.
DMGT's overall business grew total revenues by 3% in the quarter, with its events and information divisions performing strongly with double-digit revenue growth.
The company received a £9m dividend from the Press Association, in which it is a shareholder, following the sale of MeteoGroup in December.
DMGT said it has received £179m from the public listing of Zoopla, the property services business, and reduced its shareholding from 52.1% to 31.8%. Net debt decreased £243m to £550m.
MailOnline's global monthly unique browsers in June stood at 169 million, up 39% on last year, and average global daily unique browsers were 11.0 million, an increase of 34% on last year.
Also within the group, Wowcher delivered a particularly strong performance with revenues of £6 million (up 58%) and it now has a substantial database of 5.5 million subscribers.
For the three weeks since 29 June 2014, total underlying advertising revenues are up 9% on last year.
As a result of the IPO of Zoopla Property Group (ZPG) in June 2014, DMGT has received net proceeds to date of £179 million and its stake in the business has been reduced from 52.1% to 31.8%.
The disposal of DMG Media's remaining digital recruitment businesses, Jobrapido and Jobsite, were announced in the quarter and the Jobsite transaction is expected to complete in the final quarter of calendar 2014.