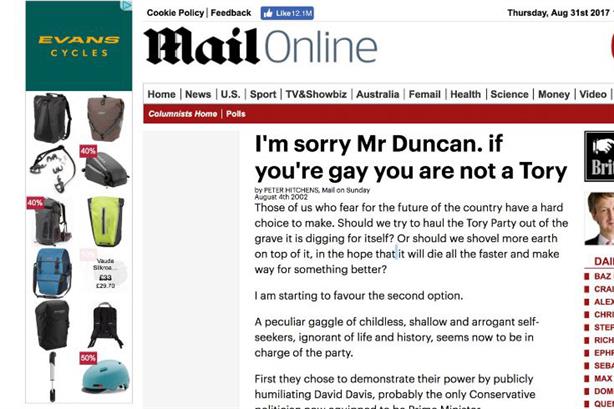 But shares in the publisher of the Daily Mail crashed after the group took a £206 million writedown on the value of its property arm and other business-to-business assets and made an annual pre-tax loss of £112 million.
Leaving aside exceptional items, operating profits still dropped on an underlying basis in the year to September 2017 and DMGT warned of a further fall in profit in the year ahead.
Paul Zwillenberg, who joined as chief executive last year, said DMG Media, which includes the Daily Mail, MailOnline and Metro, had performed well.
Advertising revenues rose 2% to £319 million on an underlying basis at DMG Media.
Digital advertising rose 18%, more than offsetting a 5% decline in print – an improvement on the 12% plunge in print a year earlier.
"MailOnline made particularly good progress growing its revenues from programmatic advertising and through partnerships with other channels," the company said.
"In the US, MailOnline's revenues grew by an underlying 36% to £36 million."
DailyMail.com, the operating brand in the US, launched DailyMailTV in September.
MailOnline is expected to be "profitable for the full year" in 2018.
Metro also increased its ad revenues, which largely come from print, by 7% thanks to increased distribution but profits fell because of higher costs.
DMG Media's investor presentation showed print ad revenue trends have improved during the year to September 2017 as they moved from declines of 11%, 4% and 5% in the first three quarters of the period to 1% growth in the most recent quarter – the three months from July to September.
However, DMG Media warned advertising is "likely to remain volatile" and it expects overall revenue and profit margin will fall in the coming year.
Investors were spooked by DMGT's cautious outlook for the whole group which generates more than half of profits from B2B in most years.
"The coming year is expected to be one of transition," it said. "The group's short-term earnings will be adversely affected by recent disposals and challenging conditions in some of our sectors."
Shares fell by almost a quarter.