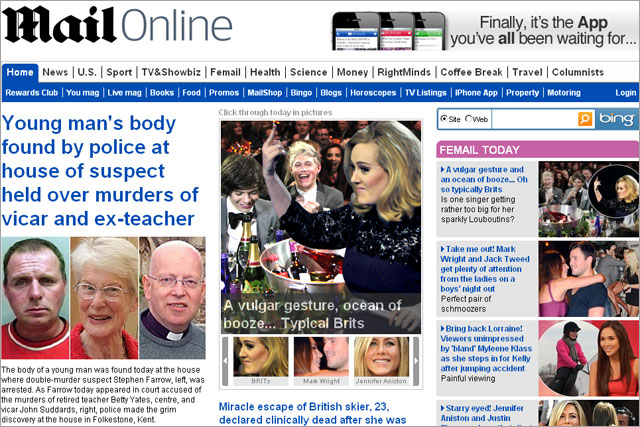 The UK national newspaper website attracted 99,218,476 unique browsers in January according to ABC, up 18% on December 2011 and 77% year on year.
The popularity of the website owned by Associated Newspapers has been boosted by a concerted increase in international activity in the US and, most recently, Asia.
It confirms a strong start to the Olympic year, having last night retained its position as comScore's biggest English-language newspaper website in the world for the second month running in January.
According to the global metrics company, comScore, which relies on panel-based data and excludes access via mobile applications, Mail Online extended its lead over the New York Times by 3.6 million unique visitors with 51.7 million unique visitors last month.
It represents a 75% rise in average daily visitors year on year, compared to NYTimes, which introduced metered-access during the year, and recorded an annual drop of 7%.
Elsewhere in today's ABCs for January, the website for London's Evening Standard reported a 32% rise in monthly browers to 172,290 – the best relative performance.
The website for Standard's stablemate, The Independent, reported a 20.5% drop in daily unique browsers to 602,856, monthly browsers fell 17.1% to 13,126,707. The site only relaunched at the end of October.
Guardian News & Media continue to own the UK's second-largest newspaper website, with daily unique browsers rising 22.3% month on month to 3,592,387 in January.
The free website, which has also been increasing its activity in the US, recorded 63,171,662 monthly online browsers.
Full details of all audited UK newspaper websites in January 2012 in table below.
January
Month on month
Year on year
Daily average (global)
Total monthly (UK)
daily change (%)
daily change (%)
Metro
352,888
5,227,142
5.14
48.12
Standard.co.uk
172,290
2,511,480
32.19
n/a
guardian.co.uk
3,592,387
26,965,226
22.31
56.03
The Independent
602,856
6,268,903
-20.52
7.52
Mirror Group Digital
882,972
10,339,205
21.51
46.51
The Sun
1,471,788
12,591,592
9.91
n/a
Telegraph
2,458,826
17,738,465
14.05
43.26
Follow Arif Durrani on Twitter: DurraniMix