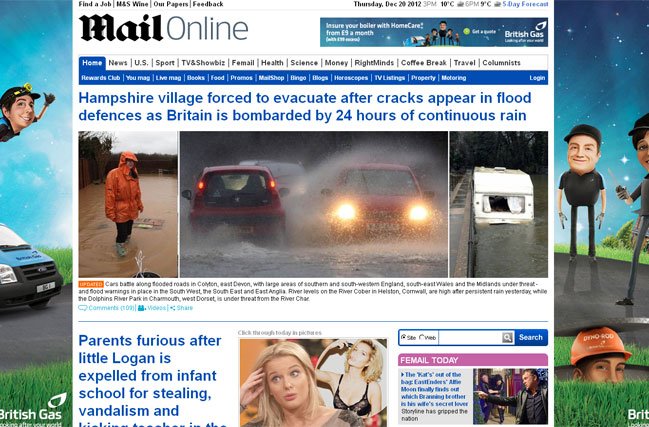 According to Audit Bureau of Circulations figures published today (20 December), monthly unique browsers for MailOnline, which became the world's biggest newspaper site at the beginning of the year, rose by 5.72% to a record high of 112,167,402 last month.
Daily traffic for the Daily Mail & General Trust's website increased nearly 7% in November too, making it almost double the size of its nearest newspaper rival, and one time market leader, Guardian.co.uk.
The ongoing growth in popularity of the website, which also incorporates stories from the Daily Mail newspaper, is stronger than all its national and international newspaper rivals. It has added a third more unique monthly browsers, some 27m, since November 2011, more than the entire traffic for the Sun Online.
The MailOnline's UK monthly visitor figure also hit a new high of 40,933,682 in November.
Elsewhere, Guardian News & Media's website achieved a daily lift of 1.32% unique browsers compared with October. Monthly unique browsers fell by 1.67% to 70,566,108.
Telegraph.co.uk posted a 3.15% rise in daily browser to 2,978,782, while monthly unique users rose 1.17% to 57,586,066. Independent.co.uk swelled daily unique browsers by 3.32% to 853,309, although monthly browser numbers fell 0.16% to 17,873,036.
In the tabloid sector, Mirror Group Digital recorded a 4.3% increase in daily unique browsers to 797,155, and a 1.26% monthly rise to 16,525,267. The Sun Online rose 1.02% to 1,560,518 daily unique browsers. Monthly unique browsers dropped by 6.33% to 24,283,825.
Meanwhile, free daily Metro, which announced plans to become "mobile first" last month, with a new website and apps for Android and the Kindle Fire, posted a 15.38% growth in daily unique browsers, to 319,005. Monthly browsers also grew by 10.66% to 7,714,131.
ABC Multi-platform: November 2012
Nov-12
Monthly % change
Daily Ave
Total Monthly
Daily
Monthly
Mail Online

7,109,203

112,167,402

6.50

5.72

guardian.co.uk
3,961,167
70,566,108
1.32
-1.67
The Independent
853,309
17,873,036
3.32
-0.16
Mirror Group Digital
797,155
16,525,267
4.30
1.26
The Sun
1,560,518
24,283,825
1.02
-6.33
Telegraph
2,978,782
57,586,066
3.15
1.17
Metro

319,005
7,714,131

15.38

10.66

Follow @DurraniMix