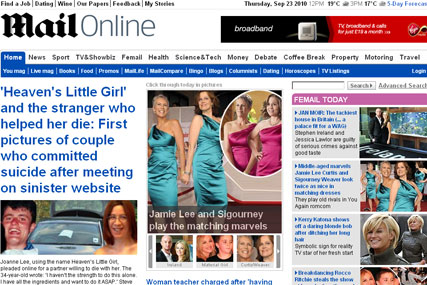 According to Audit Bureau of Circulations Electronic (ABCe) figures published today, the figure for MailOnline was an eye-watering 58.8% up on the year in a traditionally quiet month for newspaper brands.
MailOnline had 16,434,210 UK monthly unique browsers in August, up 3.1% from July.
Monthly browsers for second-placed Guardian.co.uk, which includes The Guardian and The Observer, rose 1.1% to 34.9 million. This was a jump of 31.2% on the year.
Its UK monthly browsers totalled 14,176,357, up 3.6% from July.
National newspaper websites now use average daily browsers as their preferred measurement, as they feel it is more representative than monthly browsers figures.
Average daily browsers to MailOnline rose 2.3% to 2,552,511 in August while Guardian.co.uk nudged up 0.4% to 1,941,540.
Elsewhere in the month of August, in which the run-up to the start of football season kicked off, numbers were up across national newspaper websites with the exception of Mirror Group Digital.
News International withdrew all its audited web traffic figures earlier this year after it opted to put the editorial content of The Times and The Sunday Times behind a paywall in June.
The websites for its sister titles, The Sun and the News of the World, will also soon be joining them behind the wall.
Average daily browsers for Telegraph.co.uk were up 3.6% from July to 1,681,152.
Independent.co.uk and Mirror Group Digital are still minnows compared to their national digital rivals.
Independent.co.uk was up 3.9% to 490,499 from July while Mirror Group Digital recorded daily traffic down 2.8% to 499,645. However, Mirror Group Digital's daily traffic was up on the year by 13.1%.
Mirror Group Digital includes Mirror.co.uk, 3am.co.uk, Mirrorfootball.co.uk, Dailyrecord.co.uk, Sundaymail.co.uk and People.co.uk.
ABCe Results Aug 2010
Aug
Month / month
Year / year
August
Online title
Global Daily Ave
Daily % change
Daily % change
Monthly total
MailOnline
2,552,511
2.31
51.33
45,539,202
guardian.co.uk
1,941,540
0.41
34.59
34,967,742
Telegraph
1,681,152
3.56
31.84
32,346,325
Mirror Group Digital
499,645
-2.78
13.12
10,536,392
The Independent
490,499
3.94
33.69
10,789,362