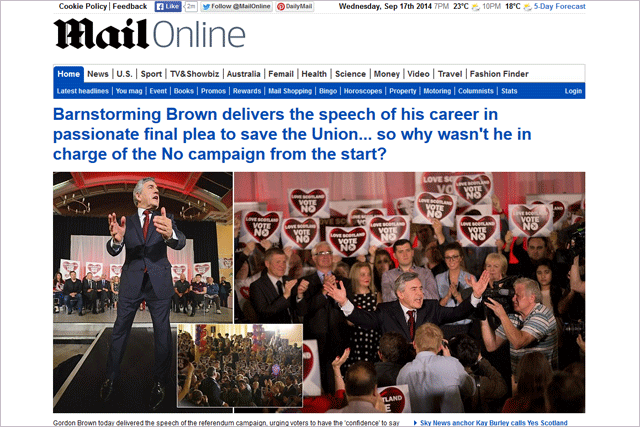 In August, MailOnline attracted 180 million monthly unique browsers across its international network. Behind the global figure, MailOnline in the UK was responsible for around 56 million, while its three-year-old US operation drew 60 million monthly browsers, according to Stephen Daintith, finance director at DMGT.
When it comes to daily usage, MailOnline's UK operation continues to attract the most activity, with 4.6 million browsers compared to 4.3 million from the US. However, the gap is closing and the US is expected to catch-up with MailOnline's UK daily engagement over the coming months.
MailOnline employs around 600 staff, with 150 in the US (of which 40 are commercial) and more than 400 people in the UK.

Elsewhere, traffic in Australia is said to have grown 70% in the past five months, from 1.38 million unique browsers to 2.35 million, helping MailOnline's "rest of the world" traffic account for 64 million uniques.
The figure makes MailOnline, which only launched at the start of the year in partnership with Nine Entertainment's Mi9, the fifth biggest news site in Australia. Daintith confirmed the ambition is to become number one.
More traffic leads to more revenue
Daintith restated the publisher's belief in pursuing an open, high volume model for its online operation. He said: "We believe growing traffic will ultimate lead to commensurate advertising growth."
Daily Mail & General Trust's website today reported ad revenues of £53m for the 11 months to the end of August, up nearly 50%.
Daintith said: "We still expect to do £60 million in the year, the target we set ourselves at the beginning of the year... We have ambitions to hit the £100 million number in two years, with growth from the US."
The continued growth of MailOnline's ad revenues helped to offset falls in print advertising at both the Daily Mail and Mail on Sunday. Print ad revenues were down £10m, a 5% fall, over the same period, to £172m.