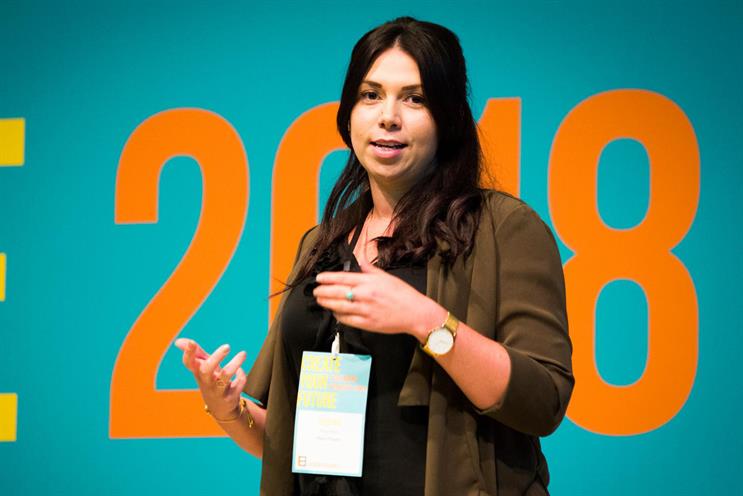 Speaking at the Creative Equals Future Leaders conference in London todayl Rosa Rolo (pictured), commercial director at Major Players, explained that the gender pay gap is currently difficult to close because salaries are always based on what you have been paid in the past.
The recruitment company is asking its clients and other recruiters in the industry to stop asking for previous pay.
The initiative follows the publication of some eye-watering gender pay gaps at some of the UK's biggest agencies. J Walter Thompson London has a median gender pay gap of 44.7%.
Earlier in the day Lucas Peon, executive creative director at the agency shared how the agency was addressing the crisis, saying it had won "the World Cup at sucking at the gender pay gap".
Major Players hopes that not divulging current or previous salaries will help the industry achieve pay parity faster. Joanne Lucy-Ruming, managing director at Major Players, said: "Potential employees should be assessed on their experience and skills not what they've been paid previously."
Setting clear expectations for the role, outlining skills and experience followed by a thorough interview process should be perfectly adequate to assess someone's ability to do a job.
Practical skills for bridging the gender pay gap
In the wake of the flurry of data revealing the significant gender pay gap at many of the UK's leading advertising agencies, Joanne Lucy-Ruming, managing director of Major Players, shares her practical tips for getting paid what you are worth.
Q: What should you do if you do if you are asked to reveal your current salary when going for a new job?
A: Discuss only what you are looking for. Make sure you are knowledgeable on what the market average is for your position and be prepared with what makes you worth your asking salary. Make reference to the skills and attributes in the job description and draw comparison to what you've done previously referencing good examples.
Q: If your current company has a substantial gender pay gap, should female employees advocate for a pay rise, if so what advice would you give as to how to go about it?
A: Yes, female employees should advocate for a pay rise if they are being paid less than their male counterparts – The right to equal pay is grounded in law and anti discrimination legislation. It's a right, not a nice to have. Transparency between employees and employers is really key for trust. For larger companies it became law to disclose their gender pay gap on 4 April 2018. Your company should be happy to disclose if they have a gender pay gap. If they do, find out what actions they are taking to close that ie: working to clear salary banding etc.
Q: A junior creative recently told us she questioned an agency chief on its gender pay gap in an interview and the interviewee took her question very badly. How can we move the dial on the gender pay gap in a meaningful way, is a non-confrontational approach no longer an option?
A: That's a real shame, all employers should be transparent with what their gender pay gap is and they should be actively working on eradicating that gap.
Proper action is required by employers and recruiters to affect the pay gap. Hiring, performance and promotion processes should be made impartial and unbiased, not disclosing or requesting current salaries. Also mandating diversity for shortlists for hiring, putting staff on unconscious bias training, creating clear salary banding etc are all clear actions a company can take to help create parity.