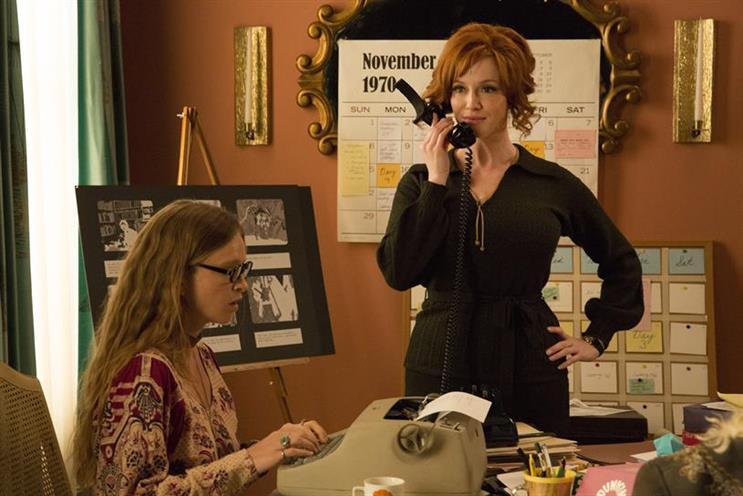 For me, it was a woman, the fabulous character Joan Holloway, who stole the show in the last ever episode of Mad Men. As I watched her defiantly defy convention by founding Holloway Harris, as a single mother in a pin-striped world, I cheered from my sofa.
Her determination, optimism and self-belief seemed to be heralding a new era in the industry. It was advertising's Thelma & Louise moment and it rocked.
Would Joan be proud of us now, of what we've achieved in the 45-years since this scene was set? Well, I think she'd certainly be glad that it's no longer a shock to see a strong, feisty, fearless female taking the reins.
Just look at Tamara Ingram's recent appointment as the chief client team officer at WPP, overseeing all of the network's global accounts. A massive role. This didn't raise eyebrows, only celebratory wine glasses. No one was surprised that this hugely capable, entrepreneurial and inspiring woman landed the job. In fact, why not sooner?
In 2015 it is now commonly acknowledged that gender equality at work creates competitive advantage. The Catalyst Bottom Line Report and the World Economic Forum's Global Gender Gap prove the point.
And the advertising industry is doing ok on this front, with women making up 55 per cent of the advertising workforce within the US and, in the UK, 25 per cent of senior management roles across the industry are held by women.
I live by Madeline Albright's assertion that there is a special place in hell reserved for those women who don't help other women (the so-called scarcity syndrome – nonsense).
My agency, Maxus, has a strong track record of supporting and promoting women, with women accounting for 40 per cent of our local leaders and 2iCs. We also specifically buck the trend for poor gender diversity in APAC, currently our best region for women in leadership roles.
However, I can't help feeling that Joan would be bitterly disappointed that we haven't achieved more. 45-years on women are still only earning 78 cents to every dollar earned by our male counterparts.
Female CEOs in Fortune 500 companies are a measly 5 per cent. At Davos, for instance, women made up a paltry 17 per cent of attendees this year, which is why the gender gap is still an issue.
But how? Innovative thinkers are raising awareness of key issues such as unconditional bias. Closing the gender pay gap is a step we must take in an era of transparency. Any female leader should "walk the talk" to inspire change by speaking out, getting on platforms, and showing younger women that 'people like me' can do it.
On both sides of the pond we must encourage senior women to share their learnings, which is why I'm so passionate about my role as president of UK female-only club Women in Advertising and Communications (WACL), and ditto the great work by Advertising Women of New York (AWNY).
And bridging across the Atlantic is the 3 per cent Conference, which began in the US and next week has its first London conference, campaigning for more female creative directors.
But it's not only about being visible on stage our ads need to reflect reality too and it's essential that the true feminine voice is heard, so we challenge norms.
We are already doing this, in groundbreaking, stereotype smashing work such as Always' #LikeAGirl, and the WTA's Strong is Beautiful.
In the UK, the issue of women's objectification in advertising recently became national news following a consumer outcry around sports supplement maker Protein World's crass "Are you beach body ready?" campaign. A totally gratuitous use of a bikini-clad, super-thin, "sexy", posed model.
The fact that this sort of campaign can see the light of day shows we still have much work to do. It damages our industry's reputation and harms women's self-esteem too, driving me to fight harder, fight longer.
So, instead of asking you whether you are beach body ready, I'm asking you are you bias battle ready? I know I am.
Lindsay Pattison is the worldwide chief executive officer of Maxus