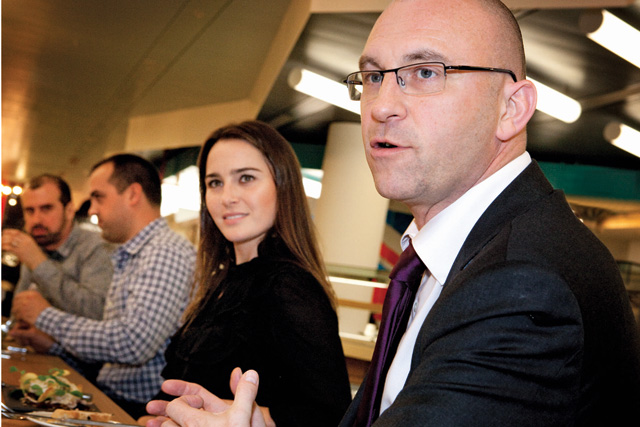 Giving consumers what they want isn't always obviously good for the advertiser. Take the way people watch – and access and share – video content. From the growth of the "second-screening" phenomenon to the idea of micro-casting, channel personalisation and the availability of unique content on a video-on-demand service such as Netflix to the content from YouTube's original channels initiative, viewers can watch what they want, when they want, in almost any way they want on many different devices. So if you want to be where the consumer is, as advertisers need to, you can find that taking advantage of this proliferation of content and consumption patterns is increasingly difficult.
But, as the guests at Campaign's roundtable dinner, held in association with Google, before Christmas explored, media agencies are helping brands and advertisers to make the most of the worlds of online video and connected TV as they collide.
What are the key trends that are changing the way people watch video?
Paul Rowlinson, head of exchange, Mindshare: If you look at the consumption of video, it's not so much about convergence as the explosion of opportunity. Consumer experience depends on which device they use. But the overwhelming trend in the past 12 months is the increase in mobile consumption. And by that I mean mobile, not tablets; tablets haven't been around very long, but mostly they seem to sit in the front room and not out of the home, so they're not a mobile device in the true sense. The other interesting development is the second screen; particularly mobiles interacting with the content on the first screen. Consumers will use the second device to interact – sometimes with what's on the first screen – and more often than not they are doing something unrelated.
Steve Taylor, head of digital strategy, PHD: I saw figures from the Olympics suggesting that while the broadcast audience had been 27 million people, over the course of the Games about nine million people had consumed BBC content on a mobile device. I think we tend to think of mobile as fairly low-reach, but this shows that if you get the content right, people want it that way. People weren't just following a set editorial path, they were slicing and dicing it the way they wanted. 4G will change the way we think about how we access content.
Mark Howe, managing director of agency business, Northern Europe, Google: We're seeing 800 million users a month on YouTube. Globally, about 25 per cent of users are mobile; in places like South Korea, it's 50 per cent on mobile handsets (not tablets). We see mobiles being used more in early mornings, desktops and tablets through the day; but, of an evening, our highest audiences are in primetime. There's mobility between devices.
Sue Unerman, chief strategy officer, Media­Com: There are some niche audiences who are behaving differently. Teenagers go to their room and watch hours of YouTube, and we just don't know what the consequences of that will be when they are 35. I don't see convergence at all, I see divergence – people making use of divergent devices.
John Baylon, head of activation, Starcom MediaVest Group: About 90 per cent of all media consumed is through a screen. Convergence comes from how you view it, to make sure it's com­plementary. How do you enrich that experience through simultaneous advertising through the screen or sequentially through different platforms?
Richard Morris, managing director, Vizeum: We tend as an industry to overinflate our expectations and then we get underwhelmed; and by that point things have picked up and delivered. I read stats that about 26 per cent of people watching TV are now always online. We've been talking about that connectivity for a decade, but it's reaching a tipping point. And that brings commerce closer to the TV experience; it's starting to connect social with the TV experience. It's things like The Million Pound Drop making the programming better, which is a virtuous circle; it's things like Zeebox and potential commercial opportunities on the second screen being closer to what's being talked about on the first screen.
Matthew Hook, chief strategy officer, Carat: Five or six years ago, we were trying to goad people into wanting something they didn't want; now they want it and the economic model is stopping us getting it to them, eg. high data-roaming charges. We have an advertising model that's prejudiced to a way people don't want to watch TV any more, and it sometimes feels like we want to keep it that way.
Naomi Harston, industry manager, YouTube: We talk about convergence and divergence but are now in the third wave of video; microcasting: IP, log-in and subscription are paramount. They are facilitating and changing consumption patterns.
Unerman: I don't think we know that; that's technically possible, but the other thing we know is that great content brings people together.
Are we saying that personalisation of content and choice are key factors?
Rowlinson: It's not about convergence of the device – it's content that runs through all of this. People still watch TV; viewing has gone up in Sky homes and, in homes with tablets, the time spent reading has gone up. The schedules become even more important. If you look at what's driving online viewing in the video-on-demand space, 80 per cent is catch-up.
Baylon: Brands will become more important in terms of signposting. In a connected/EPG/web-browser world, it'll be more important for broadcasters to make sure consumers are seeing their content.
Hook: Distribution – anyone can do that; funding can come from many places. So we're really talking about curation. But schedule will seem an anachronism soon. You need some degree of endorsement and way of discovering things, but you don't need a schedule.
What's working and what should advertisers do next?
Mark Fagan, head of search and performance media, iProspect: This idea of consuming video and this social layer on top [of things going viral] shows the power of YouTube and the power of social. So how people find useful and interesting content is the key thing for me.
Taylor: Don't just take the TV asset and shove it into the latest format; think about the user journey, the level of content, the way you can add value.
Baylon: It's not the death of broadcast; new technology is re-energising traditional TV advertising. I can't wait for the day we have adjustable advertising, where we can personalise the TV broadcast on a platform or device level.
Rowlinson: Whether it's putting consumers at the forefront or looking at ways to engage them, content is the most powerful means of doing that, and video is the most powerful form of content.
Howe: We have the ability to test and learn like we've never had before, and I'd implore people to set aside R&D budgets to test and learn in this space.
The experts
Philip Smith panel chairman; head of content solutions, Campaign
Richard Morris managing director, Vizeum
Sue Unerman chief strategy officer, MediaCom
John Baylon head of activation,
Starcom MediaVest Group
Paul Rowlinson head of exchange, Mindshare
Mark Howe managing director of agency business, Northern Europe, Google
Jane Bainbridge writer, Campaign
Matthew Hook chief strategy officer, Carat
Mark Fagan head of search and performance media, iProspect
Naomi Harston industry manager, YouTube
Steve Taylor head of digital strategy, PHD