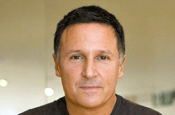 Green will head a new creative unit at Naked that will build relationships with creative talent in film, music, design, technology and other related areas.

Naked launched in 2000 with the ambition of supplying a new model of objective communications strategy.

However, its new focus will look towards digital technology and new production techniques to deliver creative ideas outside of the structure of a traditional ad agency.

Green, who left DLKW in April, said that Naked's aim is not to recreate a traditional creative department but to operate in a similar way to a "Hollywood film studio", originating ideas and then bringing in people with distinct expertise to realise them.

Green's appointment follows the recent hiring of Jane Geraghty as the managing director of Naked London.