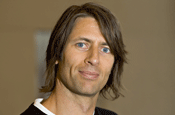 Poynton's ECD role has been scrapped as part of the move, which will see the creative department led by the four existing creative partners - Greg Burke, Will Awdry, Alasdair Graham and Dennis Lewis.
Ogilvy Advertising managing director Guy Lambert said: "The creative partner system allows clients direct and continuous access to the people who are immersed in their business on a day-to-day basis. It is a natural progression to give these senior creatives overall accountability and sign-off for their own stable of brands.
"In Greg, Will, Alasdair and Dennis, we have a quartet of highly-experienced creative leaders who together will continue to refine and improve the agency's creative output."
Poynton has been at the since 2003, when he joined from Saatchi & Saatchi Sydney with a brief to raise the agency's creative profile.
For the full story, see this week's
Campaign
.