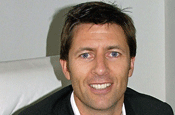 Guy Lambert, the Ogilvy Advertising managing director, used the all-staff meeting to reveal that Poynton's executive creative director role is being scrapped, and that the creative department will now be led by the four existing
creative partners: Greg Burke; Will Awdry; Alasdair Graham; and Dennis Lewis. They will report to Lambert.
The four will continue to take responsibility for certain accounts, including Dove, Ford, Motorola and American Express. Creative teams will, however, work across different accounts and clients.
At Friday's meeting, Lambert also treated the agency to a video montage featuring Madonna, which was intended to demonstrate, in the words of one of those present, "that you can be big and old, but still reinvent yourself".
Lambert also unveiled a number of initiatives, including "free-thinking Fridays" (which has already been dubbed "freaky Fridays" by Ogilvy staff), to allow creatives to spend time together out of the office and help them come up with new ideas.
Ogilvy and Poynton are still in negotiations over the terms of his exit. As a result, Lambert was unable to explain the circumstances of his departure to staff at Friday's meeting.
Poynton himself remains employed by Ogilvy for the time being, and is expected to return to his office until legal issues have been resolved.
The lack of detail on how the new structure will work has meant creatives at Ogilvy have been left "in shock", a source in the agency said. "We're in the dark about what's going on," the source said. "No-one is telling us anything."
Sources within the agency suggest that an ongoing struggle for power between Ogilvy Advertising and the rest of the Ogilvy Group was partially responsible for the decision to abolish the ECD's role, and to leave the agency without an overall chief to oversee its creative output.
For instance, OgilvyOne, is a more profitable business than its advertising counterpart. As one source told Campaign: "To have an advertising ECD acting as the 'grand poobah' across all these relationships is inappropriate."
Poynton is understood to have been in disagreement with management over the size of the advertising creative department, which now has ten teams plus freelancers. In the past year, five teams have left without being replaced.
Ogilvy Advertising employs around 250 staff in total.
Poynton joined Ogilvy in 2003, and since then its creative output has undergone something of a revival - Ogilvy was the third most-awarded agency at Cannes last year.
Both Ogilvy and Poynton declined to comment.