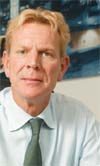 An overactive air-conditioning unit has turned Jeremy Male's office into an environmental equivalent of his chosen media, outdoor.
Well, to be honest, the UK version of outdoor is more accurate. Not that Male, Northern Europe chief executive of French-owned outdoor company JCDecaux, looks like he's been anywhere near a cold day recently. In fact, he looks positively healthy.
It shouldn't be this way, but sometimes life's unfair. Realistically, the amount of new business contracts that Male has been involved in pitching for should have left him a haggard shell of a man, but it's not the case.
Just ask his contacts. Steve Bond, managing director at outdoor specialist Posterscope, backs up first impressions, calling Male an "action man" when it comes to the outdoor industry. "Jeremy has a really good handle on what's required and just gets on with it. He's a doer and he's a guy that says once he's going to do something, he does it. He's very good at delivering things he says he's going to deliver.
Possibly a little too much lemon in the hair these days though, but that would be my only criticism."
Heavily embroiled
Decaux has been embroiled in just about every major recent UK outdoor tender, losing out on the London bus shelter contract [to Clear Channel subsidiary Adshel, which reportedly ended up guaranteeing Government contractor Transport for London three times as much revenue as previously].
In a knowing nod to the way the questioning is obviously heading at this juncture, Male remarks: "Contracts in the UK market are not dissimilar to our UK buses – they really do come along in droves and at the same time.
They are just part of our business. We're negotiating these, or bidding these, pretty much every day of the week in some part of the world."
Lost contracts
The outdoor firm also lost out on the £350m Network Rail billboards contract and the $1bn New York street furniture contract in a partnership with broadcaster NBC last month.
Progress has been better in the Asian markets, where the firm has acquired a 73.4% of Chinese outdoor company Media Partners International and won a 20-year contract for bus shelters in Kobe, Japan.
The loss of the London bus shelter business means that the pressure is on to take the £1.2bn 10-year contract for the London Underground, due to be awarded in the first half of 2006 – a task JCDecaux has been shortlisted for with incumbent Viacom Outdoor, a decision that obviously pleased this chief executive.
The question is, with all these contracts undeniably demanding Male's full attention, is it a hard juggling act to keep concentration on the sales ethos, and helping to push the outdoor industry over the as yet unachievable 10%of the advertising cake?
Male says that despite the increased workload Decaux has managed to keep its profile with media agencies and advertisers rather than dividing its time between retaining advertisers and prospecting for new contracts.
"From Decaux's point of view, I really don't think we have changed the media-facing side of our business whatsoever. I really don't think there has been any change that has been brought on by the tender process."
He does concede that there is nothing easy about the current tender processes (the London Underground tender document is rumoured to be the media equivalent of Tolstoy's War and Peace) and that the staff involved currently work very long hours. "It's very time consuming for certain individuals, as you can imagine, but hopefully that hasn't impacted on the face we have shown to the media world."
Male says the proof the industry has continually forged ahead in encouraging advertisers and agencies to bump billboards and six sheets further up the schedule speaks for itself. "If you think of traditional outdoor in 1994 it was a 5% medium. Now to all intents and purposes it's a 10% medium.
"It has grown its market share consistently pretty much each and every year over that time, so almost by definition outdoor is getting on more and more media schedules."
The nature of this trading could possibly change with the advent of the recent merger between WPP's Portland Outdoor and Poster Publicity to create Kinetic, and the recent acquisition of Concord by Aegis, which already owns outdoor poster specialist Posterscope. New economies of scale could threaten the outdoor owner's place at the negotiating table.
After a long pause, Male says: "I think that the consolidation on the buying side has increased the professionalism in planning and buying, but the fact is they do a lot more than buying. In fact, I think that outdoor in the UK is the best planned in the world and that is down to the specialist planners/buyers, as well as the media owners.
"Let's put it this way, if WPP buys an agency like MediaCom, I don't think for a second that someone such as ITV feels threatened by that and, to be honest, we similarly don't feel threatened by scale on the buying side.
"We think the important principle is delivering value and we're certain that JCDecaux can continue delivering value to advertisers."
Growing rapidly
Male recognises the one advertising sector that is currently growing more rapidly in relative terms than outdoor is the internet, a medium that the Internet Advertising Bureau has claimed has now replaced outdoor in the affections of advertisers and their planners and buyers. Despite this, he still sees outdoor in the top tier of financial growth and indulges in a bit of media name-dropping to illustrate his point.
"Martin Sorrell talks about a two-speed media market, which very much included outdoor in the high-speed growth arena, and that's where I see it. He says that although internet "ticks the personal box", outdoor ticks the "mass box".
Of course, outdoor has not been shy of the onward march of technology itself over the past few years. JCDecaux has its own development arm, Innovate, that develops cutting edge outdoor concepts, which includes burgeoning digital technology, and Decaux was also tasked with the launch of Tesco TV, the in-store digital network.
Male thinks that such technologies can add to the inventory problem outdoor is finding in the large format sector, saying video or scrolling are key to creating space for advertisers to reach their audiences.
"Certainly if you think of the large format market, you're talking about static or certainly possibly declining numbers of sites, which means that with every site you have, you have to be more effective.
"Now you can do that by backlighting, you can do that by scrolling – which increases the efficiency – and over time and as the cost of technology comes down, you can increase its effectiveness by digitising it.
"So in other words, you can do all sorts of exciting things such as changing the site remotely, you can use full video if it's applicable, you can make it real time. So we're fuelling that part of the growth of digital."
Important sectors
One of the most important sectors for outdoor to reach the consumer, Male says, is in the retail space, pointing out that the area is expanding with the introduction of screens in Tesco, Woolworths' screens already in situ and trials planned for Asda and Sainsbury's.
"We know that the average person in the UK is going to visit a supermarket every month and that's where they are going to be spending their money. So what is the best way of communicating with them in that moment?
"In a way, it's just a venue to reach a consumer and I think there are two types of venue that are going to become very important for the digital world. I think we're going to see screens in the retail arena, where I think retailers are going to use them to connect better with their customers through classic media."
Male says that the other "venue" or opportunity is to capture consumers when they have considerable "dwell-time" – the most recent additions being screens on buses and trains. When these are mentioned, Male quite rightly says that Decaux has been working on catching consumers in their travel environments for some time, pointing to Decaux's airport contracts.
"The classic would be the airport, where we have digital networks in Heathrow and Charles De Gaulle, and rail stations with [Maiden Outdoor's] Transvision, and there have been digital innovations on the Underground.
"All of that will keep outdoor exciting, it will keep it fresh and it will help the growth.
But I think the main growth is going to come from the fact that outdoor, as a medium, can deliver audiences that no other media can in terms of scale and value."
Now there's a man who believes in his product.

Career path
2000 Chief executive officer Northern Europe JCDecaux
1998 Chief executive TDI Europe TDI Advertising Ltd
1994 Managing director TDI Advertising Ltd
1993 European managing director Tchibo International
1988 UK managing director Tchibo International 1982 UK general manager Jacobs Suchard
1980 Worked in the construction industry in Middle East