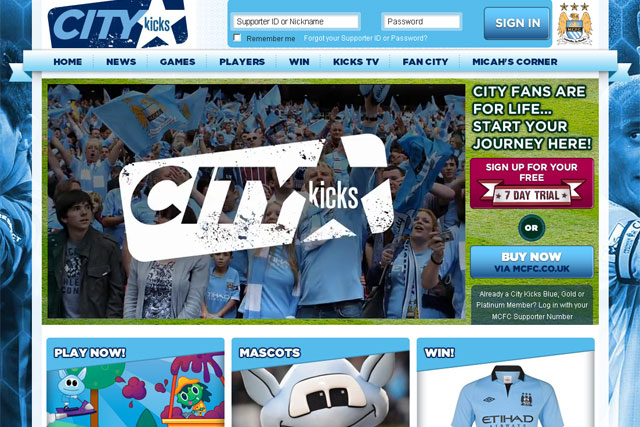 City Kicks costs £20 a year and offers a seven-day trial that allows youngsters to try before they buy.
As revealed in May, the scheme and website were conceived from scratch by content marketing agency John Brown, which crowd-sourced the name and developed the brand identity.
The website includes games, competitions, match action, news updates and exclusive behind-the-scenes footage, facts and information.
Members earn City Stars, which open up the players' lockers to reveal bonus content and other rewards throughout the season.
Across the site, age-appropriate content is presented to the different age groups – from colouring-in activity for the under-fives, to social media plug-ins for the over-13s.
There are tips on how to become a better player, showing members how to finish like Sergio Agüero, tackle like Vincent Kompany or pass like David Silva.
Julian Pate, head of marketing at Manchester City FC, said: "City Kicks is about bringing young fans into the heart of Manchester City Football Club.
"The membership scheme has been designed to give kids unrivalled access to their favourite players, club news, games, educational material and more.
"We're excited about the journey the club is on and we want to make sure our young fans feel part of it."
Manchester City's vice-captain, Micah Richards, has his own section as ambassador for City Kicks, and is looking forward to showing kids what goes on at the Etihad Stadium.
He said, "I'm thrilled to be involved in this new City Kicks junior membership. I know from my personal experiences as a 14-year-old youth squad player how inspiring it is for young fans to be made to feel a part of this great club from an early age."
**Read our recent profile of Manchester City's head of digital Russsell Stopford**

Follow @shearmans