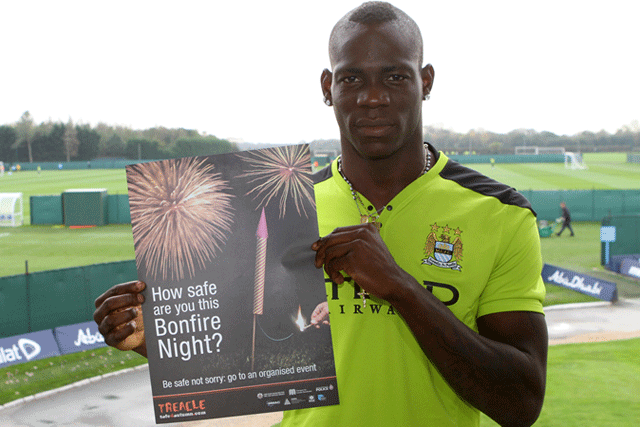 The fire occurred early on Saturday (22 October), the day before Balotelli contributed to his team's 6-1 victory against arch-rivals Manchester United at Old Trafford.
According to reports, Balotelli set off a firework in his house. However, the player insists it was in fact one of his friends who caused the fire, and Balotelli will now back a fire safety campaign, 'Treacle', to set the record straight.
The regional campaign is by safe4autumn, a website set up by seven Manchester services, including the Greater Manchester Fire and Rescue Service, and Greater Manchester Police.
It has been launched in Manchester to give information about enjoying fireworks in a safe manner, in the run-up to Bonfire Night on 5 November.
Balotelli said: "I didn't set any fireworks off, it was a friend of mine. Luckily, nobody was injured, and my friend apologised to me for the damage to my house. It was a really stupid thing for him to do, someone could have been really hurt, and I was really, really angry with him about it."
He added: "It is an important message that children should not mess with fireworks. They can be very dangerous if they are not used in the right way. People should follow the firework code."
Follow Sara Kimberley on Twitter @SaraKimberley