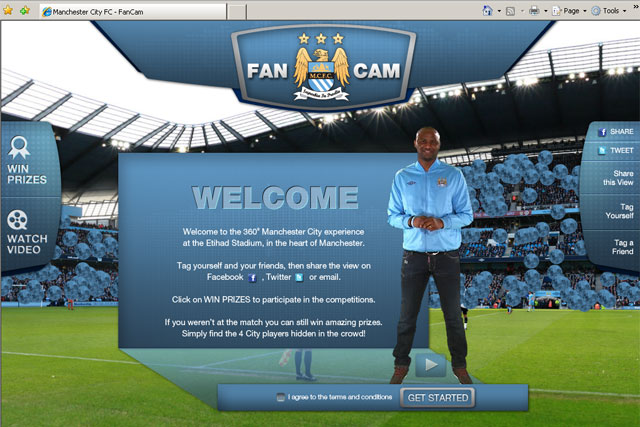 The football club is inviting the 47,000 fans who attended its match against Spurs on 22 January to tag themselves in a 360-degree image on the club's site and share it on Facebook and Twitter.
Avatars of Mario Balotelli, Sergio Aguero, Edin Dzeko and Samir Nasri have also been rendered into the image.
Fans who spot them will be entered into a competition to win a signed shirt and personalised video message from the player.
The campaign was created in conjunction with SEI London and Gigapixel FanCam.
Julian Pate, head of marketing for Manchester City, said: "The idea was to engage fans in the physical space on match day and involve the wider international fan base digitally through our social channels – something that hasn't been done in football before."
In October last year, Richard Ayers, head of digital at Manchester City, said the club's online fanbase was growing faster than at rival football clubs such as Manchester United and Chelsea.
Last year it introduced a digital membership scheme and also struck a streaming deal with YouTube, which enabled it to manage its own ads.
Other football clubs to embrace digital marketing to drive a deeper connection with fans include Tottenham Hotspur, which used augmented reality technology on its players' shirts during a football match and Manchester United, which plans to launch its own social network.
Earlier this month Man City took its chances on Twitter with a competition, which invited fans to follow captain Vincent Kompany, ahead of its FA Cup clash with Manchester United.
Follow Sarah Shearman on Twitter @Shearmans