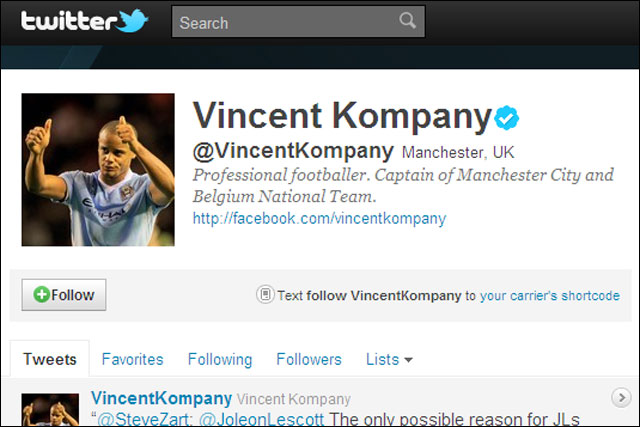 The interview will take place on Twitter and Facebook at 8pm, after Manchester City's match against Blackburn at the Etihad Stadium on Saturday (25 February).
Fans will be able to tweet questions to Kompany using the hashtag #askvincent, or post questions on his Facebook page ahead of the interview.
Sports stars including footballers have increasingly realised the value of social media to raise their profiles and engage with fans.
Footballers such as QPR's Joey Barton frequently tweet after a game, while Jack Wilshere, the Arsenal star who has more that one million followers on Twitter, tweeted that he would make a charitable donation of £3,000 should Arsenal finish below arch rivals Tottenham in the Premier League.
The fans' interview with Kompany will be streamed on his Facebook page, YouTube, and the Manchester City website.
Kompany joined Twitter in January and already has more than 140,000 followers, after a competition to get fans to tweet him inspirational messages ahead of its derby with Manchester United.
Manchester City has been open about its ambitions to grow its fanbase online and has run a number of digital campaigns and initiatives, including a digital membership scheme and a campaign to spot avatars of players such as Mario Baltolelli in a picture of the crowd.
Last week, it emerged that Manchester City star Joleon Lescott is to follow the likes of David Beckham and Rio Ferdinand by launching his own branded clothing line.
Earlier this year Kompany urged supporters to send him inspirational messages via Twitter ahead of the local derby.
Follow Sarah Shearman on Twitter @Shearmans