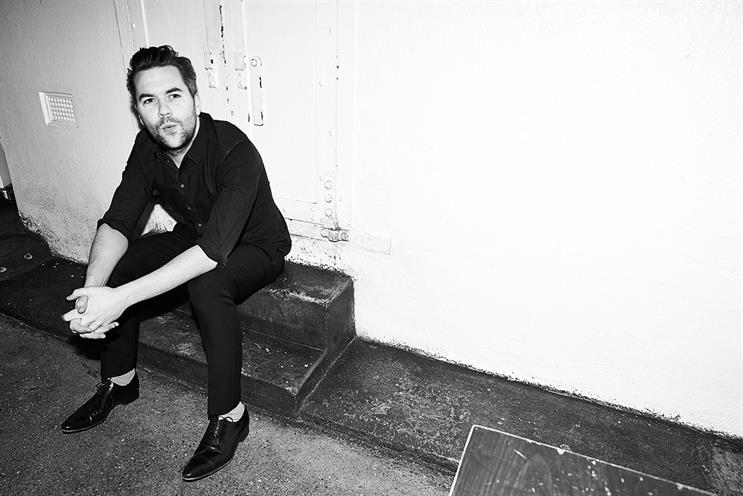 Is Nils Leonard a cock?
The consciously pretty progeny of a bike-gang member and an RE teacher who grew up as a designer, took on creative leadership of one of London's most broken agencies and arrived home from Cannes last week with two of the world's biggest creative prizes is used to dividing industry opinion.
For years, Grey was at the dog-end of the agency scale. They blamed the name. They blamed the offices. They blamed the clients. Across the decades, a succession of creative chiefs came in with a mission to transform. Nada. It remained, as they privately admitted, a bit shit – characterised by bland internationalised work and a clammy air of defeat.
So when Leonard took charge, naïve and cocky, all shiny show and apparently little substance, he was easily dismissed.
Not any more. After all those years at the bottom, after all those countless miserable failures to turn things around, Grey is at the top. And Leonard made it happen.

So, Nils, are you a cock?
"I know that some people have said I'm arrogant or whatever; the truth is I'm frustrated. Am I in love with our agency? Yes. Am I a massive fan of what we've built together? Massively, and I'll eulogise about that. If that's arrogance, then I'm sorry but I'm really proud. But I'm more frustrated than anything else. I'm dismissive of the way some things happen in our industry – and if that means some people don't like me for that, then I'm comfortable with it."

Do you see yourself as an outsider?
"Yes, constantly. If you're a designer for ten years like I was, people love to put you in a box; and, yeah, for sure, I felt very much like an outsider – partly because of how people treated me and partly because I saw fences where there shouldn't be, blocking opportunity. That was motivating, though. I wanted to tear the fence down, to attack and beat the people who put it in place.
"I'm not your typical adman. My dad was in a bike gang, my mum taught RE, we grew up in a place called Wealdstone outside Harrow. It was a shithole, where you found shopping trolleys on greens – that sort of joint – and I was just des­perate to get out of there. My dad calls me Maggie's minion because I'm the only Leonard to have brought down a salary and actually paid tax."

So you feel like you've had something to prove?
"Yeah, massively… massively. But I've felt like that for a lot of the time, if I'm honest – for most of my career. I was one of the youngest heads of design at the time and a lot of people didn't think I had the craft or the wisdom. I feel like I constantly have something to prove. But I think I'm in an agency of people who feel the same way, so that's all right. A lot of the people who have gravitated to Grey have something to prove."

You proved something last week?
"I think so. I feel like, a lot of the time, we've accomplished stuff and the rest of the industry hasn't seen it. So I feel massively emotionally validated by the awards in Cannes. Emotionally, it was huge. It felt like something I'd dreamt about for seven years had finally happened, on a global stage – and some of the phone calls I had off people… I'd been waiting for those phone calls to happen for years."

Awards matter, then?
"I've had a love/hate relationship with awards. I thought they held up the wrong stuff and they can turn people into monsters. So I was scared of them. But I realised that, until you win awards, proper global talent doesn't come knocking. You need awards to pull talent. So I thought, if we're gong to play that game, we're going to play it really well.
"To create something like 'Life Paint' [for Volvo, the winner of two Grands Prix at Cannes] and to have seeded it in the world in the right way is, I think, a different shape of idea that people aren't used to seeing; to get rewarded for that idea really validates our way of thinking. Because you're never sure: you believe it in your heart, you're running and you're asking people to run with you, but to hear that the industry's with you too is a great thing.
"But I'm also scared of that, of going 'that is the be-all and end-all' – it's not, it can't be. I don't want it to give us a ceiling. This is the start. I promise you, this is the start."

Let's get real for a moment. 'Life Paint' has been criticised as simply a small-scale appropriation of an existing product, not a big creative idea. Fair?
"You know, if you're going to criticise a campaign like this, you'd ask: did it really happen? Did it really matter in culture? OK, well, it was on the US news, you saw it in the paper. So, yes. And what is an idea these days? If I'm going to do something for £65,000 – which is what this campaign cost – and it takes other people a £500,000 ad… well, I know who I'd rather work with. So if anyone has a problem with it, I'd argue that comes from an uncomfortable sense of not really understanding how to do it. That makes me feel good, that validates what we're trying to do. And of course I want to be ahead of the pack; I want some people not to get it. That's the magic."

But work such as 'Life Paint' isn't going to transform Volvo's sales or Grey's profits, is it?
"No, but for a brand to play a meaningful role these days, it has to do many things, and actually 'mattering' – alongside doing some communications – is one of them. And we have to be able to do many things, not just ads; if I woke up tomorrow and was in charge of Volvo, or any other brand, I'd be looking for that mix of work. I'd like to believe that, in the future, creative companies like Grey London – not necessarily ad agencies – will have a different relationship with our clients and they'll come to us for things like that."

It sounds as though you're drawing a distinction between an ad agency and how you see Grey…
"Yeah, very much so. Grey is a creative company that partners with brands to play a meaningful role in culture – that's what we're about. We can do that in the traditional sense – I love our work on McVitie's – but, at our best, we can do more.
"To win in the sort of categories we won in last week, that was a big thing for us. We had work in other categories and it would have been lovely to win for those. But, from the bottom of my heart, I'm so happy we won with a piece of work that I think sums us up.
"We're on a mission to matter in the world, to really matter – like Netflix matters or Channel 4 matters. But, to do that, you have to make things that are meaningful. Not necessarily products – it could be entertainment properties with a higher meaningful purpose."

Grey has come a long way in the past five years. How?
"When I joined Grey, someone said to me: 'Don't go there, mate – it's where you go to die.' I went there and there were people ordering ten white lilies a day, and sending four e-mails a day about their job titles and the size of their offices, and it was an agency that spent 50 per cent of its time worrying about the wrong thing. Creative talent was buried in a waiting line, with brilliant people told to wait 20 years before they could be a creative director. We spent a year breaking that culture, moving people out of offices, finding new ways of motivating people so they wanted to take a chip out of the competition.
"When I was made ECD, I said I wanted the most ambitious creative department in London – on the planet, even – and I think, to some extent, I've got that and I've got it by trying to make Grey a beacon for the frustrated. But many of our great people are not recent hires, they are talent we've grown. We don't have a lot of churn because people enjoy it. I want people to say 'I was at Grey when…' and feel proud to be part of something big at our agency. And I genuinely think this might be the year that people look back on.
"I feel really happy about where Grey has got to, but we're halfway on that journey. I think 'Great, we're just about on the map now', we've got the chance now to show people we can be a radically different agency. The next two to three years will be immense for Grey London."

Does the creative director of the future look like you?
"I can tell you what the creative director of the future doesn't look like: they're not reinforcing hierarchy, they're not reinforcing ego, they're not in a corner office with two PAs, they don't need to sign everything off, they build a culture of trust not swagger, they empower the teams. And the creative di­rector of the future honestly is concerned with business – they want to partner with their clients to make a meaningful impact. Even the best suits in our business can't look a client in the eye and say 'I came up with this; I'm going to do it with you', and I think that any creative who wants to work with their client like that is going to go far these days. Creatives don't get (which is why they're insecure and why some of them don't get what we've done) that they're the most powerful people in their agency. They have the most power to effect change."

You got panned recently for writing a mannered piece on women creatives, but you're determined to push diversity. How important is it?
"It's huge. I want a different shape of company. Some of the most driven people in our agency happen to be women: Lucy Jameson, Vicki Ma­guire, Holly Newton – they are exceptional talents. I hear people saying they want to promote more women, but they should be asking themselves why the fuck any woman would want to work for your company – that's where you should start thinking.
"Also, I want to allow people to succeed at a young age, not wait in line. And we get far too many people coming up through the same path. We've taken the universities and colleges off our applicants' CVs because it doesn't matter where people went or where they came from."

What about bringing in talent from outside cosy adland?
"It's massively inspiring to meet these 28-year-old data-design geniuses who've already got their own company. I think 'That guy doesn't need me; I need that guy' and we have to get our heads round that. Don't tell me you've hired another industry hero – it's irrelevant. If we don't get our heads round this, we're going to be obsolete of proper talent.
"In the future, our clients aren't going to be sitting round the table with their digital agency, their advertising agency, their media agency; they're just going to be sitting there with great people, and you've got to ask yourself if your people are good enough to make the table. Our people are going to be the best. I promise you that. And it's because I'm not going to go to the same places for talent. The scale of our clients, our belief and ambition will attract the right talent – we just have to know what it looks like."

And do people think you're less of a cock now?
"I dunno."

Do you care?
"No. A bit. I care about what some people think.
"I'm human. I don't need to be liked by everybody. There are some people I wake up in the morning really happy that I annoy."
---
Some of Nils Leonard's favourite things
Real heroes are villains that get away with it.


My favourite book is Hannibal by Thomas Harris.

My favourite films are Ripley's Game and Fantastic Mr Fox.

I'm realising the above is my admission of a lifelong search for alternatives to classic heroes. And all of the above have inbuilt lessons around not giving a shit about the rules of a normal life/success.

The most perfect poem is Leonard Cohen's Poem because it speaks of every man's real fragility, but really every man's desire to be the guy outside the door.
Before every pitch, I listen to 99 Problems by Jay-Z.

I listen to Metallica's Fade To Black when I'm sad. The end riff sorts me right out.

I run to LTJ Bukem.

My favourite building is the incredible Casa Malaparte in Capri (I promise you, I'm going to own it one day)…


…and Iron Man's pad in all the films (pre-missile attack).
---
Watch: Claire Beale sat down with Nils Leonard in Cannes.