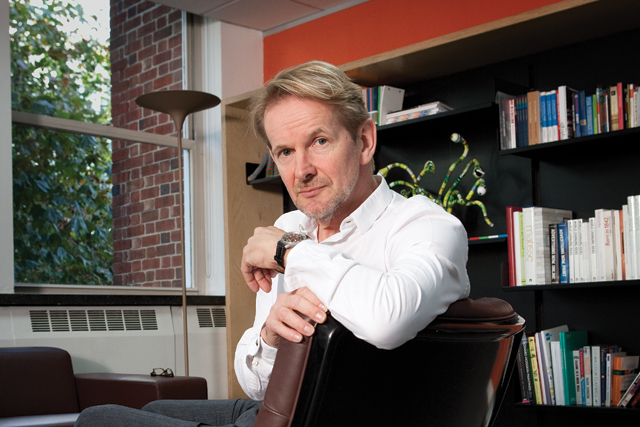 Andy Parfitt, or "the BBC fatcat who saddled the world with motormouth Chris Moyles", as the Daily Mail likes to call him, has turned Mad Man.
The former Radio 1 controller, now Saatchi & Saatchi's new talent director, is sitting in the agency's Charlotte Street office, looking quite fresh-faced for his 52 years.
He practically bounds with enthusiasm for the world of advertising. So much so that you almost believe him when he says: "I'm as fascinated about a challenge for a P&G product as I am for what's next for Radio 1."
And he thinks that his former colleagues at the BBC wouldn't be surprised by his decamp into advertising, as he has always been interested in the processes and creativity involved.
Well, maybe not all of them.
Fearne Cotton mysteriously calls her former boss' new foray "a brave move that maybe some didn't understand". She does, however, see it as "a new exciting chapter" for him.
Parfitt's career has, in fact, come full circle. He's got a credit somewhere for arranging the sound on a 1982 ad for Philips video players. "The Sky Plus box of its day," he says with a wry smile. And he started his career as a sound engineer, working on the John Peel sessions.
He is affable and very unassuming for someone who has managed and worked with a litany of famous names during his 30 years at the BBC and 13 years as the controller of the corporation's second-biggest radio station.
You can see why he inspired tremendous loyalty and affection, not least from the people he helped make stars, such as Cotton and Moyles. She describes him as someone who would "talk or listen to you with great care", while Moyles has called him the "best boss ever".
Parfitt, who famously stuck by Moyles through various controversies, admits: "It's easier to be a friend now than it was when you are doing the job and have to be the arbiter of editorial judgment."
Moyles made his boss famous by name-checking him regularly on his breakfast show, giving him the moniker "Parf Daddy". "I'm a daddy myself," Parfitt, who is married with two daughters, says. "So I didn't mind it so much."
Parfitt wasn't fazed by having such a high profile, nor any castigation from the press that went with working at the corporation. He explains: "Doing a public job and spending public money, you will get public criticism."
However, he wasn't always on board with the Daily Mail's version of events. The paper claimed that when he left the BBC, he got a £2 million pension pot and referenced his "farmhouse" in Cornwall. "I said to my wife at the time: I wish they'd kindly show me where they both were." Though he does have a second home in Cornwall, it's no farmhouse, he says.
Along with his new job "talent directing" at Saatchi & Saatchi Fallon Group, he continues his advisory roles at the BBC and Comic Relief. It may sound like a lot to cram into a working week, but it's not likely to break a sweat in a man who has simultaneously been responsible for Radio 1 (which he left with a record audience of 11.8 million) and the digital stations Radio 1Xtra and the Asian Network, as well as holding the mantle of the corporation's controller of popular music.
Parfitt is keen to stress that a "good chunk" of his week will be devoted to Saatchis. He qualified as an executive coach after a BBC course and will be working with senior executives across Saatchis' EMEA network to help "nurture, shape and attract" the best talent. The key to that, he explains, is to encourage self-belief in people and help them achieve a new understanding of themselves.
The man who inspired him to make the move, the EMEA chief executive, Robert Senior, doesn't need any coaching when it comes to leadership in Parfitt's eyes. A former client of Senior's when Fallon held the BBC's advertising account, Parfitt says: "I've admired Robert's work for a long time. I've watched him develop into the leader he is today."
In turn, Senior believes Parfitt "understands talent like no other". The new hiring will undoubtedly provide vital support to the senior European team and Senior himself, who has spent the past year flying to all corners of Europe trying to transform the network into a creativity machine.
Parfitt, looking back on his career so far, says he feels most proud of supporting British music and ensuring young people got a great service from the licence fee. But, by comparison, how much of a spiritual uplift can he get from working in advertising? He pauses for a moment, and replies: "Good advertising helps companies find a way through difficult times. If that's not a higher purpose, I don't know what is."