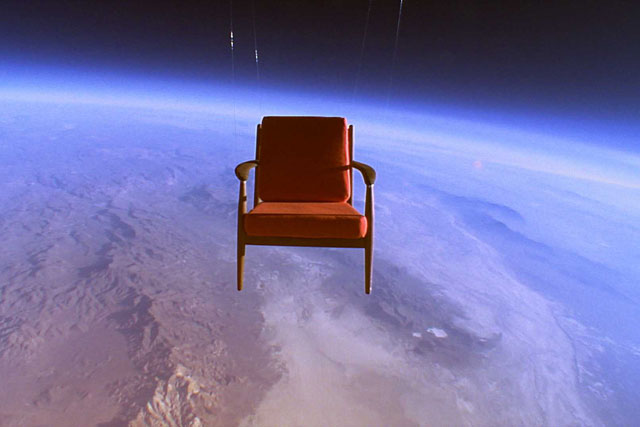 As he listened to Matt McDowell explaining how Toshiba's new TV spot would involve attaching a chair to a helium balloon and sending it to the edge of space, one of the company's Japanese senior executives couldn't conceal his puzzlement. "But we don't sell chairs," he protested.
As Toshiba's marketing director for Northern Europe, McDowell has got used to such incredulity from his bosses in Tokyo. Indeed, it's an indication of how relentlessly he has to fight his corner within a company long renowned for the functionality rather than the aesthetics of its products. And as for emotional appeal ... well, they just didn't have any.
It was an OK system for Toshiba, which gave birth to the world's first laptop 25 years ago, when its core market was the business community. However, at a time when 80 per cent of laptop promotion was being directed at a much broader consumer market, it wasn't fit for purpose - even though Dave Trott's memorable 1985 line "Ello Tosh, got a Toshiba?" had kept brand recognition high.
FROM SILOS TO SYMPATHY
Toshiba's big problem was that its Japanese culture ill-equipped it to overcome the marketing challenges it faced. The need for a user-friendly corporate image with which consumers could identify was almost impossible to create within the company's silo structure.
Each of its main consumer products - laptops, TVs and DVD players - had their own marketing operations and agency rosters that mitigated against any joined-up approach to advertising and marketing. This was particularly alarming when technology was converging, competition was intensifying, margins were falling and a new generation of techno-consumers was emerging.
Today, McDowell and Andy Bass, Toshiba's UK chief executive, can draw much satisfaction from the fact that that the company not only has a human face but has seen a significant rise in its UK fortunes.
Toshiba is second only to Samsung in terms of total UK market share of its products and has been building sales and revenues within a market that's been in decline.
None of this has been achieved without pain as wasteful duplication led to jobs being cut and agency rosters trimmed in the cause of integration and harmonisation. At the same time, McDowell slashed a huge print bill for brochures and point-of-sale material by diverting most of this activity online.
What hasn't been downsized is the £10 million UK marketing spend, which has remained constant throughout the economic downturn. However, the way that budget is being used has changed. "We've moved away from doing lots of things quite well to doing fewer things very well," McDowell declares.
This is reflected in a slimmed-down agency roster in which Grey London handles creative work, PHD Rocket has the media assignment and PR is run through Fever, formerly Nelson Bostock.
THE AD STRATEGY
The upshot has been dramatically different advertising, such as "Timesculpture", in which the products have been reduced to bit-part players, often to the bemusement of Toshiba's powers-that-be, in the cause of creating a strong emotional impact.
No Toshiba commercial better exemplifies the strategy than "space chair", aimed at promoting the breathtaking quality of the Toshiba viewing experience. Shot with Toshiba's own cameras, it has attracted 2.5 million YouTube hits.
"Part of our brief to Grey was that we didn't want to play safe and the agency has done a terrific job in understanding and interpreting our corporate DNA," McDowell says. Nevertheless, he's resigned to the fact that getting such work past the hierarchy of such a product-led company won't get any easier.
"The changes we've made were difficult for the corporation to get its head around when we began making them two years ago and they still are," he admits. "I always have to justify my spend. But it means I'll never be complacent enough to believe that, after two successful campaigns, I can expect the money to roll in."
SAYING NO TO PROCUREMENT
McDowell is passionate about creativity and what needs to be done to get it. Unusually for a company of its size, Toshiba has neither an in-house procurement function and nor does it outsource the job. "Marketing isn't about procurement but effectiveness," he insists. "My preoccupation is with quality - not about how much I have to pay a planner per hour."
Sustaining that quality is particularly important as the company extends its presence in social media.
It has a Twitter site, while its Facebook page went live this month.
If it means some loss of control over the brand, then McDowell believes it's a price worth paying. "The problem is when you don't have the technology to deliver the message and when the message you have to deliver is a hollow one," he declares. "Do that and you'll soon be exposed."
For the moment, though, he has two immediate preoccupations. The first is Toshiba's sponsorship of the England football team during the run-up to the 2010 World Cup. He believes the deal will have a key role to play in attracting what he calls "floating voters". That's to say the people visiting John Lewis, Dixons or Currys who are confronted by banks of TV screens while they make up their minds about which brand to buy.
Could they, perhaps, be swung by a Toshiba set bearing the Football Association logo and the offer of having their money refunded on selected models should England lift the trophy in South Africa? "It's all about getting an emotional engagement at the final stage of the buying process," he explains.
The second is the follow-up to "space chair", now in the early stages of development at Grey before its probable debut in October. McDowell won't go into detail but confirms it will support the UK launch of its state-of-the-art Cell TV that's already on sale in Japan.
A Toshiba commercial that actually gives star billing to the kit? Perhaps McDowell won't have such a tough task selling this one to Tokyo.
THE MCDOWELL LOWDOWN
A home match
A Watford FC shirt bearing Toshiba's name sits in a frame on the wall of Matt McDowell's Weybridge office.
It's not only a reminder that the corporation sponsored the club between 2001 and 2003 but that McDowell - a lifelong fan - was born within goal-kicking distance of its Vicarage Road stadium.
A degree of hope
He left Sheffield University with no career in mind but hopeful that his degree in economic geography might open a number of doors.
Starting in IT
One gained him entry into the IT industry. He went to a small company in Rickmansworth as a temp for two weeks. In the end, he stayed ten years - punctuated by a year's backpacking around the world - and remained there as it was absorbed into the big US technology company Ingram Micro.
Joining the revolution
As a product manager, McDowell was very much a part of the early 90s technology revolution and he was able to take his experience with him when he moved into consumer marketing at Toshiba in 1999. Starting as a channel marketing manager, he now has charge of the corporation's marketing operation across Northern Europe, with a particular focus on the UK, France and Germany.