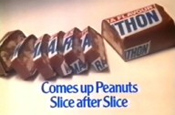 Confectioner Mars re-registered the name as a UK trademark in what looks to be a bid to cash in on consumer interest in nostalgia.
It is the latest in a line of relaunches for retro brand names, coming just weeks after Mars announced plans to bring back another former favourite, Opal Fruits.
Marathon was renamed Snickers in 1990, after Mars decided to scrap the British brand and bring it into line with its global operation.
Cadbury pioneered the craze by bringing back the Wispa bar initially for a limited time only. The move was so successful that Cadbury has brought Wispa back permanently.