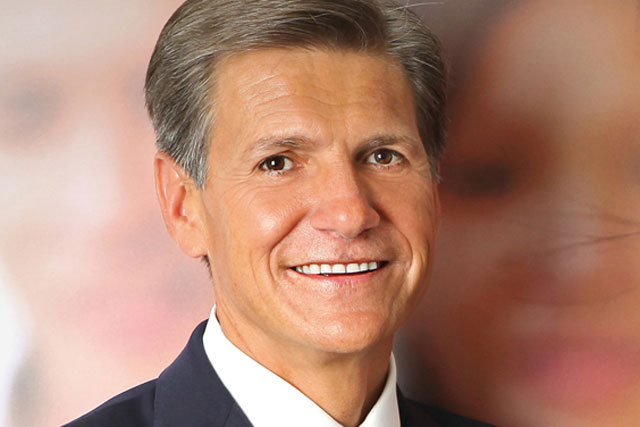 Click to read Marc Pritchard's comments on:
Speed to market and new world marketing
Creativity and changing P&G's culture
An alternative marketing career
The balance between profit and purpose

On the London 2012 Olympics
Q: What financial benefit are you getting from sponsoring the Olympics?
A: For the Vancouver 2010 Winter Olympics we generated $100m in extra sales.
Q: How did you work that out?
A: Through our Market Mix Modelling – it's like an econometrics model that isolates all the variables, so you can see what correlates to what – and so you know what drove the money. It's interesting that when we did the Mother's Day event in the UK [last year] we generated an extra $20m – so we're already delivering on what we expected to get. So our target [for the London 2012 Olympics] is an extra $500m in sales worldwide.
Q: Few brands are in Olympics sponsorship for altruistic reasons. P&G is not in it for altruistic reasons, is it?
A: We're in it for several reasons. One, we truly want to get more products in more people's hands around the world. Second, we want to thank every mum in the world. And three, we want to do well with this from a financial standpoint because you cannot do good things unless you do well [financially].
On social media
Q: Has P&G managed to crack one of the biggest issues affecting brands today: calculating the ROI on social media?
A: Yes! P&G has been doing Market Mix Modelling for the past decade. When we acquired Clairol, it brought in Market Mix Modelling. We've been able to apply it to every form of digital, be that search, social media, public relations. And it is a proprietary technology.
But social media is not just about the number of fans or friends [your brand has] – it's the number of fans they have to create amplification. Generally, if you get high hits on social media, you're also getting high public relations happening at the same time. And if you can combine that with TV advertising, you can really fuel a great deal of awareness.
Q: At Facebook's first marketing conference a few weeks ago, they urged brands to organise their marketing departments around social media. Is that a realistic proposition?
A: I think brands have to organise to do social but I don't know if they have to organise around social. I don't think it's an either-or. I think you have to think about planned activities and social activities – it's the whole gamut.
Q: One speaker at ISBA's conference [last week] talked about the "true" cost of social media. He said the cost of turning the Old Spice "man your man could smell like" commercial viral was actually $14m ….
A: We don't divulge those kinds of figures. It might have been an estimate, but remember the Old Spice campaign was not just digital. It also included TV…TV and digital and public relations over the course of a year. So the point about digital costs … digital is a good return on investment – that's the way we look at things.
On speed to market and new world marketing
Q: You talk about speed to market and being able to react quickly. Can you give any advice for brands to organise themselves in order to make decisions quickly?
A: There are a few prerequisites. I had marketing responsibility when I first took this job. A year later we added the other functions that associated with marketing – market research, design as well as public relations – and so we became an integrated organisation. We then worked with all of our agencies – advertising, digital, PR and design and in-store – and organised the same way so they could be integrated.
That was a prerequisite to where we're moving now – think of it as a "newsroom" mentality – where you have to organise so you're all co-located. It's not just the client but the agencies, you're all co-located. With that newsroom mentality, you ask what's happened in the past 24 hours, how do we need to respond to it? We get people who are constantly on Twitter, Facebook and all forms of social media to engage in conversations.
You can still plan a lot – 80% of your activities – you just have to be ready for the unplanned activities. And then you need to recognise something's coming up. The Olympics are coming up – we know when they're going to happen, we know they're not going to change the date of when they're going to start and finish, but we're ready – we're ready to see how our athletes do, ready to see how our brands do, ready to see what the conversations are.
I know the next question will be, "how are we going to qualify things?" You don't. You do things and you learn about them. I know if we put a YouTube video out there and it gets 7,000 hits in three days, it's a pig! Take it down. Do something else.
With Old Spice we knew we had a hit. And then we poured the gas on it. Then we went to our PR people about getting Issiah Mustafa on the different talk shows. We ran some more advertising and "heavied" it up. And so we fuelled the fire. That's the new world of qualification. And I gotta tell you, that's a lot more fun than the old world.
Q: What does the brand manager of today look like?
A: The brand manager [today] has to have skills in social, skills in search, skills in consumer understanding, design, advertising, creativity, product development – the whole thing.
On P&G's ecological record
Q: How do you deal with the ecological criticism of two of your best-known brands, Pampers and Tide?
A: That's one that we are very, very sensitive to. What it's forcing us to do is to innovate and we're looking at ways to do that. The consumption of energy and water is huge in relation to doing laundry. So if you're happy to do that at 90 degrees, that consumes a lot of water and energy. But creating a product that cleans in 30-degree heat is a huge saver of time, energy and water.
There is also a need to compact and reduce package waste, plus do more work so it can be completely decomposable. With Pampers, we are reducing it to make it half as thin and more absorbent at the same time. So we reduced, I think, three billion truckloads of wood forest that we would no longer have to cut down as a result.
We're looking at every single product because this is a world in which businesses are going to have to be the ones that step up to make the world a more ecologically friendly place.
Q: So P&G accepts this is an issue?
A: We've always felt that it's important to be environmentally friendly and it's one of those things we've been doing on a sustained basis. It's not a sudden realisation. Now, for example, several of our manufacturing plants around the world have zero waste water. They recycle all their waste water.
On creativity and changing P&G's culture
Q: It appears that during the past 15 or 20 years the culture at P&G has changed. It seemed very quantitative, hard edged, objective. Now it's more creative, qualitative and subjective. Would you agree?
A: I have worked for P&G for 30 years and I've seen a pretty big shift. The reason why it's changed, why it's become more creative, more innovative in trying different things, is that it always stays close to consumers, who themselves have changed.
Another factor has been acquisitions. As we acquired companies over the years, especially in the past 15 years – we've had Noxell, Max Factor, Hugo Boss, Gillette, Clairol, Wella – that has injected new blood into our company. That always causes us to change again. We're one of the most demanding cultures that you'll run into and also the most self-critical cultures. So what happens when new blood comes in, it forces us to think about that.
We are open to having discussion and being pushed by our partners – not just agencies, but we consider suppliers and media and digital companies our partners [too]. We don't always like what we hear all the time, but they push us and that's part of what it's about.
We started going to Cannes 10 years ago and that was a deliberate step. We were one of the first clients to go to Cannes because we wanted to be inspired by creative thinking. I love going to Cannes because I learn something completely new every year. In fact with our agency partners we have our own sessions on what we're learning – to figure out where we can push the envelope.
The other part is, to give testimony to [P&G's] leadership for the past 15 years, they are always looking to transform the company. The things we hold dear and don't change – the purpose doesn't change, our values don't change, the fundamentals of deep analytics and thinking things through, making sure we really understand consumers, team work and ownership. Those are non-negotiable, but we'll change everything else.
On advertising's public image
Q: Do you think that the client and agency community has done enough to put forward the case of advertising's value to consumers?
A: That's an interesting question. Because you know, one of things that business and the advertising and communications industries need to do is promote why we're good for the world. We're providing education, entertainment, information, ways in which people can connect with each other. We're providing innovative products and services and I don't think we give ourselves enough credit or talk about it enough.
So my answer to your question is "no", I don't think we are doing enough and I think we take a lot more heat than we should. The business community I truly believe is the community that is going to make the most significant changes over the next several decades. I think we should celebrate that a little more.
On an alternative marketing career
Q: If you didn't work for P&G, what would be your ideal brand to work for?
A: There's a brand called Under Armour [a US sports clothing and accessories company] started by an American football player [Kevin Plank]. He recognised he was a power performer and the products he came up with this great product for making clothes. It became a fashion statement about superior performance. What I love about this brand is they are totally passionate about what they're doing and they've been smart about it. They're really making Nike mad. But they're good and I really like them because of the excitement.
The other one that jumps to mind is Red Bull. It's a fascinating brand, four ounces at super premium price. But it's just the extreme nature – "Red Bull gives you wings. Red Bull gives you energy, Red Bull gives you life". And I love the brand building they do. They didn't do TV commercials for a long time, they did extreme events and sports. They founded, literally, a movement.
So what I like about both of these is the passion and the purpose they have, but, most important, it's the massive creativity they have. And they do it at grass roots level. That excites me.
On the balance between profit and purpose
Q: How do you navigate the balance between profit and product, so that profit is a consequence of what you do, not a driving force?
A: Purpose and profit go hand in hand. Think about our purpose – it's to make everyday life better. And we do that with the benefits of our brands. When our benefits are superior to the competition, then people buy our brands more often and we gain more market share. And so I don't think of these two things are not integrated. They are completely integrated. Socially responsibility and profit responsibility go hand and hand.
So that's the key challenge I leave you with – think about what is your purpose and how you're making life better with the brands and services that you're providing. And if you do that by giving people superior benefit, more people will buy your brands and you'll make more money. And that's a good thing – you will do well, while you do good.