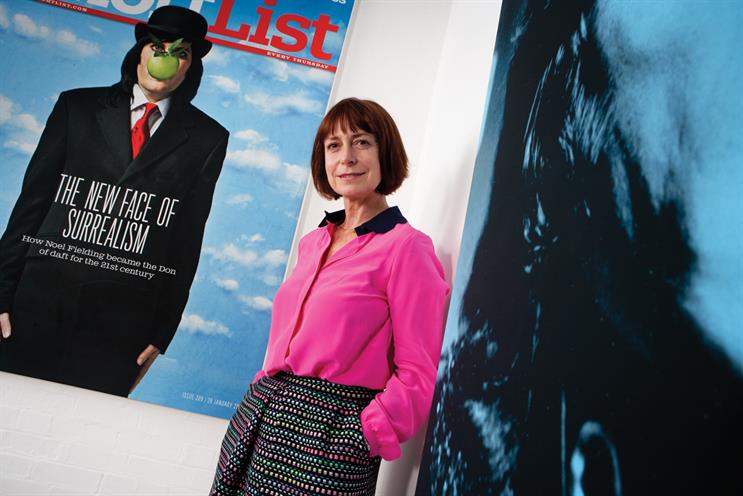 Shortlist Media's office currently resembles a jumble sale. "An expensive jumble sale," the company's publishing director, Glenda Marchant, quickly chips in. Knitwear is piled up on surfaces, the reception desk is disappearing behind a fortress of packages and one meeting room has become a temporary closet, full of coats for an upcoming photo shoot.
These are the trappings of the September fashion week issue of Stylist, the largest in its four-year history at 192 pages, inspired by film noir.
Marchant, who launched Maxim while at Dennis, joined Shortlist Media to create Stylist with the editor, Lisa Smosarski, in 2009. In May, she also became the publishing director for its sister title ShortList, the free men's weekly that launched in 2007.
As pin-ups for the free model, both magazines dwarf their nearest paid-for rivals, with ShortList distributing 534,000 copies per issue and Stylist 435,000, compared with Men's Health's 185,000 and Glamour and Good Housekeeping both at 380,000. Combined ad revenues have just passed £20 million for the first time.
Practical but with a touch of glamour, Marchant is an apt example of the multifaceted women Stylist talks to. She claims not to be a "fashionista" but was evidently shaped by her three years before Stylist as the publisher of IPC Media's InStyle. She is also a keen runner and Spurs fan.
She is not quite reconciled with relinquishing her hands-on relationship with Stylist to oversee both magazines, often instinctively using "we" to refer to Stylist alone. "Stylist has been my baby from the start, so it is very hard to step back," she explains. "I'm not going to pretend it's not – but I'm getting there."
She is fiercely proud of Stylist's editorial principles, which have won it numerous awards including Consumer Media Brand of the Year at the 2012 PPA Awards. Dieting and paparazzi photos are banned, while issues such as careers and feminism are championed. "One of my proudest moments was the Wednesday before the last general election, when we ran a cover with suffragettes on it," she says. "No other magazine could possibly run that."
I'm old enough to remember rather nasty free women's magazines. In many ways it's different now
In an age when free distribution has virtually lost its stigma, Marchant still never uses the word to refer to her magazines. "It has connotations, particularly with women's magazines," she says. "I'm old enough to remember rather nasty free women's magazines that used to be around. In many ways, it's different now: you've got really strong publications such as the London Evening Standard and Time Out that are free."
And amid the falling circulation of most paid-for titles, Stylist and ShortList have moved up the pecking order at agencies. "When they want a more upmarket environment that still reaches big numbers, Stylist is becoming more and more important," she says. "We've seen that in terms of the type of advertising coming in – advertising we've never carried before."
Both magazines have been making headway with more luxury advertisers such as Max Mara, which was the first high-end Italian brand to take ads in Stylist in the fashion week issue. This month marked ShortList's most significant partnership with a luxury brand when Burberry took a die-cut cover to introduce its new fragrance.
The unconquered territory is international, Marchant says: "International advertisers don't necessarily 'get' free. The UK is pretty well-educated, but if you go to Italy – for many, still home to leading fashion brands – and tell them that the Standard and Time Out are free, they are amazed."
Stylist looks set to eclipse its sibling in the coming years: it just overtook ShortList in ad revenue and launched in nine cities in France this year. Work is under way to push it into high-fashion territory through a presence at various fashions weeks and a bigger budget for better photographers and models.
ShortList, meanwhile, will be "tweaked" to refocus its editorial in line with in-depth research with 5,000 men. "Being a dad was one of the big themes that came through," Marchant says. "We had a wonderful issue the other week about having children, with a 50s horror film-style picture of a baby called 'the thing from the womb'. We also found a real love of retro men like Steve McQueen and James Gandolfini, and men also love the idea of a second career."
Circulation for both titles has nudged up 1 per cent in the past six months. But increasing it further is said to be unlikely, partially due to rising printing costs.
The next chapter for Marchant is tablet editions, which are likely to launch in 2014. She won't confirm whether they will be free but, with the associated costs in producing iPad and Android apps, and users' increasing propensity to pay for them, it might yet push the group's F-word model to its limits.