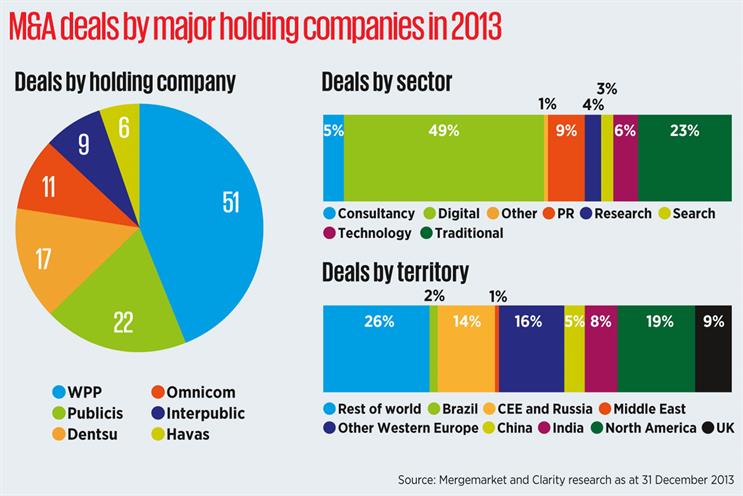 Forty-nine per cent of the 116 deals completed last year involved digital agencies, up from 44 per cent the previous year, the report revealed.
Meanwhile, purchases of "traditional" agencies (including creative, media, marketing services, branding, field marketing and direct marketing) dropped to less than a quarter of deals for the first time. They represented 38 per cent of those in 2012.
There was increased interest in technology and search agencies, with tech agencies jumping from 1 per cent of deals in 2012 to 6 per cent.
Marcus Anselm, a partner at Clarity, said that traditional agencies were "less in demand" as holding companies focused on buying specialist skills, but that the change also reflected the evolving market.
Anselm added: "Another driver of the percentage drop is that there are far fewer agencies around who would describe themselves as 'traditional' and, equally, not that many independent ones of scale – which is important to acquirers."
The 116 deals last year represented an 8.6 per cent decrease from 127 in 2012. As in previous years, WPP and Publicis were the most active holding groups. WPP made 51 acquisitions – an average of one a week – while Publicis bought 22 companies.
Nine per cent of deals were completed in the UK, in line with the average over the past six years. Deals struck in Brazil and China slowed from 19 to eight as groups consolidated previous purchases in the regions.
The report highlights what it calls the revenue "chasm" that will emerge between WPP and the proposed $35 billion Publicis Omnicom Group, and the other inter­national holding groups.
Havas would be a tenth of the size of POG by revenue and might need to play "catch-up" by making acquisitions or joining with other groups, Anselm said.